April 9, 2020
Potsdam members help out-of-work colleagues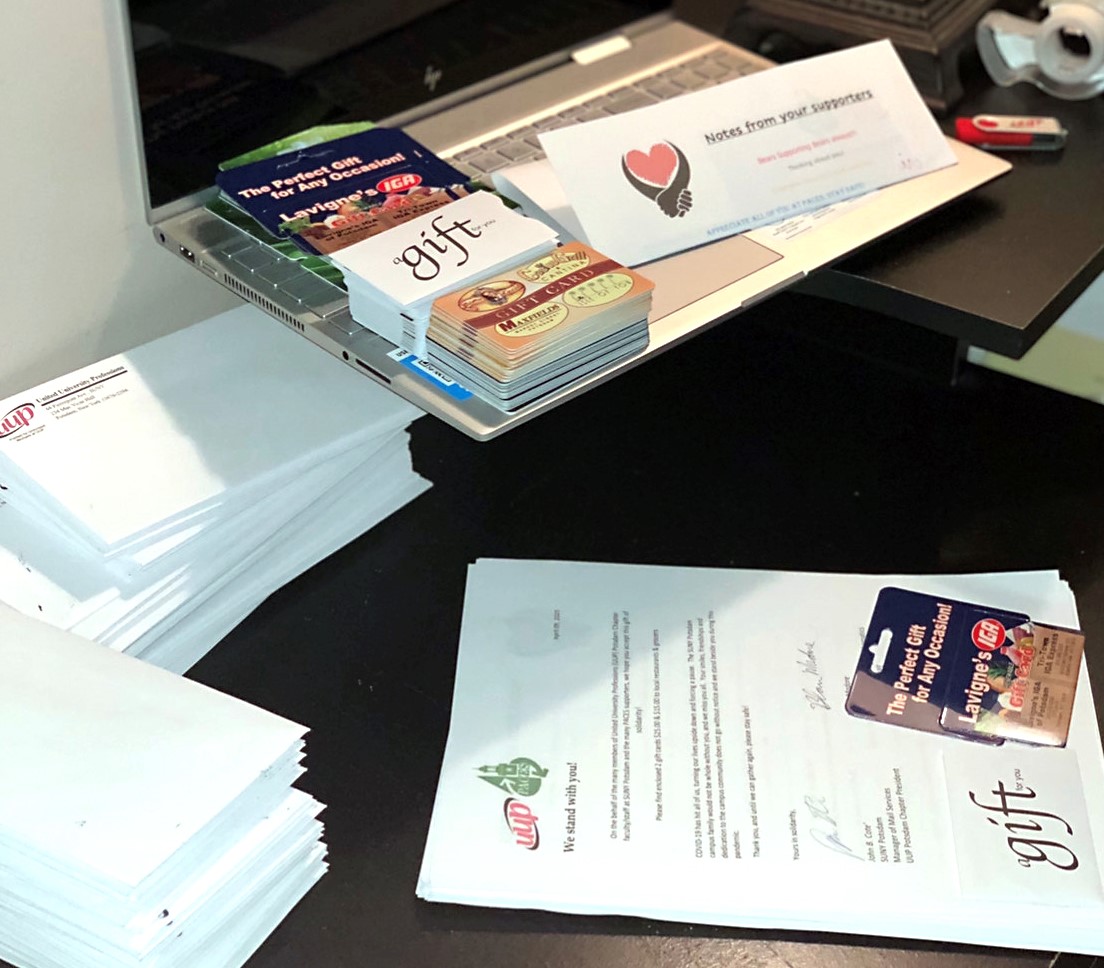 In an ordinary spring semester at SUNY Potsdam, campus dining spots would be thrumming with conversation, and campus-run stores would offer faculty and students a place to browse, buy a snack or enjoy a respite from work and studies.
But this is no ordinary spring, and with the mandatory cancellation of on-campus academics during the coronavirus pandemic, most of those Potsdam dining spots and shops are shuttered. Along with the closures, some 130 of the approximately 145 non-unionized workers who staff those sites have been laid off from their jobs.
In a chapter-wide act of solidarity with their stricken colleagues, and with the considerable organizing abilities of UUP chapter assistant Jennifer Hernandez, Potsdam UUP members have rallied to purchase $7,000 worth of $25 gift cards, so that the workers of the Potsdam Auxiliary and College Services, as the food-service and retail employees are known, can buy meals, groceries or other necessities. Members are using local businesses as often as possible for the gift-card purchases. UUP Potsdam Chapter President John Cote credits Hernandez with the idea of the gift cards.
A show of UUP unity
Given how much members were dealing with as they converted to distance education on very short notice, "I was taken aback at how quickly they unified around a cause," Cote said.
Cote said that Hernandez brought to his attention several conversations among members that pointed to the same goal: to do something to help their PACES colleagues. Those conversations started, Cote said, as many members realized that their families might qualify for stimulus checks from the recent federal economic relief package—assistance they would appreciate, especially if they had a partner or spouse who had just lost a job in the economic downturn, but which most of them could well afford to share, given that they have solid union jobs and benefits.
"I was very impressed at their faith in the strength of our union—that they knew those in leadership positions will work through this, that there is light in the end of the tunnel," Cote said.
Follow us on Social Media!