April 13, 2020
Oneonta Chapter member doing his part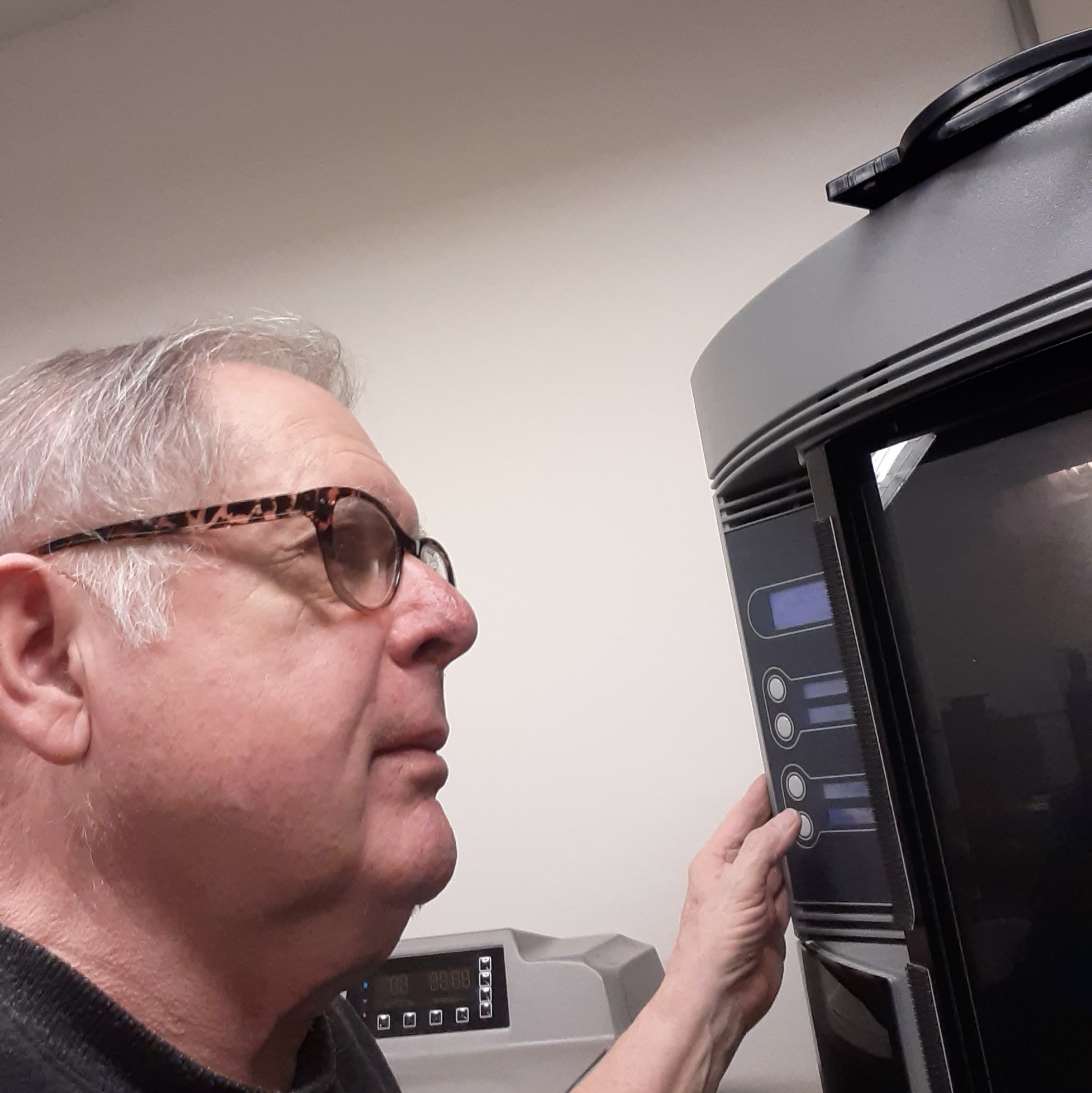 Allen Anderson is used to isolation.
So when the Oneonta Chapter member began printing and assembling 3D face shields in his basement machine shop in the college's Physical Science Building, he knew social distancing wasn't going to be a problem.
"Even in normal operations I am isolated," said Anderson, a physicist who teaches an occasional course and the "creator of devices" for the science faculty. "The building has been thoroughly cleaned and I feel safer in the shop than at the grocery store."
Safer—and busier than ever.
When Anderson set up the machine shop 14 years ago, he requested a 3D printer, never envisioning that he would one day be making personal protective equipment to guard against a pandemic that is sweeping across the continents.
Despite feeling fortunate to have his 3D printing equipment updated a couple of years ago, the process is still complicated, and the going is slow. It takes one of the machines three hours to print two face-shield assemblies, while a second smaller machine in Anderson's shop produces only one in the same amount of time. In his first week of production, Anderson made 39 face shields. There are now five printers in operation around campus, and by early April the daily output of units had jumped from approximately eight to 25.
"I am actually busier now than a normal (pre-coronavirus) workday, as I am trying to ramp things up," he said. "There are very few people around, so it takes more time to get simple tasks done."
The face shields were distributed to members of the University Police Department and campus Emergency Medical Services. That need has been filled, Anderson said, so "our overrun is being sent to the New Paltz face shield project and they are distributing masks to various hospitals (and medical professionals) who need them."
In it together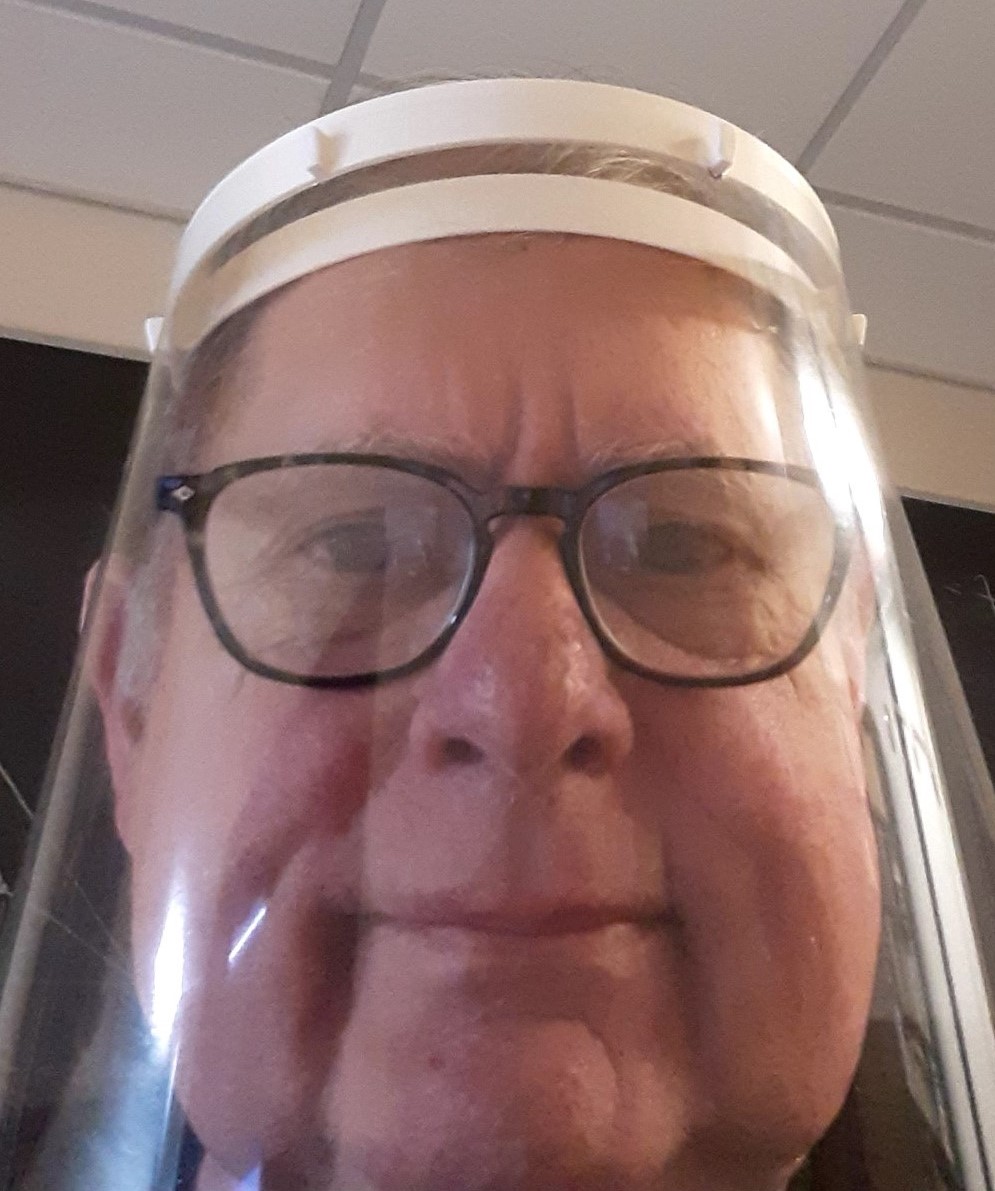 Anderson may be used to working away from the hustle and bustle of an active college campus, but that doesn't mean he is going it alone. He said he is grateful to his colleagues for reaching out.
"When I started the program, I received immediate support from other UUP members and the administration of SUNY Oneonta," he said. He credits fellow UUP member David Kenny, an instructional support technician in Fine Arts, for the daily increase in production. Kenny is helping to produce head bands for the project.
"UUP and the general community have been of great value in allowing me the opportunity to contribute to the general effort," Anderson added.
And, he said, it beats binge-watching Netflix.
"I do not see myself as extraordinary in any way," he said. "I am just doing something that is helpful. I might add that many folks are doing the same. Everyone working in a grocery store or other business that is open is doing the same thing I am."
What has Anderson gained from this experience?
"I have learned that it is always good to help and take the initiative when required," he said. "I can't say this is really new; it has always been my attitude. I have learned it is a very good idea to not listen to the drum beat of fear and foreboding that dominates the current news cycle. Work, in general, gives one a sense of usefulness and accomplishment."
Follow us on Social Media!