April 14, 2020
Carrying on for patients, through grief, fear and uncertainty at Stony Brook HSC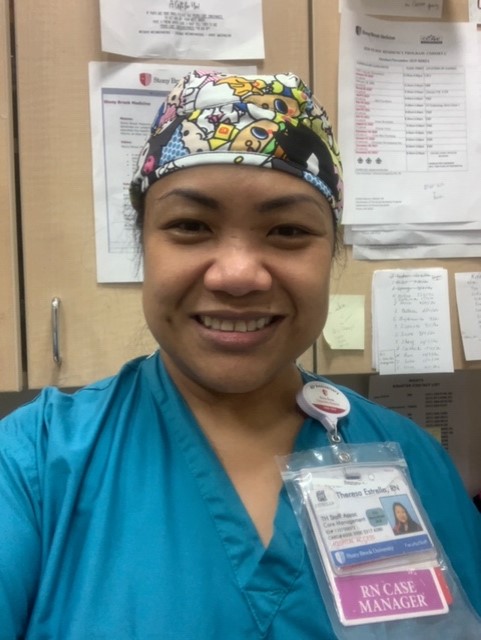 As Maria Theresa Estrella prepared to return to her patients at Stony Brook University Hospital this week after a precious few days' break, she knew that she would do so with a once-unimaginably personal grasp of what they – and their families – have endured.
Shortly before she headed home to her two children last week, she learned that a friend and fellow nurse had just died of COVID-19 after contracting the coronavirus while caring for COVID patients at Long Island Community Hospital. He left a wife and two children.
The two friends were close; the pair were registered nurses in their native Philippines and came to the U.S. a year apart in the early 2000s. Two of their four children were schoolmates, and their families were part of a small community of Philippine immigrants on Long Island whose members knew each other and socialized together.
Estrella never expected to find herself denied the same mourning rituals as so many of her patients' families, none of whom have been able to bid farewell to their dying loved ones in person at the hospital, and many of whom are unable to grieve together.
"It's so sad because we cannot be there, all together," she said in a telephone interview April 10 from her Long Island home, as her voice broke. "We don't have any answers. It's just the same as in the hospital, because once the patient dies, the family can't see them. I feel like there's no closure."
Health care workers face great risk
The exact toll of the coronavirus on health care workers in the U.S. is not known, and some states – including New York – are not tracking infected health care workers as a separate category, according to BuzzFeed News. But nationally, nearly 5,500 health care workers are believed to have been infected, with dozens of deaths.
As of April 11, New York had more than 7,000 deaths from COVID-19—a figure that may not reflect many deaths at home of patients who likely had the illness but were never hospitalized or tested. Long Island had 1,137 of those deaths.
And so, Estrella now knows, grief is a precious commodity in a hospital during a pandemic.
Fear, however, is available in abundance, as Estrella has seen among her patients—fear that they will get sicker and be moved to intensive care.
"It's high-intensity right now in the hospital," Estrella said. "Of course, everybody is frightened. [Patients] don't have any family members who can visit them. I'm scared for myself, and I'm scared for my family. But this is what we signed up for."
Redeployments and rapid adjustments
Estrella, a UUP member of nearly a year, joined Stony Brook Hospital as a case manager in May 2019. Normally, she would be working in the hospital's orthopedic unit, coordinating a patient's care and overseeing discharge plans.
But because she is also a registered nurse, she is now one of the hundreds of health care workers in New York who has been redeployed during the coronavirus pandemic. The orthopedic unit is one of several areas of Stony Brook University Hospital that has been converted to a COVID-19 care unit, and Estrella has been reassigned to bedside nursing.
She has the use of a hotel room provided by UUP so that she does not have to go home at night in between shifts, to lessen the possibility of carrying the virus to her family to her two sons, ages 6 and 20. She showers and changes clothes when she leaves her last shift before a break from the hospital. Her older son is a nursing student who moved home to help care for his younger brother during his mother's redeployment.
UUP working to protect members
Stony Brook UUP Chapter President Carolyn Kube has been steadily available to members at the hospital and has been responding to their many questions about their suddenly upended jobs, Estrella said. At the statewide level, UUP officers have been working to ascertain, in negotiations with SUNY and the Governor's Office of Employee Relations, that the work conditions of members throughout SUNY are protected during this unprecedented situation.
"She's always available," Estrella said of Kube. "We've been reaching to her from the day we heard we were being redeployed."
And Estrella knows that she will continue to handle her fears, her grief and her private distress at seeing people dying without their loved ones, for as long as the coronavirus pandemic continues to bring patients into the hospital.
"This is what we do," she said. "They need us. Everybody needs to help each other."
Follow us on Social Media!