April 14, 2020
Fix your car? Watch this video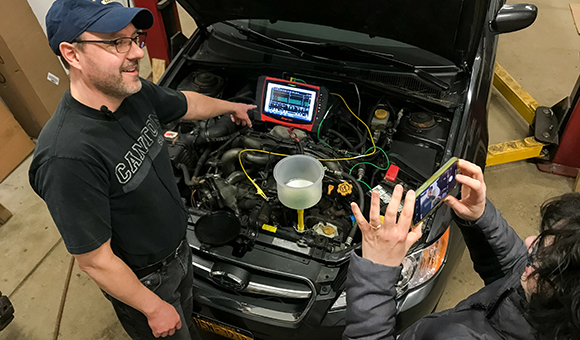 Trying to pull together and videotape auto technology lessons in his home garage was a bit daunting at first for Canton Chapter member Brandon Baldwin.
How does one adequately provide hands-on instruction for students when they are miles away?
As it turns out, his video classes came as a welcome change for his students, who appreciate the quality of the video and the ability to review the material as often as necessary.
"I think I may be covering more content, more completely than in a live lesson because we can get the camera into tiny spaces that a live session can't do well," said Baldwin, an associate professor in the School of Engineering Technology. "For example, to show a lesson under the dashboard is impossible, but not in video. Or to show which wire I'm getting the signal on, on the oscilloscope, is possible with a camera, but not in a live session. The students have provided feedback saying they like the clear picture detail, and often watch certain (lessons) many times."
Some students are checking out the videos just hours after they are posted, he said.
Overcoming the challenges
While many students may believe the transition to remote teaching was effortless, Baldwin knows it was anything but. Quirky internet connections, reimagining how courses are taught, researching video techniques and camera angles, and finding the right vehicles for specific lessons were just a few of the obstacles he faced.
"The challenges of teaching remotely include learning how to teach remotely, when you didn't just weeks ago," he said.
Baldwin said he has produced "a bunch of short videos, rather than one long video," and posts a new one every few days on Blackboard, the campus learning management system for online education.
"I try to stay a week ahead," he said. "The reason for this is that some lessons may take an hour or two to set up for only three minutes of filming."
Sometimes, finding the right car or truck for each lesson means borrowing from family, friends or neighbors.
"I was lucky that one of the dealerships up here is lending me their plow truck," he said.
And if all else fails, turn to your family.
Baldwin's wife, Debra, is videotaping his lessons. One daughter's Subaru was used for an automotive lab and another daughter took the photo of her parents that accompanies this article. Both children will be enrolled at SUNY Canton in the fall.
"I couldn't do all I do for SUNY Canton all this time without (my wife's) support," said Baldwin, who has been at the college since 2006. "I'm very lucky to have her."
Positive outcomes
In addition to the instructional videos, students have access to an information system used by technicians, from which they can pull up wiring diagrams. A Monday-night chat on Blackboard Collaborative Ultra gives Baldwin a chance to outline the goals for the week and to answer questions.
"I leave the session open, so that the students can meet with each other to discuss the videos lessons as well," he said. "I love that they do that."
He also appreciates the newfound depth of their questions, and their willingness to respond to impromptu lessons to review especially troublesome assignments. Baldwin has given extra credit to students who posted their own videos of what they're working on.
"Most of them have their own cars or work on someone else's car," he said. "This forces them to think when I'm not right there to immediately answer, as I would be at school."
Baldwin believes that some good has come from being thrust into remote teaching.
"I've learned that video is a better method of teaching than I thought possible," he said. "I'm happy that the students who may have missed part of the lesson can watch as many times as they want. I think that the students who may be a little more reserved during the live lessons may actually be doing better because they can see every bit of detail. This is a far better learning tool, even for hands-on curriculum, than I would have thought."
Follow us on Social Media!