April 14, 2020
Shields for safety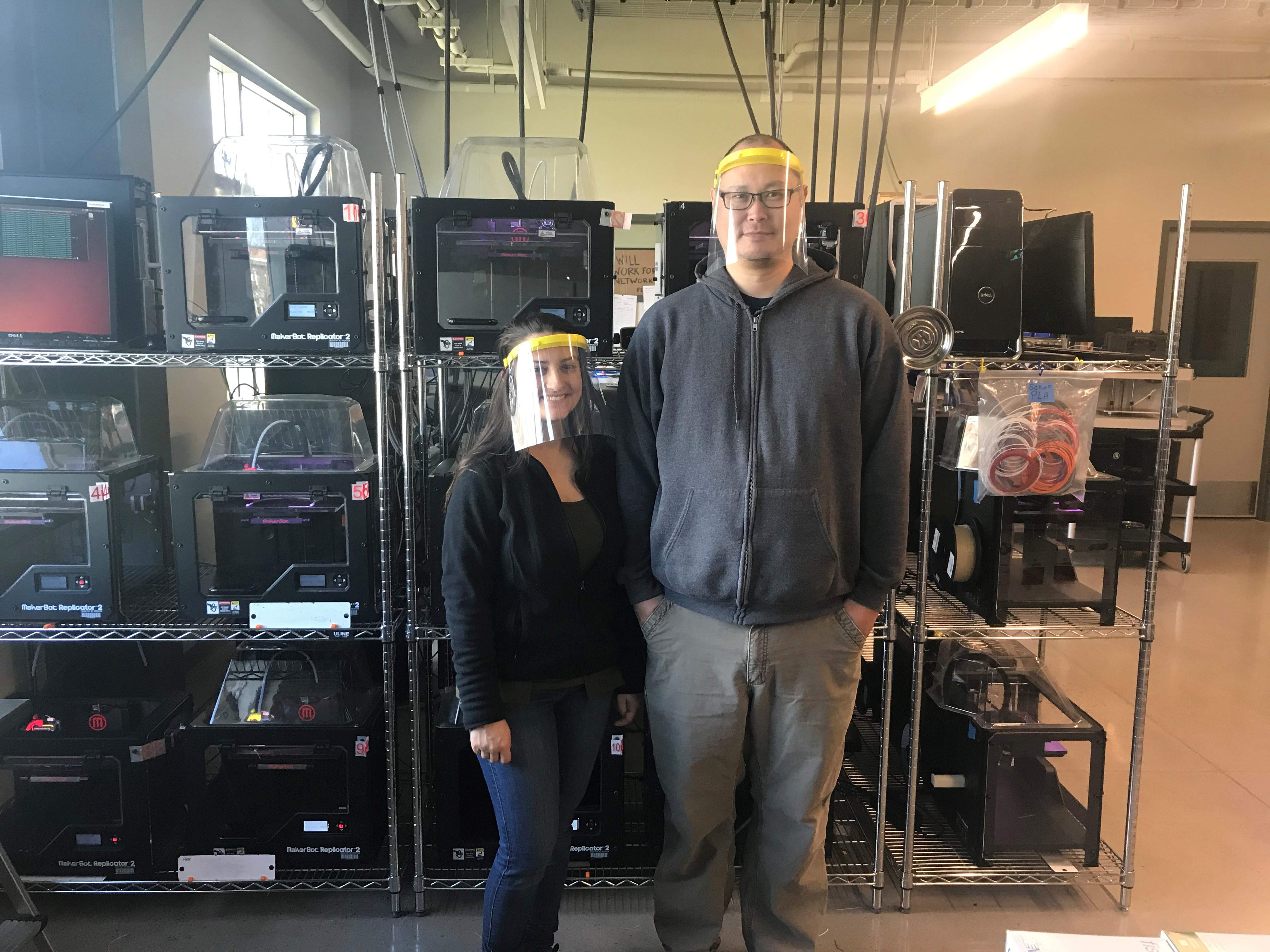 Kat Wilson and Aaron Nelson had no idea whether they could use the 3D printers in SUNY New Paltz's Hudson Valley Additive Manufacturing Center (HVAMC) to make face shields for doctors, nurses and medical professionals caring for COVID-19 patients.
But after they began getting calls from local hospitals and health care centers asking for help, the New Paltz Chapter members figured they'd give it the old college try.
"We started getting calls asking if we could make face shields," said Wilson, the center's assistant director. "We were like 'we don't know, but we'll give it a shot.' So, we were kind of shocked that it worked as well as it did."
"When we got this call, we knew this was in our wheelhouse," said Nelson, director of the MakerBot Innovation Center, co-director of the Digital Design and Fabrication Program, and an assistant professor of art. "Once we knew we could make a difference, we were on board."
Working with center Director Daniel Freedman and intern Rachel Eisgruber, the UUP members are using the HVAMC to print about 200 face shields each day using a bank of 20 printers—called a "print farm"—to kick out the masks. The pair is sharing the design template for the masks online for others to use.
They've printed and shipped more than 6,300 face shields since they began printing in late March. The masks are being used at health care and elder care facilities in Orange County and New Paltz, as well as area hospitals and a drive-through testing site in Kingston.
"Last week, we had 2,000 (shields) go out the door and the feedback we've gotten is that people are very happy with them," Nelson said. "We're happy to do it. We're turning and burning around the clock."
Face shields are important personal protection devices; they protect the eyes, nose, mouth and face from splashes, sprays, and spatter of body fluids. A 2014 Centers for Disease Control study showed that face shields reduced a health worker's exposure to an influenza-laden cough by 96 percent and the surface contamination of a respirator by 97 percent.
Shield Details
Transparencies—the kind used for laser printers, copiers and overhead projectors—are used to create the shields. 3D printers are used to make the shield headpieces; rubber bands are used to link smaller plastic pieces and keep the mask secure.
Wilson said she and Nelson are working on getting a mold of a face shield that will allow them to increase production to as many as 2,000 shields per day.
"We're glad that we're able to make an impact," said Wilson. "What we strive to do is connect with the community, and we're engaging with them on this project."
Being a UUP member has also played a role in their willingness to give back. Knowing that they're protected and that their jobs are secure has given them piece of mind and allowed them to focus on helping their community.
"At a time when a lot of my friends are at a place of instability, it's nice to know that I don't have to worry about that because I'm part of a group that will protect me," said Nelson, a UUP member since 2016. "I can spend my time here, working."
Follow us on Social Media!