April 15, 2020
'The Masked Stitcher' has it covered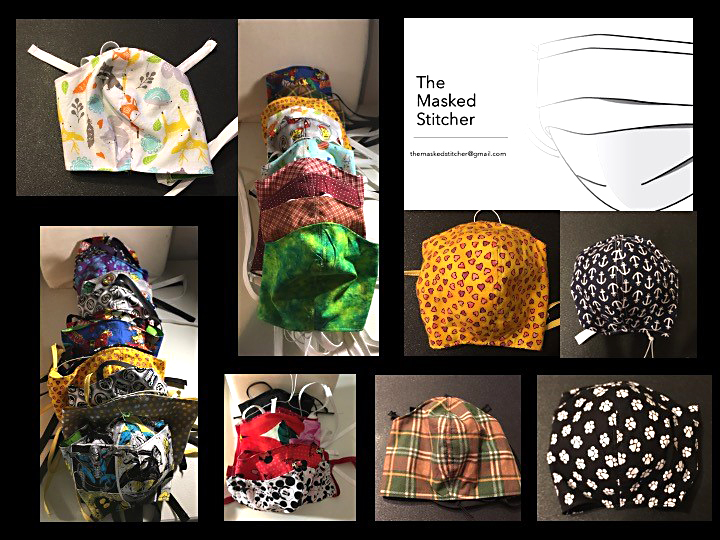 UUP Potsdam Chapter member Alexis Foster—a.k.a., The Masked Stitcher—is on a mission.
She is sewing face masks for first responders, people with special needs, vet office workers, and high-risk individuals. She is also creating videos and instructions for students who want to make masks for themselves and other community members.
"As a UUP member involved in our chapter, I have learned that we truly are a family," said Foster, a costume shop manager in the college's Theater and Dance department. "Helping our community, especially during a crisis, is a critical mission."
As soon as she heard about the pandemic, Foster reached out to chapter assistant Jennifer Hernandez, who has a special-needs son. Knowing that he would have to venture out to doctor and hospital appointments, Foster said she wanted to do what she could to ensure the two were safe.
"I scoured the internet and found a mask pattern that seemed to have a good shape," she said. She altered the pattern and gave the homemade masks to Hernandez "for a test run."
And run with it she did.
Hernandez suggested Foster sew protective masks for the local EMT and first responders, many of whom were being forced to reuse masks, as available supplies ran dangerously low. After another internet search and a redesigned prototype, Foster perfected a tight-fitting mask for first responders to wear over their N95 face masks.
"Since EMT and first responders might not be on the top of the list to receive personal protective equipment, I started putting feelers into the community to see who needed help," Foster said. "I am really concentrating on groups and individuals who might not be on the normal radar for help."
Foster continues to work on prototypes from her basement shop—which she set up with $1,000 from her personal savings—and to send shipments of masks to a growing list of groups in need. She has enlisted the help of students, whom she provides with instructional videos and other mask-making resources to protect themselves and their families, and to help community members if they wish to do so.
"We are strongest together and being able to show that support through actionable means helps to boost the morale of those performing amazing essential work," she said.
Anyone with questions about the mask-making process, or who wish to help out by sewing or donating, can email Foster at TheMaskedStitcher@gmail.com.
Follow us on Social Media!