April 16, 2020
Polytechnic members build a better coronavirus test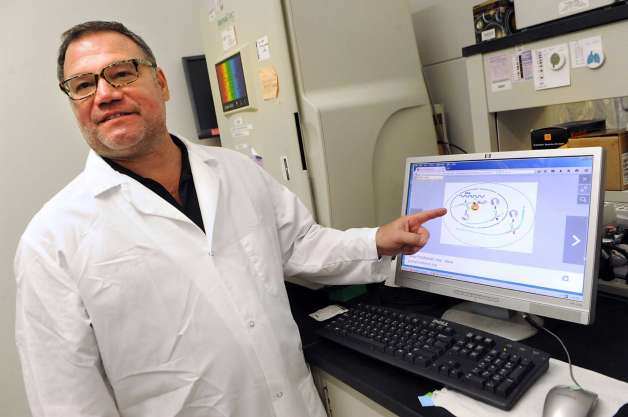 As scientists around the world race to find answers that could help control the coronavirus, two UUP members at SUNY Polytechnic Institute in Albany are developing a test that will not only detect the infection, but also help improve patient care.
Professor Nate Cady, an Empire Innovation Professor of Nanobioscience, and Scott Tenenbaum, an associate professor and head of nanobioscience at the college, have a working prototype of a coronavirus test that will provide additional information about the patient.
The test will show how far along the infection is, whether the patient has generated antibodies against the virus and, if so, approximately when the patient was infected. Those details can help pinpoint treatments more specific to individual patients.
Fast-tracking, with partners
"We have to go through FDA approval, which would include validation with hundreds of patients," said Cady, whose title of Empire Innovation Professor reflects his participation in a state-funded grant program designed to recruit and retain faculty in the sciences, education and security. But, he added, because work like this is unfolding during the pandemic, the FDA has accelerated the normal 12- to 18-month approval process, and the two researchers expect their test to be approved much sooner.
The two are working on the project with Ciencia Inc., a Connecticut high-tech research firm that specializes in the production of medical and scientific instruments; and the state's Wadsworth Center, a public-health laboratory in Albany.
The test is being designed so that it can be quickly adapted to the expected mutations of the virus, Tenenbaum said.
"This virus is not only amenable to mutations, but that's how it jumped from bats to humans," he said.
UUP helps clear the way
Cady and Tenenbaum are doing their work on this project in their research labs, having obtained the OK from SUNY to continue during a system-wide shutdown of most activities and academic work on SUNY campuses. The University is also supporting COVID-centered projects such as theirs with special funding.
And as colleges in the Capital Region announce furloughs, layoffs and salary reductions of employees, the two scientists credit UUP for quickly negotiating with SUNY administration and the Governor's Office of Employee Relations on a myriad of work conditions for members—union action that they say has been extremely reassuring in such an uncertain time.
"I think with all the furloughs and layoffs as a result of this, I don't think I've ever felt better about being part of an enormously strong union than right now," Tenenbaum said.
Follow us on Social Media!