April 24, 2020
Contingent issues still vital during coronavirus pandemic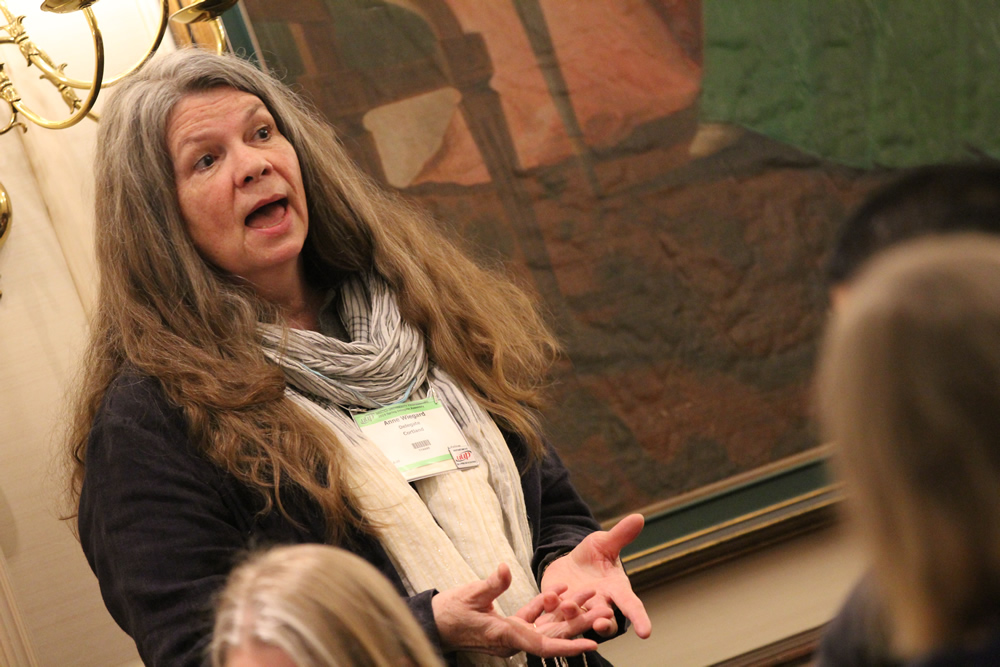 Anne Wiegard has always viewed contingent work conditions in higher education as an equity issue, which spoke to larger problems of inequality even as the country saw the longest economic boom in U.S. history.
The burst of that economic bubble during the coronavirus pandemic, with record-setting unemployment reported in the first week of April, hasn't made contingent issues suddenly less important, Wiegard said. Instead, it has given them a new relevance and a special urgency.
"This COVID-19 crisis is really shining a light on structural inequalities in our society," Wiegard said to a national audience in a live-streamed panel discussion about contingents sponsored by UUP's national affiliate, the American Federation of Teachers, and aired April 17. "It has forced people to see the realities of underfunding that many people, not just adjuncts, are dealing with."
She specifically cited the many hospital and health care workers who are employed in low-wage jobs, but who have become sick and even died during the pandemic.
Report cites national abuses
Wiegard was one of six participants in the panel discussion, with AFT President Randi Weingarten. Callers from across the country logged into the discussion to question the panel, which included UUP delegates Anne Fearman of Fredonia, who chairs the union's statewide Contingent Employment Committee; and Richard Aberle of Plattsburgh, who is his chapter's officer for contingents.
The presentation coincided with the AFT's release of a major report about contingents in higher education, called "An Army of Temps," which the AFT says is the first nationwide survey of contingent faculty since 2013. The report highlights the continuing difficult work conditions many contingents face, including poor pay, inequity in benefits compared to their tenure-track colleagues, and some of the same issues as low-income college students, including food insecurity and inadequate housing.
The decision to release the report at a time of so much other breaking news made perfect sense, Weingarten said, because contingent faculty will be especially vulnerable as colleges reopen in the fall facing likely funding cuts, budget deficits and declining enrollment because of the pandemic. The report notes that, "the coronavirus pandemic ... has made a grave situation even worse."
UUP ahead on contingent concerns
Wiegard encouraged listeners to continue to push for adjunct rights. She served on the Negotiations Team that negotiated the current UUP bargaining agreement; the contract includes a minimum salary for contingent faculty working at SUNY's state-operated campuses.
"The dollar amount was not huge, but it was a victory," Wiegard told listeners. The union in which she became an activist 15 years ago was not the same union that negotiated that minimum salary, she added; UUP had become far more responsive to contingent concerns.
"It takes time; it takes conversations with other union delegates," she said.
UUP survey informed actions
UUP conducted its own voluntary survey of contingent academics in the 2017-18 academic year. The union's statewide Contingent Employment Committee developed the survey, and more than 1,000 members responded.
"Those survey results have been important for informing UUP's work to address contingent employee needs statewide and at individual chapters," said Jamie Dangler, UUP's statewide vice president for academics. Dangler, along with New Paltz Chapter President Beth E. Wilson, is also a liaison to the Contingent Employment Committee.
Wiegard, one of several UUP members who has gained national recognition for advocacy on behalf of contingent academics, said the fact that Weingarten participated on the panel is a sign of AFT's commitment.
"Let me amplify what I said at the beginning, that the COVID-19 crisis is making many Americans newly aware of gross inequities in the workforce, specifically, the low wages and insecurity of the majority of service workers," Wiegard said as she reflected on the panel discussion. "We can use this pressure for the larger economic reforms many progressive public leaders are calling for to draw attention to the unsustainable employment practices in higher education."
Follow us on Social Media!