May 1, 2020
Giving patients the power of words, during a pandemic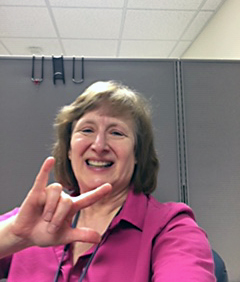 A pandemic cannot be allowed to come between a patient and the healing power of words, spoken in that patient's own language.
With this goal in mind, UUP member Sue Freeman, the manager of interpreting services at Upstate Medical University in Syracuse, had to think of the best way to meet patients' needs, while keeping patients and staff safe from the coronavirus. She knew that no matter how serious the pandemic was, patients would still need to speak with a caregiver, a discharge coordinator or a chaplain, and that patients' families would still need to meet with medical staff and social workers.
Whenever possible, Freeman has turned to technology as the safest approach—but she's also relied on flexibility, creativity, protective gear and the use of interpreters in the room with the patient, when no other approach could meet the patient's needs. It's been a balancing act, but one she says has been made easier by her supportive staff.
"I've got a great team. We work very, very well together," Freeman said. Two UUP delegates—Yolanda Beckon and Larhonda Caver—are part of that team, as schedulers for interpreting services.
Meeting many language needs
Dozens of languages are spoken in the central upstate region—too many for the hospital to have a staff interpreter for each one. Spanish is the most common language other than English, followed by American Sign Language, Arabic, Somali, Nepali and Karen (pronounced Kah-ren), which is spoken by an ethnic group in Myanmar.
Upstate has a staff interpreter for Spanish, and two American Sign Language (ASL) interpreters, one of whom is Freeman. But for other languages, Upstate uses Video Remote Interpreters—fluent speakers who work for an agency and are scheduled to interpret via an iPad. Although this is not new technology, it's especially useful now, when the hospital is trying to limit how many people enter its buildings.
"We have the iPad that has the application; in 30 to 60 seconds, there's an interpreter in Bengali," Freeman said. "That's our first option for our interpreter services right now."
Sometimes, the hospital has had no choice but to have the interpreter present, garbed in personal protective equipment. That's necessary during medical procedures such as an MRI, where the patient needs to hear instructions but cannot look at an iPad. And sometimes, a meeting between staff and family members is best handled with the interpreter in the room.
Creative solutions for special situations
But the iPad approach has worked well, Freeman said, and has even lent itself to some creative solutions using other apps. A Spanish-speaking patient who had COVID-19 wanted to talk to a chaplain, but the chaplain, who did not speak Spanish, was not permitted to enter her room. The hospital gave one iPad to the patient, and another to the chaplain. With the chaplain and a Spanish interpreter standing outside the glass wall to the patient's room, the chaplain and patient were able to converse using FaceTime.
ASL is an especially difficult language to conduct on an iPad. A conversation in sign language flows most easily when both people can see nuances of facial expression and a three-dimensional view of each other's hands, but neither expressions nor motion come across quite the same on a flat screen.
However, the Video Remote Interpreter system on an iPad was acceptable to a deaf patient in the hospital's emergency department who was initially thought to have COVID-19; had it not been, the hospital would have used an on-site interpreter with the necessary precautions, Freeman said.
Freeman is certified as a professional sign language interpreter, and she went back to college to earn her degree in American Sign Language at the Rochester Institute of Technology. She was originally an accountant, but she became interested in ASL when she and her husband befriended a couple in which the wife is deaf, and Freeman wanted to be able to speak to that new friend in the woman's language.
"She encouraged me. She said, 'You've got what it takes to be an interpreter,'" Freeman recalled.
To that, Freeman would add, her Upstate department has got what it takes to help people speak, and be spoken to, with dignity and compassion, even during a pandemic.
Follow us on Social Media!