Updated: January 12, 2021
Original: January 11, 2021
Coronavirus vaccine information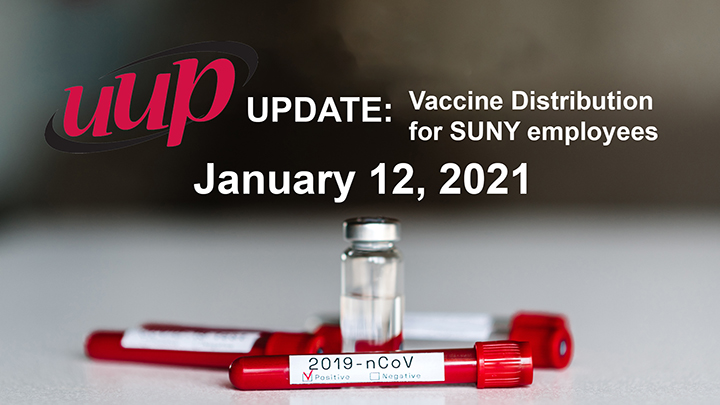 The health and safety of our members, our students and our communities remains our priority. As part of that effort, UUP continues to work with our members, SUNY Chancellor James Malatras and senior members of the governor's staff to press for the fullest and fastest access possible to the coronavirus vaccine for all UUP members.
The latest developments in this rapidly evolving situation can be found here. This page will be updated frequently, so please check this site for developments on the state's vaccination plan as it pertains to UUP members.
1/12/21 Update:
We have been informed that six of our campuses have been established as vaccination sites. We continue to press on the state to recognize all of our members who will be in person on campus in any capacity to be part of category 1B. SUNY is in total agreement on this position. As news reports are indicating, and as we are hearing from the Governor's staff, the supply of vaccines is nowhere near where it needs to be for those defined as eligible at this point, to be vaccinated in a timely manner. We hope that the Federal government will follow through in its announcement that all available doses will be released to the states.
Here is what UUP knows as of 5 p.m. on Jan. 11, 2021:
In-person college instructors can receive the COVID-19 vaccine as part of the state's expanded Phase 1B distribution of the vaccine.
UUP is strenuously advocating that all SUNY employees who work directly on campus, including all UUP professionals, be included in this priority phase of the vaccination campaign.
UUP is having ongoing conversations with Chancellor Malatras to add our professional members to the 1B distribution list. The chancellor understands the absolute necessity for our professionals to be a part of this new round of vaccinations. We are hopeful that will occur soon.
High-risk hospital workers, including those at SUNY's academic medical centers and people who are age 75 or older are already being vaccinated under Phase 1A of the state's vaccination plan.
Those eligible to receive the vaccine must complete the New York State COVID-19 Vaccine Form prior to being vaccinated, according to the NYS Department of Health website. Click HERE to access the form.
The form can be completed online (you will receive a submission ID) or in person at your vaccination site. Individuals being vaccinated must bring proof of eligibility to the vaccination site. This may include an employee ID card, a letter from an employer or affiliated organization, or a pay stub, depending on the specific priority status.
Click HERE to access the NYS Health Department webpage.
Unknowns remain
A number of issues remain unknown, including where people in rural areas can obtain their vaccines. We will update this information as soon as we receive it.
Eligible New York City residents can make an appointment to get inoculated at more than 125 public and private sites throughout the five boroughs through the city's Department of Health website and the NYC Health + Hospitals website."
Follow us on Social Media!