January 12, 2021
UUP sends isolation gowns to Upstate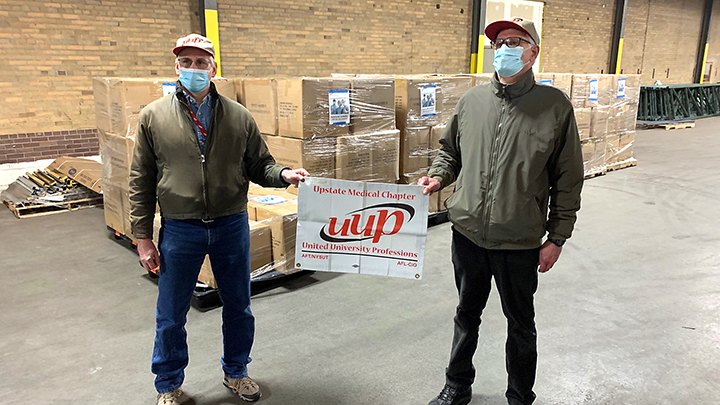 At the peak of the first wave of the coronavirus pandemic, UUP secured and delivered thousands of isolation gowns, face masks and other personal protective gear to safeguard heroic UUP members on the front lines of the pandemic at SUNY's public hospitals and health sciences centers.
Now, as the second wave of coronavirus rages across the state, UUP has again taken action to protect its members, this time at Upstate Medical University in Syracuse. The union purchased and sent 25,000 isolation gowns to Upstate UUP members Jan. 8.
"The safety of our members, and especially those on the front lines of the pandemic, is paramount," UUP President Fred Kowal said. "We are happy to send this life-saving gear to our Upstate members, who are dealing with significant increases of COVID-19 patients in the Central New York area. We will always be there for them, and for all of our members."
SUNY Chancellor Jim Malatras expressed his strong support for UUP in a Jan. 8 press statement, which he echoed on social media.
"As frontline personnel across our SUNY hospitals continue their historic work against COVID, I want to offer my sincere appreciation to UUP for donating 25,000 isolation gowns to Upstate Medical University Hospital," he said. "The battle against COVID isn't done and I appreciate our (colleagues) in labor for their help. We're in this together."
According to the federal Centers for Disease Control and Prevention, isolation gowns are used to protect the arms and exposed body areas of health care workers, and prevent contamination with blood, body fluids and other potential infectious materials. Health care workers rely on the gowns to protect them from the threat of infectious diseases like COVID-19.
In April 2020, UUP purchased 100,000 isolation gowns, which were delivered in May to SUNY Downstate Health Sciences University and Stony Brook University Hospital. Since the start of the pandemic, UUP has donated thousands of N95 face masks, Nitrile gloves, containers of hand sanitizer, surgical shoe covers and other PPE to SUNY Downstate, Stony Brook, Upstate and faculty at the University at Buffalo's Jacobs School of Medicine and Biomedical Sciences, who are working in community hospitals.
The union did so in response to severe shortages in protective gear at hospitals across the country, including SUNY's public teaching hospitals. In March, the governor designated SUNY Downstate as a COVID-19-only hospital. Frontline health care providers at SUNY's hospitals were forced to resterilize and reuse face masks and gowns; some were forced to use garbage bags as surgical gowns.
UUP also rented dozens of hotel rooms for members who worked extra and double shifts and didn't want to return home to their families and possibly infect them.
Follow us on Social Media!