February 5, 2021
Kowal to lawmakers: Pass revenue raisers to prevent SUNY cuts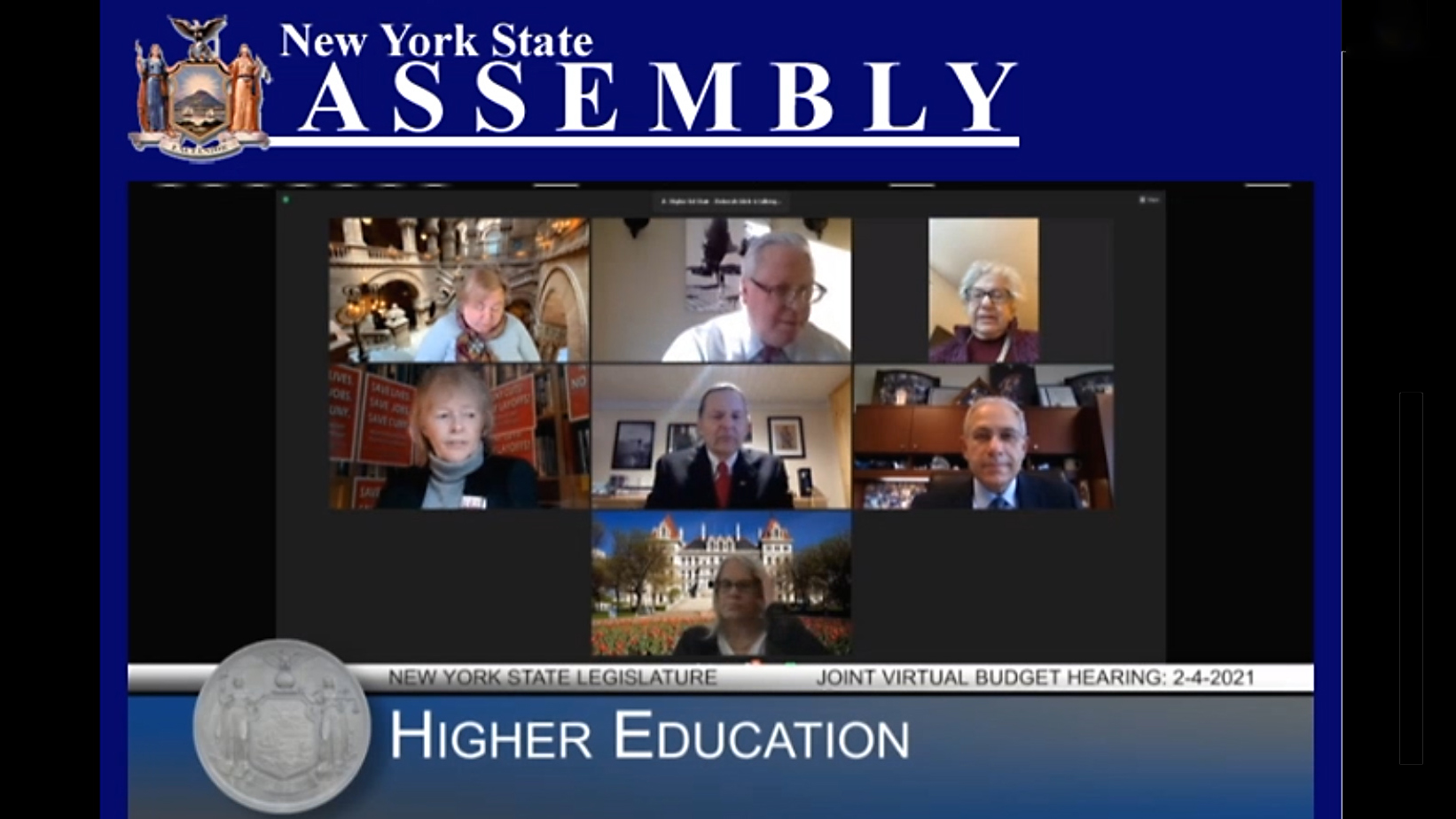 Lawmakers have the power to prevent a $46 million cut to SUNY and protect possibly hundreds of jobs, if they stand united to pass laws that would bring new revenue to the state by fairly taxing New York's richest residents.
UUP President Fred Kowal made that support for new revenue streams the highlight of his three-minute statement to lawmakers on the Senate Finance and Assembly Ways and Means committees, in an annual ritual of testimony during the budget season that has an added urgency this year because of revenue losses from the coronavirus pandemic.
Kowal made the most of his brief time, injecting a sense of urgency into his plea for lawmakers to act.
"At best, the state budget for SUNY will be flat," Kowal said. "Cutting SUNY is short-sighted and ill-advised. You don't cut your way out of an economic depression; you take bold steps."
Kowal added that the as-yet-unfulfilled promise of additional federal coronavirus relief "is triage; it is not recovery." That relief would be the federal coronavirus aid package that President Biden has put forth and which Congressional Democrats support but have not yet passed.
New York HEALS
Kowal also used his testimony to advance UUP's state legislative agenda, a group of forward-thinking proposals known as New York HEALS , which stands for healthcare, education, access, leadership and sustainability.
The agenda would diversify SUNY with programs for underserved students, and it would also attract students into strong programs in health care and green technology – a win-win for SUNY and the state, by educating a workforce in high-paying fields that have a future.
Kowal was joined in his testimony by Andy Pallotta, president of UUP's statewide affiliate, NYSUT; and by Barbara Bowen, president of the Professional Staff Congress/CUNY.
Both echoed Kowal's comments that public higher education in New York has given an immeasurable amount back to the state during the pandemic—and often, as in the case of SUNY's hospital staff, at great risk to essential staff who have healed, taught and treated New Yorkers.
Follow us on Social Media!