February 16, 2021
Kowal to higher ed supporters: Normal isn't good enough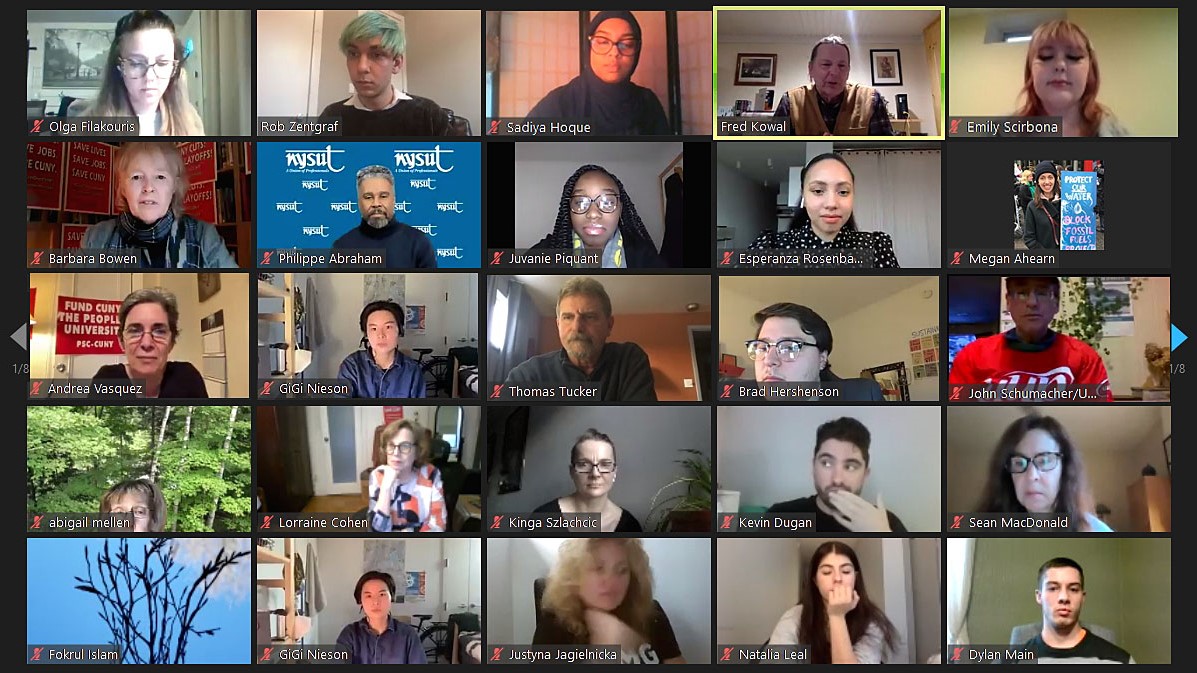 When it comes to public higher education funding in New York, the trouble with normal is it always gets worse.
UUP President Fred Kowal drew that line from lyrics by Bruce Cockburn, the great Canadian singer-songwriter who focuses on social justice and the labor movement, as Kowal explained to hundreds of public higher education activists Feb. 16 why the coming end of the coronavirus pandemic must not mean a return to funding as usual.
For more than a decade now, "normal" has meant either flat funding, or cuts to programs and services, Kowal said in his rousing address during a virtual rally that kicked off Higher Education Action Week.
"We can't go back to that," Kowal said, as he invoked memories of one budget year after another in which public colleges and universities suffered draconian funding losses, class sizes soared and the number of part-time faculty increased while tuition dollars went not to academic programs and services, but to pay the heating bills on campuses.
UUP has a plan for real change
"Public higher education has to be at the vanguard of change in American Society," Kowal said. "The state needs to heal – that's why UUP's legislative agenda this year is so aggressive. We need to heal. We need progressive taxes."
Kowal's reference to healing invoked UUP's state and federal legislative agendas, which are titled,
New York HEALS
. The name stands for Healthcare, Education, Access, Leadership and Sustainability, and the agenda includes measures that would diversify SUNY by improving access to underserved populations in the student body, faculty and staff; would create programs to expand healthcare education; address longstanding inequities in the funding of SUNY; and develop new programs in green technology to support the state's long-term financial future by producing a generation of graduates for high-paying environmental jobs.
Shared goals on opportunity programs, new revenue
The legislative agenda for Higher Education Action Week includes NY HEALS, and cites a number of positions which UUP supports, including fully funding the Tuition Assistance Program, hiring more faculty and staff, expanding educational opportunity programs and supporting new state revenue streams that would revise the state tax code so that New York's richest residents pay a fairer share.
During Action Week, organized by the student-run New York Public Interest Research Group, students, faculty and staff will meet virtually with legislators to press their agenda. The campaign, which runs through Feb. 19, has the support of UUP; the Professional Staff Congress/CUNY; NYSUT; and several student organizations, including the SUNY Student Assembly.
Plenary speaker Philippe Abraham, the NYSUT secretary-treasurer and a former UUP statewide officer, recalled the start that the Education Opportunity Program gave him as an undergraduate.
"I'm a proud EOP alum from SUNY Albany so I know exactly where you're from," Abraham told the students after a warm introduction by Kowal. "Once again the state, instead of meeting its obligation to properly fund higher education, is shifting the burden to communities, to SUNY and to you students."
And a burden it has been. Bradley Hershenson, president of the SUNY Student Assembly, noted that public higher education has seen nearly a billion dollars of funding cuts since 2012.
"Let's address the TAP Gap, which is more like a TAP canyon," he said. He referred to the growing divide between the amount that the Tuition Assistance Program covers, and the rise in tuition since the formula was last updated. The TAP formula is due for a revision this year, and UUP has seized upon that opportunity to press for a correction that actually meets the cost of tuition.
Lawmakers pledge support
Several state lawmakers, all Democrats and graduates of public colleges or universities in the SUNY or CUNY systems, joined the event. They included Sen. Andrew Gounardes, from the 22nd District in Brooklyn; Assembly Member Jon Rivera, from the 149th District in Buffalo, and a Buffalo State alumnus; and Assembly Member Karines Reyes, from the 87th District in the Bronx.
All three pledged to strongly support public higher education funding in this year's budget. The outlook for SUNY remains uncertain, because the budget depends on how much higher education funding comes through in President Biden's proposed coronavirus stimulus package.
But everyone at the Higher Education Action Week plenary who spoke said an emergency bailout is a one-time solution, and that they don't want to return to normal in New York. They want change.
"I'm so ready to stand with you," Rivera told the hundreds of participants. "If there's anything I believe in, it is that now is the time to invest in people."
Meeting with legislators
UUP members continued their advocacy through the week in meetings with lawmakers. Four UUP members met Feb. 18 with staff to Assembly Member Pat Fahy, an Albany Democrat from the 109th District who serves on the Higher Education Committee and has been a longtime supporter of UUP.
Participating in the meeting were Pamela Malone, Empire State College chapter president, co-chair of the statewide Outreach Committee and a UUP statewide Executive Board member; Patrick Romain, assistant vice-president for professionals at the UUP Albany Chapter and also an Executive Board member; Mike Walker, chapter president at System Administration; and John Schumacher, a retiree from System Administration who's been a steadfast advocate for the union at advocacy events during the pandemic.
All four spoke about the UUP statewide legislative agenda, which has many items that paralleled the Higher Ed Action Week agenda. Among the topics by UUP members: revenue-raisers, the SUNY hospitals, closing the TAP Gap, and SUNY opportunity programs. As they often do, members recounted personal stories that illustrate the value of SUNY; Romain, for example, is a graduate of the Educational Opportunity Program, and now works with the EOP at the University at Albany.
Follow us on Social Media!