March 29, 2021
Schumer meets virtually with UUP leaders, talks COVID relief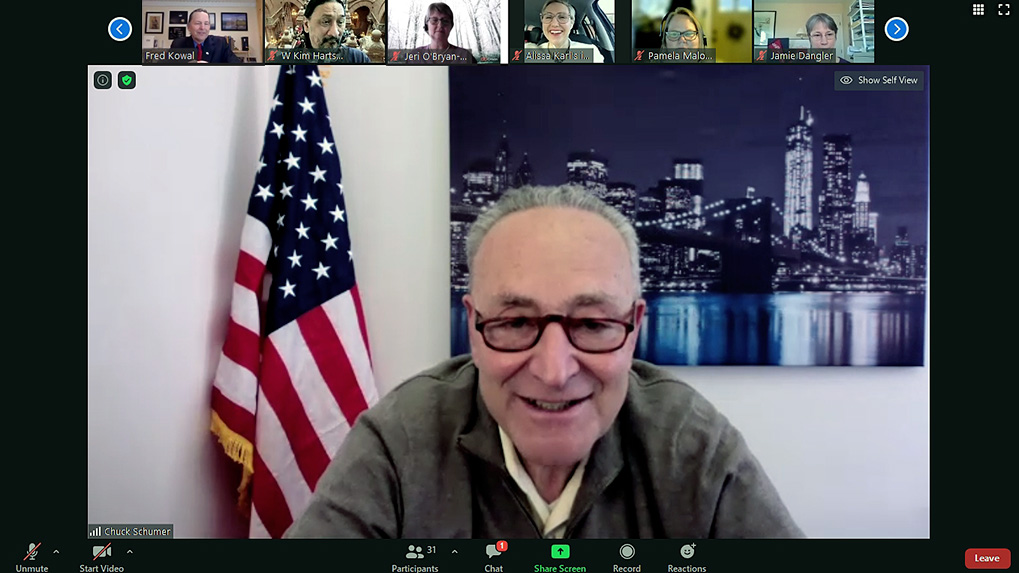 Fresh off one of the most transformative legislative triumphs of the last century, Senate Majority Leader Chuck Schumer delivered a warm, deeply personal message of hope to UUP and the labor movement in a March 29 meeting with UUP leaders.
"Our friends, I just want to report to you, help is on the way," Schumer said as he virtually greeted UUP Executive Board members in a rare exclusive meeting with the union's leadership to discuss the $1.9 trillion American Rescue Plan.
President Biden signed the bill for the plan into law March 11, after Schumer skillfully steered it through a challenging pathway in a Senate with a 50-50 split that left no margin for error. The bill has been likened to a modern-day version of President Johnson's Great Society because it addresses so many social issues, including child poverty and relief for low-income and working-poor Americans.
Direct aid to higher ed
The rescue package brings desperately needed pandemic aid to New York's residents, colleges and universities, hospitals, municipalities, and state agencies. Colleges and universities in New York are getting $2.6 billion, of which half will be direct financial assistance for students. SUNY is getting $915 million, which brings the total amount of federal pandemic aid to SUNY since last year to $1.7 billion, Schumer noted. The American Rescue Plan was crafted so that much of the aid flows directly to municipalities, agencies and higher ed systems, Schumer stressed.
"Do not let the governor or anyone tell you they don't they have the money for SUNY," said a talkative, visibly relaxed and unhurried Schumer in his hour-long meeting with UUP, during which he alternated between a proud recitation of facts and figures about the bill, and warmly personal anecdotes about his long association with the labor movement. "As we say in Brooklyn, we have the eff'in money. Tell 'em Uncle Chuck said that."
A longtime friend to UUP
UUP President Fred Kowal hailed Schumer as a true friend to UUP, noting that the senator also has a warm spot for SUNY Downstate Medical Center, which is in the heart of Schumer's native Brooklyn.
"You have delivered hundreds of millions of dollars to our campuses, funding that has saved jobs and kept alive the dream of a college education for countless young people," Kowal told the senator. He also noted that Schumer "made sure our public hospitals got the help they needed."
Hospitals getting help
SUNY hospitals got direct aid in a series of federal relief packages last year, and they also received quick-turnaround loans to help make up the extraordinary shortfalls and expenses they faced last spring when all revenue-generating elective surgery stopped, and the hospitals began treating an overwhelming number of COVID patients.
Schumer told UUP leaders that Congress expects to lower the current 10 percent interest rate on those loans to 4 percent, and it will probably extend the fast-approaching deadline for starting repayment by another year, with the strong possibility that eventually, the federal government may forgive the loans altogether. The American Rescue Plan also addresses many issues that have driven up hospital costs, including making health insurance more affordable and providing money for COVID-related equipment and other costs.
And this is just the beginning, Schumer said. Next on Congress' agenda: A major infrastructure bill that could be a source of high-paying jobs for SUNY graduates, and legislation that would provide funding to address even more poverty-related issues, including the high mortality rates of expectant and post-partum Black women, and of Black infants in their first year of life.
Kowal pledged UUP's continued support, noting that the union is ready and willing to advocate for legislation at the federal level.
"If you need any help, the largest higher ed union in the country is with you," Kowal told Schumer.
Follow us on Social Media!