April 1, 2021
UUP, PSC/CUNY draw nearly 1,000 to virtual pop-up rally for SUNY, CUNY state funding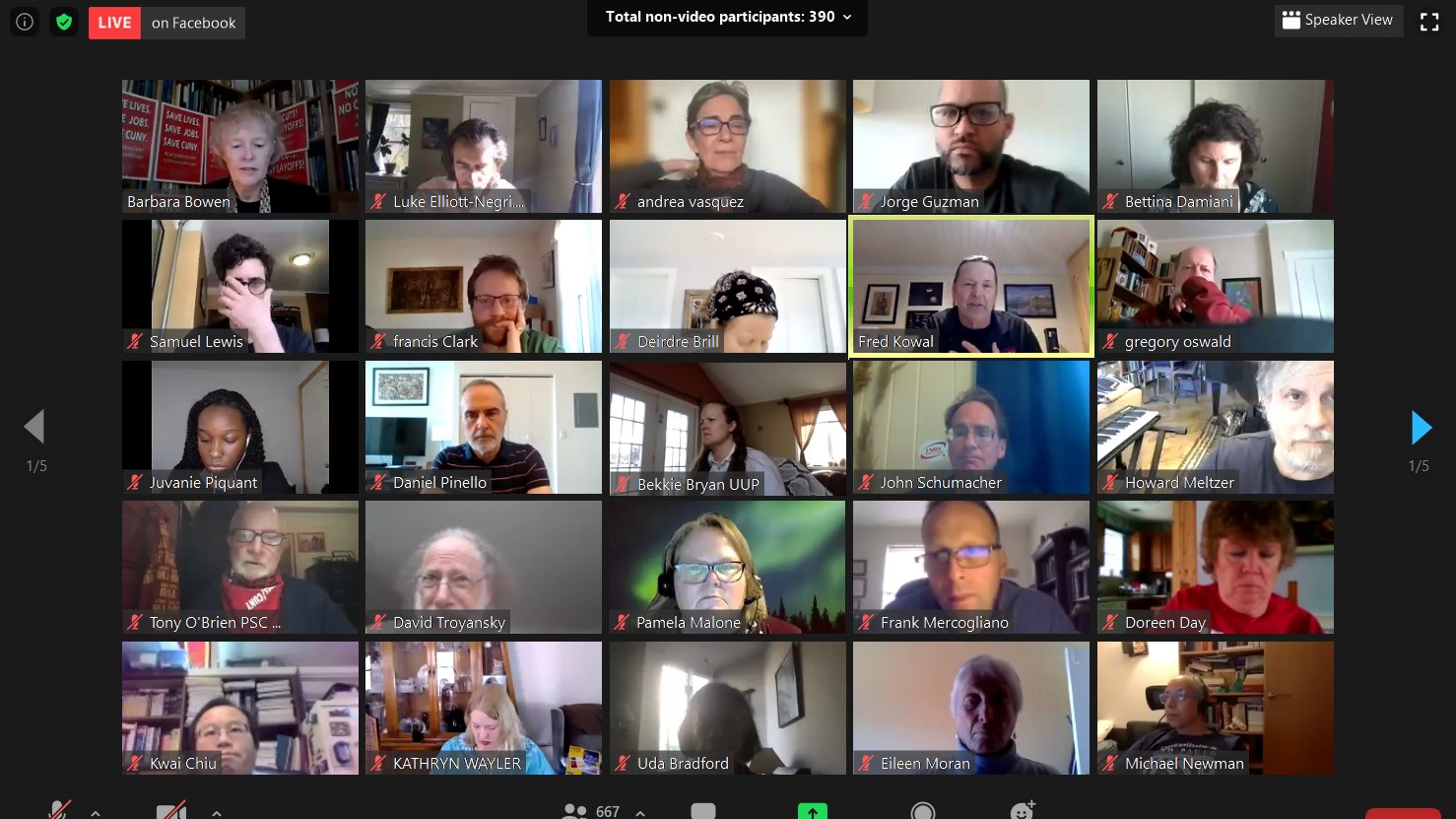 UUP president Fred Kowal, statewide UUP leaders and hundreds of members joined forces with CUNY and SUNY students and their higher education colleagues around the state April 1 in a last-ditch effort for a state budget that fully funds higher education.
"It might be at the last minute that we're rallying, but this effort, this fight, have been ongoing," Kowal told an audience of public higher education faculty, staff, student leaders, and supportive lawmakers that started at 500 and grew by the minute to nearly 1,000.
The turnout was all the more impressive because this was a virtual "pop-up rally," organized on just a few hours' notice when it became evident the morning of April 1 that the state would not meet its budget deadline as mandated by state law that same day.
Rallying around the hashtag #AllInForSUNYCUNY, participants came from UUP, the Professional Staff Congress/CUNY, SUNY community college locals, SUNY and CUNY students and the Legislature. The highly energetic virtual event had a sense of excited urgency, as lawmakers briefly ducked out of conference meetings to report on their progress, and participants took a break in the middle of the rally to call their Assembly members and state Senators.
Members active to the end
UUP Executive Board members Pamela Malone, Bekkie Bryan and Carolyn Kube all spoke about the need to continue pressure on lawmakers right up to the end. Geneseo Chapter member Alan Witt spoke about weeks of working with colleagues at other upstate and Western New York campuses to schedule calls with lawmakers and their staff, an effort he described as deeply fulfilling.
"It's been ton of energy, it's been a lot of work and it's been wonderful to see the results of our work," he said.
Lawmakers who greeted the rally included Democratic Assembly members Harvey Epstein and Billy Jones, and Democratic senators Leroy Comrie and Robert Jackson. Jackson told the audience that as of nearly 5 p.m. the final and most important numbers on public higher education were still not fixed.
"What we're continuing to express to our leader is to hold the line," Jackson said, in a reference to state Senate Majority Leader Andrea Stewart-Cousins.
An evolving outlook for budget
The state budget situation has evolved from a disaster scenario to one of greater hope than anyone could have expected following more than a year of devastation from the coronavirus pandemic on lives, health, hospitals and the economy in New York. Three weeks ago, President Biden signed into law the $1.9 trillion American Rescue Plan, which made a multi-billion-dollar budget gap in New York all but disappear – depending on whether it's the Legislature describing the results of that flood of federal money, or the governor's office.
Federal relief filled the gap
In a virtual meeting with UUP leaders March 29, Senate Majority Leader Chuck Schumer assured UUP that the money for public higher education was a solid part of that rescue package.
He said that colleges and universities in New York are getting $2.6 billion, of which half will be direct financial assistance for students. SUNY is getting $915 million, which brings the total amount of federal pandemic aid to SUNY since last year to $1.7 billion, Schumer noted. The American Rescue Plan was crafted so that much of the aid flows directly to municipalities, agencies and higher ed systems, Schumer noted in that meeting.
UUP has seized the brightening budget picture to ramp up its call for a revised state tax code that would have the state's richest residents pay a fairer share. The union has also called for the reinstatement of the state support for SUNY's three teaching hospitals; the full funding of the TAP gap, and operating funds for SUNY campuses that far exceed a decade of flat funding.
At the end of the rally, Kowal encouraged participants to keep up their calls and social media push to lawmakers.
"This is absolutely not the end," he said. "Even when this budget passes, the struggle for justice will continue. We will not forget those who have been left behind."
Follow us on Social Media!