May 20, 2021
Higher ed panel: Pandemic highlighted SUNY challenges, needs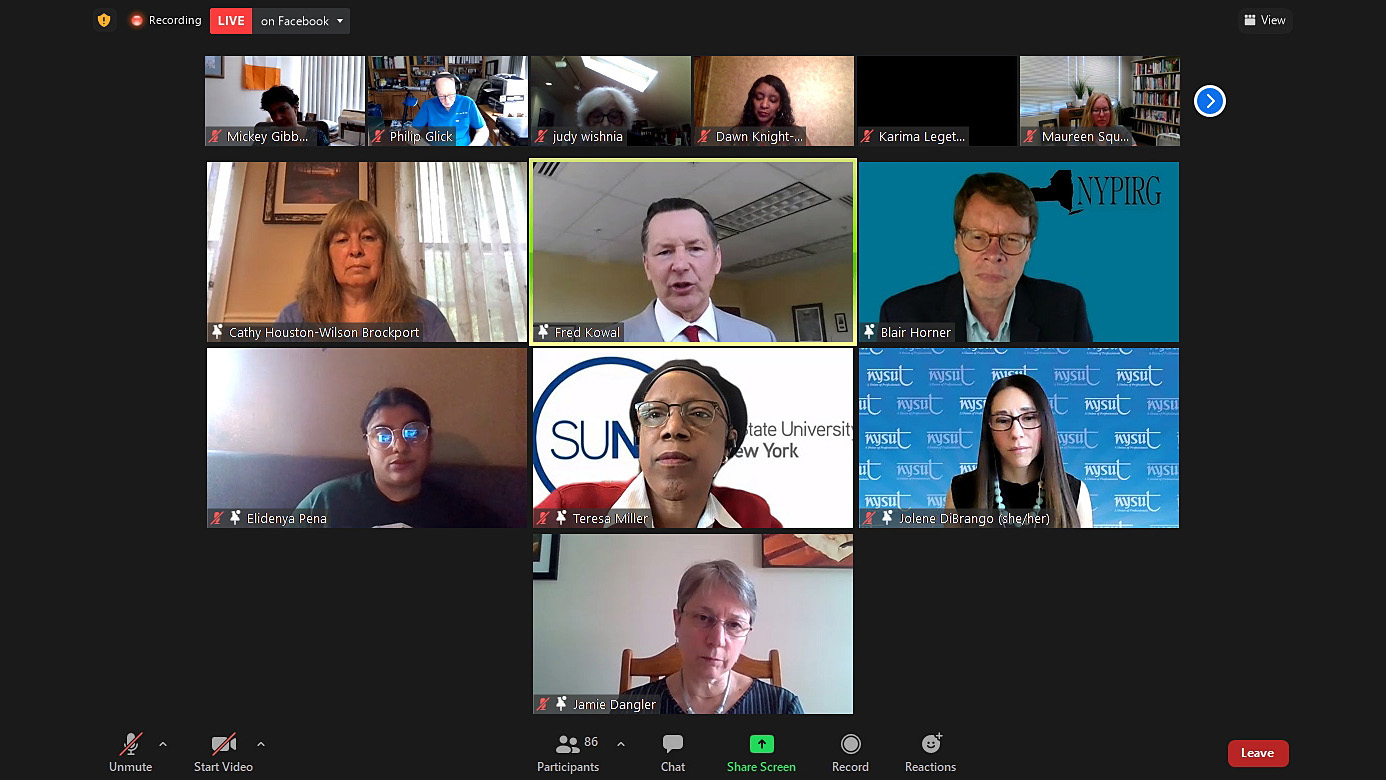 The coronavirus pandemic cast a spotlight on many things that SUNY could or should do better, but it has also offered opportunities for honest discussions and ideas for positive change.
Some of that honest discussion occurred May 20, as a panel of six advocates for public higher education exchanged observations and thoughts for the future during UUP's roundtable on higher education.
The forum was the third and final event in a series of roundtables that tackled major topics in UUP's statewide legislative agenda, NY HEALS. The earlier roundtables this spring focused on SUNY's role and potential for even greater leadership in addressing climate change and access to health care.
UUP President Fred Kowal, who moderated the roundtable, referenced "the overarching work of dealing with the crises that have been laid bare by the COVID pandemic," as he opened the discussion.
"We believe in UUP that it is imperative for us to propose aggressive steps that we and the State University of New York need to take," Kowal added. "We have to face the reality of underfunding and lack of diversity."
A need for real change
The panelists were well prepared to tackle those two topics.
They were: Jolene DiBrango, NYSUT's executive vice president and a leading voice in addressing the state's teacher shortage; Teresa Miller, a lawyer, former UUP member and senior vice chancellor for strategic initiatives at SUNY, as well as the University's chief diversity officer; Elidenya Pena, a SUNY Binghamton student in the Educational Opportunity Program for promising students from underserved communities; Blair Horner, executive director of the New York Public Interest Research Group, a student-run organization that teaches civic engagement through advocacy; Cathy Houston-Wilson, chair of the SUNY Brockport Department of Kinesiology, Sport Studies and Physical Education, and a longtime faculty member in teacher education; and Jamie Dangler, UUP statewide vice president for academics and a leader in statewide efforts to recruit new teachers into the profession.
Frank discussion followed Kowal's opening question about what SUNY can learn from the 15 months it has dealt with the coronavirus pandemic. Virtual platforms for teaching and for meetings with colleagues wore thin, but they undeniably had an advantage, panelists noted.
They opened possibilities for faculty and staff—which is why hundreds, instead of a few dozen, UUP members could participate in a virtual, exclusive meeting with Senate Majority Leader Chuck Schumer in March. A virtual platform for a chemistry class also meant that Pena could immediately access tutoring that followed a tough lesson without having to schedule a later appointment.
But virtual instruction could not capture the essence of the in-person clinical experience with students or patients, for student teachers or medical students, panelists noted. And the pandemic drove hundreds, if not thousands, of experienced practitioners out of their fields, including educators and medical doctors.
Dangler also said she believes that many people thought remote instruction was easier and cheaper to offer.
"We now know that's not true," she said. "It's here to stay, but we must ask when and where it belongs."
Where do you see SUNY in 50 years?
Kowal concluded the panel by asking the speakers to cite SUNY's most urgent need in the next 50 years, in just one word. The responses were: revenue, access, affordability, politics—meaning, successful advocacy and navigation of the state's notoriously complex political scene—and Pena's offering of "learning quality," which she said could not be conveyed in just one word.
By "learning quality," she meant how effectively classroom instruction reached all students, from those who had advantageous backgrounds, to those who entered college as underserved students—a group in which she places herself.
In a particularly poignant statement, Pena also said she has had almost no instructors who reflect her background as a young woman of color, and she described classrooms and social settings at Brockport that are largely white and sometimes left her feeling socially isolated.
Dangler's word was "value," meaning, how well SUNY prepares its graduates to be "informed and active citizens."
"I don't think a lot of people understand how important it is," she said.
It was difficult to come up with a range of solutions in just an hour-long discussion, but participants cited many positive efforts already underway at SUNY and said the mission now is to create more programs like them. Among the examples: partnerships between K-12 systems and SUNY teacher education programs to cultivate a whole next generation of teachers; and systemwide programs to attract and retain a more diverse faculty.
The suggestions offered at the roundtable, which included people in positions to make real change, is a good start, Kowal said.
"I think you all just nailed it," he told the panelists at the end.
Follow us on Social Media!