May 26, 2021
UUP town hall with Rep. Morelle offers support from longtime friend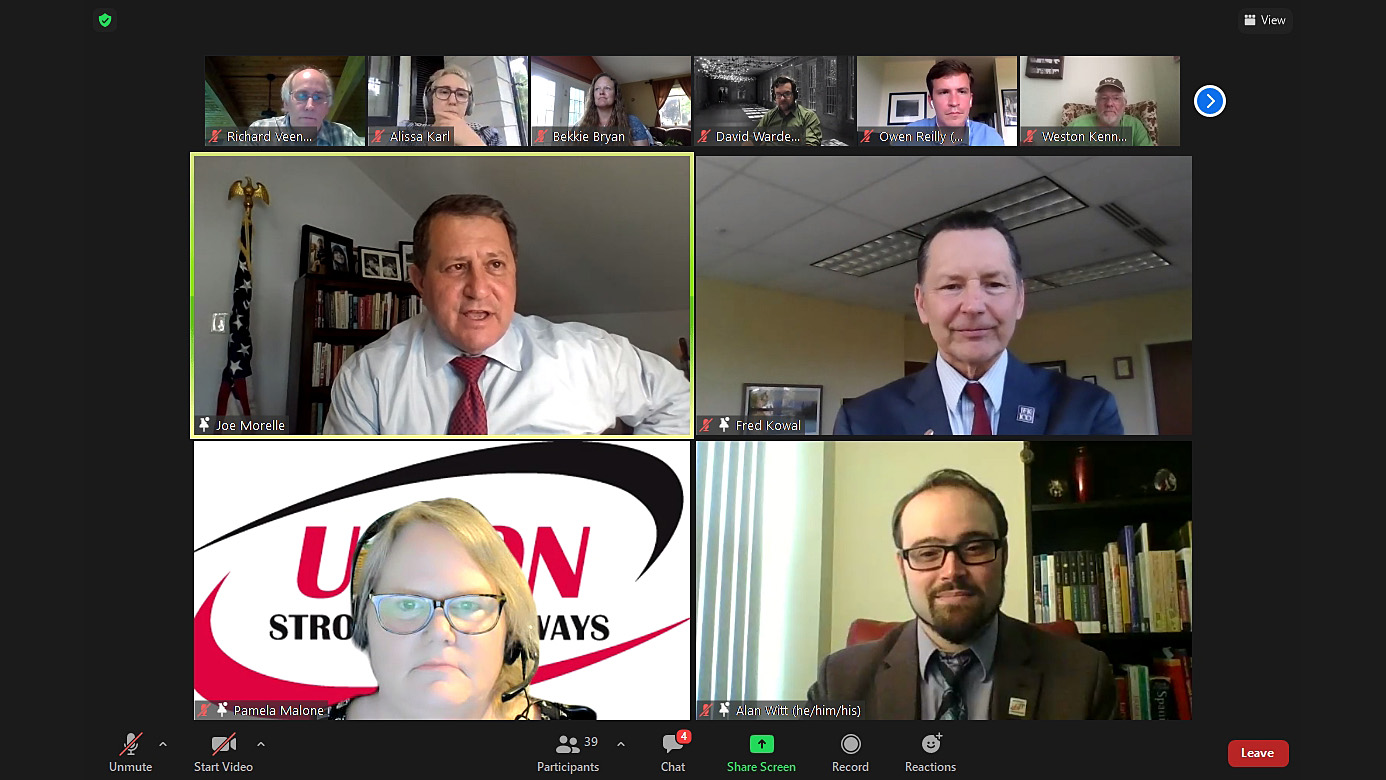 A long and favorable relationship with SUNY, a deep-rooted connection to the labor movement and a solid understanding of New York politics have made Rep. Joe Morelle of the 25th Congressional District a great friend to UUP.
Those assets came through clearly May 25 as Morelle spoke to members in an hour-long virtual town hall hosted by UUP that showcased his longtime friendship with UUP President Fred Kowal and his effectiveness as an advocate for issues of concern to the union from his dozen years in Congress.
Elected to Congress in 2018 from the New York State Assembly, where he was Assembly Majority Leader, Monroe has a proud union background—his father was a pipefitter—and a love for SUNY as a graduate of SUNY Geneseo. His Monroe County district is centered around Rochester.
Kowal offered a warm introduction that included recollections of working closely with Morelle in the Assembly.
"Congressman Morelle is no stranger to UUP or the issues we have fought for, for so long," Kowal said. "He was always welcoming to us and deeply interested in the issues facing us … and he has taken them to Washington."
Organizing is a right
Morelle set the tone of the town hall in his opening remarks, in which he told members he has long been a fan of organized labor and public higher education.
"I consider the right to organize as a First Amendment right," he said. "You can trace the decline in this country, and the decline into income disparity, to the decline of the labor movement."
Questions focused on how two of President Biden's upcoming major legislative goals will affect UUP members and SUNY: the American Jobs Plan, which includes infrastructure projects; and the American Families Plan, which will focus on funding for education from Pre-K through college, child care and other financial aid to families.
Neither will breeze through to passage, Morelle said. For example, there are still climate-change deniers in Congress who question why an infrastructure plan contains environmental components. And support for working families has had a clear racial slant in Congress, with some conservative members questioning progressive Biden steps such as the child tax credit as it pertains to families of color.
The budget reconciliation process, which allows Congress to approve fiscal bills with a simple majority that circumvents a filibuster, can be used for both bills, Morelle said; the key will be to achieve as much as possible through negotiations to ensure the simple majority.
Hospitals still hurting
The fiscal outlook for SUNY hospitals also came up in questions. Hospitals received emergency loans during the pandemic that are about to come due, but it's still difficult to discern if the interest rate is going to be reduced.
Morelle pledged to ascertain the status of the interest rate and get back to UUP with an answer. Even less certain: the possibility that the loans will be forgiven altogether. Although Congressional Democrats have raised that idea, it has yet to happen. And many hospitals, including those at SUNY, have yet to recoup all of their losses from the coronavirus pandemic.
"Clearly, the hospitals and health care providers went through incredible trauma" during the pandemic, Morelle said. "Playing catch-up is a problem."
Morelle closed with a message of appreciation for UUP members.
"There are moments when it feels like the worries of the modern world are going to overcome us, but my optimism is really invested in people like you," he said. "You have enormous responsibilities, not only to turn out people who are successful, but people who are good citizens."
Follow us on Social Media!