June 2, 2021
Suozzi to UUP members: Don't underestimate how powerful you are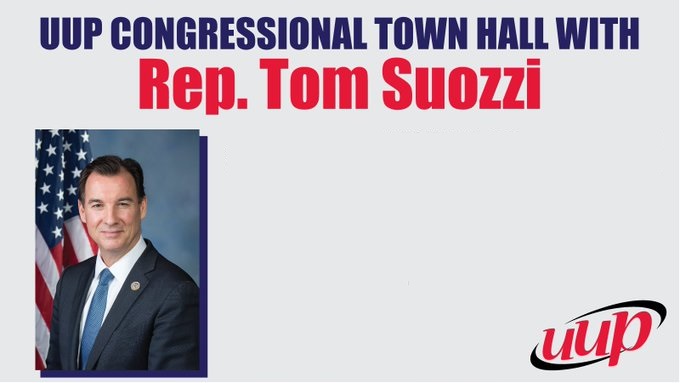 Representing the 3rd Congressional District on Long Island, U.S. Rep. Tom Suozzi counts as constituents several UUP-represented campuses and public teaching hospitals, and he addressed questions from members at those institutions in an hour-long June 3 virtual town hall hosted by UUP.
Elected to Congress in 2016 after serving as mayor of Glen Cove and supervisor of Nassau County, the Democrat has served on the House Ways and Means, the Congressional International Conservation Caucus and the bipartisan Problem Solvers Caucus.
"Tom Suozzi has been a reformer and a problem solver ... a real leader in the U.S. House of Representatives," said UUP President Fred Kowal in his introduction to the town hall.
Hospitals still in distress
As part of the virtual audience, Stony Brook HSC Chapter President Carolyn Kube pointed out that SUNY hospitals are, despite federal assistance and the receding of COVID-19 cases, still facing dire financial situations. Much of the CARES Act relief came in the form of loans, many of those now coming due with interest at a time when the hospitals are still reeling from cost increases for needed PPE and huge losses in revenues after the longer-than-expected period during which profit-making elective surgeries were shut down.
"I'm a huge advocate for all New York hospitals, certainly academic hospitals," Suozzi said. He pointed out that the first round of federal aid allotted more money to Texas hospitals than to New York facilities, because the benchmark for aid was based on Medicare formulas—ignoring the fact that New York saw 35 percent of the nation's COVID-19 cases and 32 percent of deaths from the disease.
Suozzi said he pressured the federal government to consider a fairer, more logical formula for allocating aid. That equity, he said, been part of his push even before the pandemic.
"I've been focused on bringing money back to New York," Suozzi said. "We send more money to the federal government than we get back." He'd like to see much of that go toward New York colleges and universities. "I am a big supporter of affordable higher education, and we need to make sure they're funded properly."
A greener America
When Stony Brook Chapter retiree Charlie McAteer noted that UUP-represented institutions have been on the cutting edge of development for alternative energy, Suozzi reiterated his support for the U.S. adopting renewable energy sources as a means to "make our world safer, preserve our environment and create a lot of jobs moving to a green economy."
He cited partnering with fellow New York Representative Alexandria Ocasio-Cortez in supporting those goals. "She and I don't team up on too many things," he said, "but when it comes to the environment, I'm pretty progressive."
In fact, in 2008 the New York State League of Conservation voters named him Environmentalist of the Year when he was serving as Nassau County executive. But Suozzi offered a word of caution in any such transition.
"Jobs in solar and wind are not necessarily unionized," he said. "Let's pursue our progressive agenda -- civil rights, trade, environment -- but let's look at them through the lens of labor. How are we going to make sure people doing these jobs are getting paid enough?"
A divided America
Suozzi also addressed today's politically polarized landscape.
"Our country, our world is very divided," he said. "I don't think the people are dramatically different, but the more extreme voices are being amplified."
That also holds true in Congress: Suozzi pointed out that his seat is one of only 50 or so in the House of Representatives that is actually competitive.
Suozzi said he was pleased with the outcome of last November's election; he said he was the first congressman to publicly support Joe Biden for president. "I am so happy with his performance so far. I think he's going to exceed everyone's expectations," Suozzi said. "He's going to be a very consequential president."
But with such division crippling Congress, Ken Lindblom—UUP member and Director of the English Teacher Education Program at Stony Brook—asked what members could do.
"There's an old labor saying: Don't mourn, organize," Suozzi said. "You have to organize to beat the people that disagree with your agenda."
He encouraged UUP members to pick an issue or a specific electoral race to get involved with.
"Look at the race upstate: Anthony Brindisi [former U.S. Representative of New York's 22nd Congressional District] lost by 100 votes," Suozzi said. "Don't underestimate how powerful you are. Pick a race, pick an agenda item, and push for it."
This was summed up in Kowal's conclusion to the town hall meeting.
"There is a real commitment to social justice in this union," Kowal said. "We can each play a major role that may seem to be really small things, but can make a major difference."
Follow us on Social Media!