August 24, 2021
Higgins to UUP: Raise your voices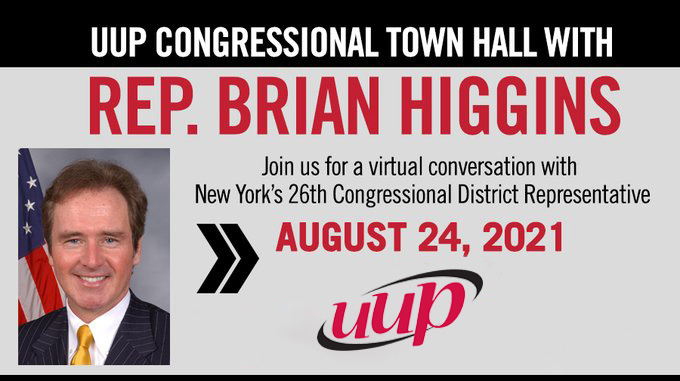 U.S. Rep. Brian Higgins said he supports extending a proposal for tuition-free community colleges in the American Families Plan to include the first two years of school at four-year public colleges and universities.
But Higgins, during a virtual Aug. 24 UUP Town Hall discussion, said UUP members need to make their voices heard for the measure to have a real chance for success.
"I would encourage UUP members to communicate with their members of Congress to go to those writing the bill and tell them to add these provisions," said Higgins, a Democrat who represents more than 4,500 Western New York UUP members in New York's 26th Congressional District. "The last thing we want to do here is create a situation that pits community colleges against four-year colleges."
More than 620 UUP members have sent e-letters to their congressional representatives calling on them to extend the American Family Plan's free tuition proposal for community colleges to public colleges and universities.
Click HERE to send the e-letter.
UUP is part of a multistate coalition of higher education unions advocating for the initiative. Public four-year colleges and universities could see a drop in enrollment due to increased competition with tuition-free community colleges—an unintended but realistic possibility.
"I think that's where this provision falls short," said Higgins. "The last thing anyone wants to do here is hurt four-year colleges and universities."
UUPers check in
More than 60 people took part in the 40-minute lunchtime presentation, part of UUP's virtual Town Hall series. UUP President Fred Kowal and Pamela Malone, a UUP Executive Board member and Empire State College chapter president, led the discussion, which dealt with topics such as eliminating the Senate filibuster, emergency approval for COVID-19 vaccines for kids and federal Medicaid Disproportionate Share Hospital payments.
Higgins voiced support for the bipartisan $1 trillion infrastructure bill passed by the Senate, but said the bill should have been approved for $4 trillion or $5 trillion—which is what he said it will take to repair the nation's infrastructure.
"We need a build-back that's more equitable, more inclusive and will be better for all of us," Higgins said. "We should all want for each other economic independence and self-sufficiency. That's an investment in all of our futures."
Follow us on Social Media!