April 4, 2022
UUP members lauded for pandemic response at NYSUT RA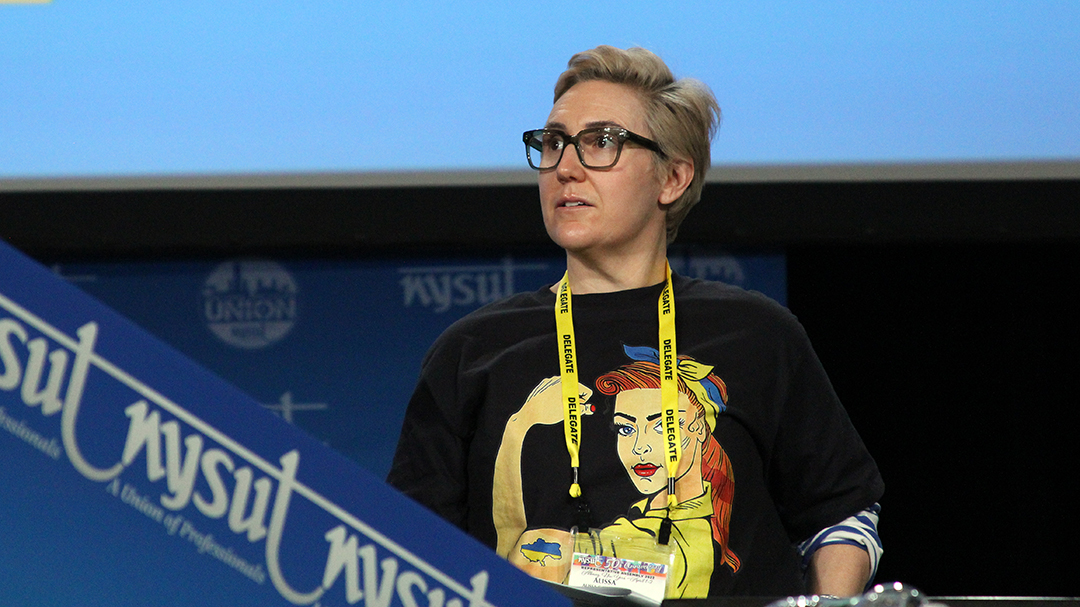 Statewide leaders in labor and government lauded the work of public higher education and health care workers at the three SUNY teaching hospitals during the coronavirus pandemic, at the 50th annual NYSUT Representative Assembly April 1-2 in Albany.
"You have not been appreciated or celebrated, but it's a new day in New York," Gov. Kathy Hochul told the assembly of nearly 2,000 education unionists. "The era of disinvestment in education is over. We have tremendous vacancies in health care and in education. We need to fill that gap, and fill it thoughtfully."
Hochul has proposed or backed several incentive programs to encourage applicants to enter certain professions with strong demand and high vacancies, including K-12 education and health care. UUP, NYSUT and SUNY have proposed or supported some of those initiatives, including pipeline programs to attract SUNY students to the health care field, and grants to help teacher education programs reach future teachers at the high school and college level.
Higher education, global issues up front
UUP's delegation of statewide leaders and chapter members applauded statewide Vice President for Academics Alissa Karl, who co-chaired the NYSUT resolution committee on college and university matters, as she went to the podium to present the committee's recommendations on proposed resolutions.
Delegates approved referring to the NYSUT Board of Directors for further consideration a resolution to allow community colleges to establish and grant bachelor's degree programs. Delegates also approved a resolution to add a faculty member as a non-voting member on the board of trustees at community colleges.
The war in Ukraine has resonated with UUP and with NYSUT, two unions of educators and health care professionals deeply concerned about the loss of life, the trauma imposed on survivors of the shelling and occupation of Ukrainian cities, and the disruption of the education of children and youth. So, when Philippe Abraham—NYSUT's secretary-treasurer and a former UUP statewide vice president for professionals—rose to offer a special order of business in support of Ukraine, he had the full attention of the assembly.
AFT President Randi Weingarten, who was about to travel to Poland on a mission of fact-finding and support for the Ukrainian people, also spoke up for the special order. The assembly unanimously approved it.
NYSUT is collecting donations for its Disaster Relief Fund for the Ukrainian people. For more information, and to make a donation, go HERE.
Follow us on Social Media!