April 11, 2022
UUP Spring DA: In person and with hope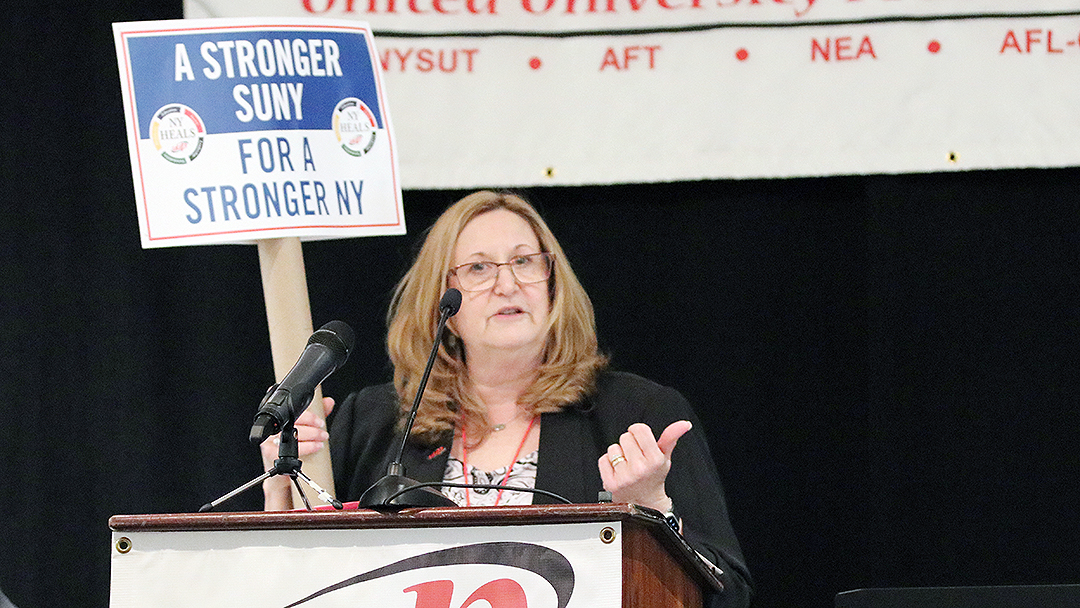 UUP President Fred Kowal looked out at the packed ballroom, filled with more than 200 delegates, and said the words he has been waiting to speak for 30 months.
"I'm calling to order the Spring 2022 Delegate Assembly," Kowal said from the podium, as the gathering began to applaud. "We are back. As a union, whenever we gather, and wherever we gather, it's home.
And with that, the DA—held April 8-9 in Albany—opened with representatives of every UUP chapter in attendance.
Kowal swiftly acknowledged the toll of the coronavirus pandemic, in terms of the COVID-19 deaths of members; the deaths of many loved ones; trauma—especially for health sciences center members, some of whom saw more patients die in the first month of the pandemic than they had in the previous year; and the courageous exhaustion of members who gave all to students, patients and colleagues.
Despite the hard-gained emotional scars of many members, Kowal offered affirmation.
"I stand before you and declare that this, the state of our union, is strong," he said to more applause. "Everywhere a UUP member has been in the past 30 months has been with hope, because we walk with hope."
Budget a plus for SUNY
The DA opened as state lawmakers and Gov. Kathy Hochul were on the verge of reaching a budget. Click HERE to read UUP's press release about the 2022-2023 state budget, which was approved April 9.
"This is a win," he said during the Friday plenary session. "We haven't seen money like this in over a decade. This is a down payment, but it's a great start. This win belongs to you."
The DA was the first at which delegates had gathered in person since the fall of 2019. By late March 2020, and just before the planned UUP Spring 2020 DA, New York was in a state of emergency; SUNY campuses had closed; and businesses, restaurants and entertainment venues had either closed or were operating on extremely limited access.
UUP members at the four SUNY academic medical centers, however, were in full triage mode as the scope and devastation of COVID-19 became clear, and nowhere was that more evident in those first months than at Downstate Health Sciences University Hospital in Brooklyn and Stony Brook University Hospital on Long Island.
Somber reflections
UUP members, both active and retired, died during the pandemic. Out of respect for those members' families, and because of the difficulty of verifying a coronavirus death, UUP has never published a list of members who died of COVID-19. But delegates clearly knew that there were COVID-19 deaths as Membership Development Officer Tom Hoey read the annual "In Memoriam" list of deceased members' names. The strong emotion of that brief ceremony was evident in the expressions among delegates, including for Hoey, who read names of people he knew.
Immediately after the reading, Kowal recognized Fred Floss, a former statewide UUP vice president for professionals and current Buffalo State Chapter president. Floss rose to remind delegates that the In Memoriam list included many retired members who had been instrumental in the founding of UUP nearly 50 years ago, and that their deaths signified a great loss to the union.
Budget, negotiations and new resolutions/policies
Statewide Secretary-Treasurer Jeri O'Bryan-Losee delivered a financial report, and delegates unanimously approved a 2022-2023 budget.
UUP Chief Negotiator Bret Benjamin delivered updates on the planned negotiations for a new contract. The main message delivered by Benjamin during the meeting of chapter presidents and vice presidents, and during the April 9 plenary: Member feedback is incredibly valuable, and it is helping shape UUP's topics for negotiations. Members can view information on negotiations in the Members Only section of the UUP website, HERE , where they will find updates and ways to submit ideas and questions on the process.
In other business, delegates approved a proposed ethical conduct policy that will apply to all elected or appointed representatives of UUP. They did not approve a proposed constitutional amendment that would have allowed the chair of the Retired Membership Governing Board Committee to become a voting member of the statewide UUP Executive Board.
Delegates voted to make the Environmental Issues and Advocacy Ad Hoc Committee a standing committee, and they also approved a change to the Pearl H. Brod Award—which recognizes retirees for outstanding service to UUP and their communities—so that it can be given to two retirees at the same time, instead of just one. Delegates also passed a resolution to formalize the relationship between UUP and Higher Education Labor United, a national coalition of higher education unions.
Click HERE to read more about the Spring 2022 DA, including officers' reports, on UUP's Members Only site.
Follow us on Social Media!