April 12, 2022
Marching for equity with the Poor People's Campaign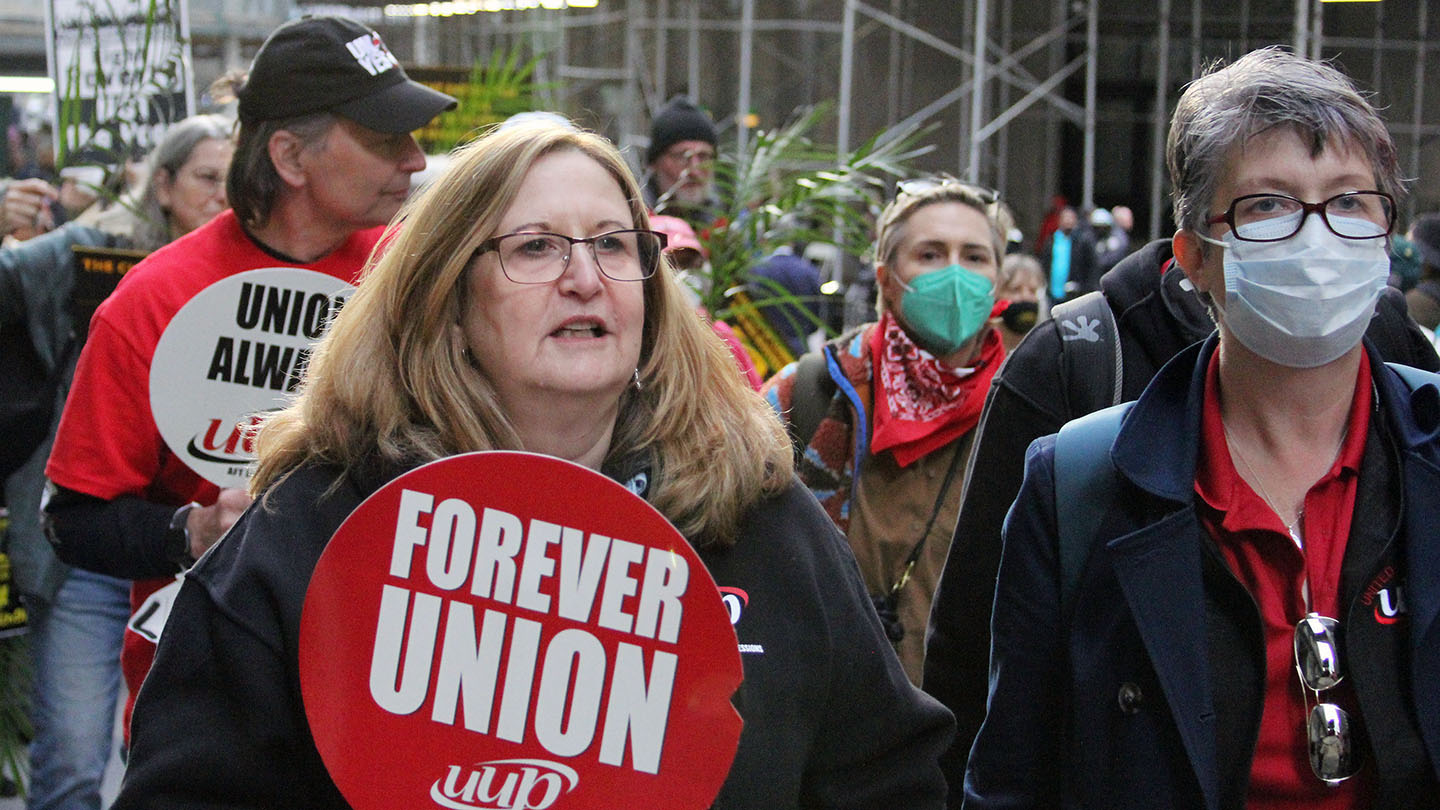 An animated, enthusiastic march of 1,000 anti-poverty activists—including UUP members and leaders—helped set the stage in New York City April 11 for an upcoming national rally in Washington, D.C., by the Poor People's Campaign.
The Poor People's Campaign: A National Call for Moral Revival, is an anti-poverty movement led by two Protestant ministers, the Rev. William Barber II and the Rev. Liz Theoharis. UUP has long shared many of the ideals embraced in the movement's platform, including anti-racism, efforts to alleviate poverty and a push for environmental justice, and Barber has supported the effort by UUP to achieve greater funding for public higher education in New York.
UUP leaders and members are also expected to join a June 18, 2022, march and rally in Washington, D.C., by the Poor People's Campaign. The April 11 march in New York City is part of a national tour by the organization in anticipation of the June 18 event.
Shared goals against poverty
"It is heartening to see so many people with the shared goal of addressing poverty in this, the richest nation in the world," UUP President Fred Kowal said as he gathered with other UUP leaders and members at the rally in lower Manhattan's Battery Park before the April 11 march. "It's important for labor to be part of this national call for a more equitable division of wealth and resources. And as a union of public higher education advocates, UUP is proud to be part of this important campaign, because throughout its nearly 50-year history, UUP has consistently stood with those who are victims of injustice."
Joining Kowal were UUP members from several chapters, along with statewide officers Carolyn Kube, the vice president for professionals; Alissa Karl, the vice president for academics, and Jeri O'Bryan-Losee, statewide secretary-treasurer.
Optimism in a difficult time
Joining the UUP contingent was Stony Brook HSC Chapter member Pam Ginex, an assistant professor of nursing, who has been a UUP member since 2021 and said she was happy to be part of the march and rally. As a new unionist, and as a nursing faculty member who started her Stony Brook HSC job during the coronavirus pandemic, she is also optimistic about what she sees among her students, some of whom are entering nursing after having pursued other careers.
"Hopefully, more people will see they can help others," she said. "I don't think there is a typical student—a lot right of high school, a lot of second careers. It's pretty diverse."
The rally in Battery Park was an eclectic scene of activists of all ages, with some playing rhythms on drums and a cowbell, some singing protest songs, and some performing skits on themes of fighting poverty. Several of the performers had donned fantastic costumes of monstrous-looking rats that symbolized greed, oppression and corporate wealth. Then, the colorful gathering formed into a line more than a quarter-mile long, which snaked through the narrow streets of the Financial District. Marchers then filed into the historic Trinity Church, an Episcopal church on Broadway near the juncture of Wall Street, where Barber and Theoharis led a program.
Watch UUP's website and the Connect and UUPdate newsletters for more information about the June 18 rally and march in Washington, D.C.
Follow us on Social Media!