May 8, 2022
A greener SUNY can be an environmental leader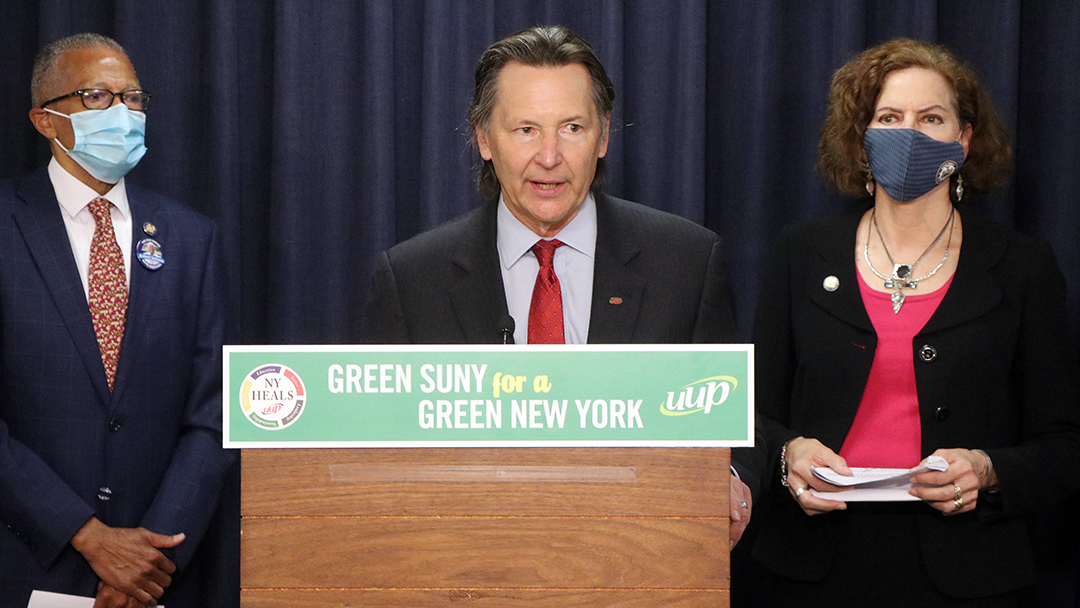 With more than 2 million students and staff, and oversight of 40% of the buildings in the state, SUNY is a logical choice to be a leader in environmental policies and actions in New York.
And UUP is eager to help SUNY become that environmental leader, starting with a package of five bills that would encourage and help fund sustainable actions systemwide
"UUP is commencing the hard work of turning SUNY into an institution that will be a driving force in contributing to a greener future for New York," UUP President Fred Kowal said in a May 5 press conference in the Legislative Office Building in Albany, as he announced the union's post-budget environmental legislative initiative. "With 64 campuses around the state, and as the holder of 40% of New York's buildings, everything that SUNY does is connected to New York's future."
Strong ideas get lawmaker backing
Joining Kowal at the press conference and speaking about the bills were state Sen. Robert Jackson, of Manhattan; Assemblymember Patricia Fahy, of Albany and Assemblymember Anna Kelles, whose district includes Tompkins County and parts of Cortland County.
Also joining Kowal, and speaking, were Susan Fassler, a member of the UUP SUNY ESF Chapter, director of sustainable operations at ESF and—along with UUP member Brian Obach of New Paltz—co-chair of UUP's new Environmental Issues and Advocacy Committee; and Peter Iwanowicz, executive director of Environmental Advocates New York, and a member of the New York Climate Action Council.
Jackson, Kelles, Fahy and state Sen. Brad Hoylman of Manhattan are prime sponsors of various bills in the package.
UUP is well-positioned to advocate for a stronger environmental role by SUNY. Kowal serves on the board of the National Wildlife Foundation, and he has made environmental issues a strong part of UUP's advocacy work.
UUP's legislative agenda, titled "New York HEALS," includes sustainability as one of the key legislative concerns for the union and one of the key roles for SUNY, along with health care, education, access and leadership. UUP leaders and members have participated in several events dealing with environmental issues in the last few years, ranging from testimony before state lawmakers to panel discussions, some of which UUP has sponsored.
A comprehensive approach
The SUNY environmental sustainability bills that UUP announced at the press conference are:
1: A bill that would require SUNY to develop a plan, systemwide and for each campus, to have zero waste by 2030, with Hoylman as the lead sponsor;
2: A bill still under development which would create a "green revolving fund" to finance sustainability projects on campuses;
3: A bill that would help keep surplus SUNY property out of landfills and would instead help find a new home for surplus property, either on a SUNY campus or through a charitable donation, with Fahy as the lead sponsor;
4: A bill that would require SUNY to hire a systemwide sustainability director, with Jackson as the lead sponsor; and
5: A bill that would establish three areas of sustainability work on SUNY campuses, including waste management; energy management; and education and outreach, with Kelles as the lead sponsor.
Follow us on Social Media!