May 9, 2022
Supporting organizing effort by Skidmore contingents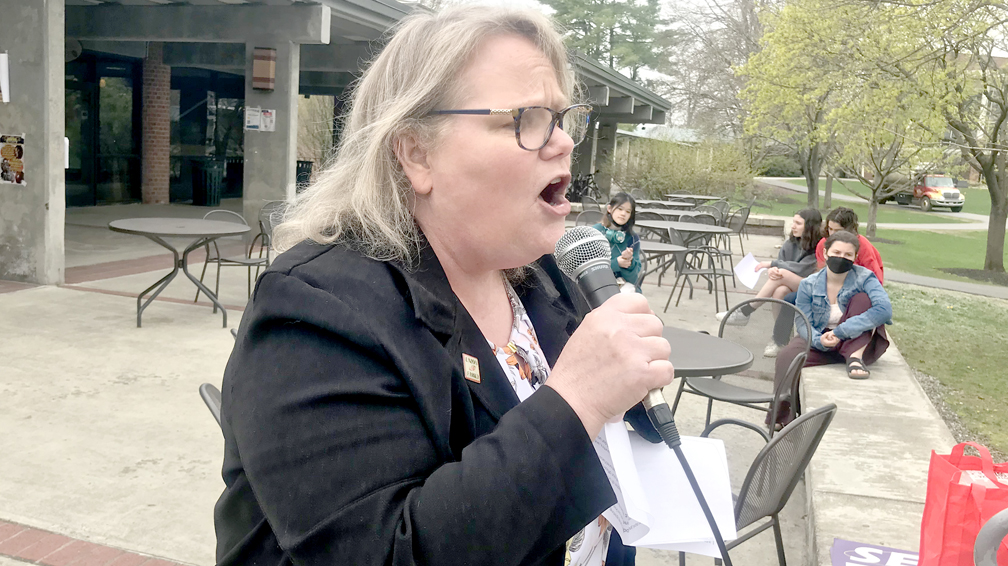 UUP members who rallied for the unionization effort Skidmore College contingent faculty May 6 had one simple reason why they showed their support: In higher education unionism, there's no part time or full time; there's just the union.
"A campus like Skidmore, like every other campus in this country, runs on its adjuncts," said David Banks, the officer for contingents at the UUP Albany Chapter, who, along with Albany Chapter President Aaron Major and UUP Empire State College Chapter President Pamela Malone, attended the May 6 rally and press conference. "It's good to see that if they don't have the protection of tenure, they have the collective power of unionship."
About 170 contingent faculty at Skidmore have submitted a petition for a union election with the National Labor Relations Board. The contingents are organizing as the Skidmore Faculty Forward/Service Employees International Union (SEIU) Local 200United. They say that more than 60% of the Skidmore contingents support the unionization effort.
Contingent issues important to UUP
Malone, who is also secretary of the Saratoga Area Labor Council, spoke at the rally and gave an impassioned pledge of support to the prospective unionists. She serves on the UUP Executive Board, and she and Major are members of the UUP Negotiations Team. Contingent issues are expected to be a major part of the talks with the state on the next UUP contract.
"I'm here to express the support of our officers and our executive board and our members," Malone told the more than 150 attendees at the rally. "We know—we definitely know—the struggles of contingent labor. I'm here to say, welcome to the union family. Your struggle is our struggle; your struggle is labor's struggle. I'm here to tell you, you are not alone."
Nationally, 46% of college faculties in the United States are part time, according to the U.S. Department of Education's National Center for Education Statistics. Full-time tenured faculty like Major are very aware of the role that contingent faculty play on any campus, rarely as equals to their full-time colleagues but often teaching the largest classes for the lowest pay.
"I think it is crucially important to support organizing efforts around contingent faculty," he said. "They're the group that bears the burden of shifting costs. If we don't support them, it's going to affect all of us."
Follow us on Social Media!