May 27, 2022
UUP, state open talks for new contract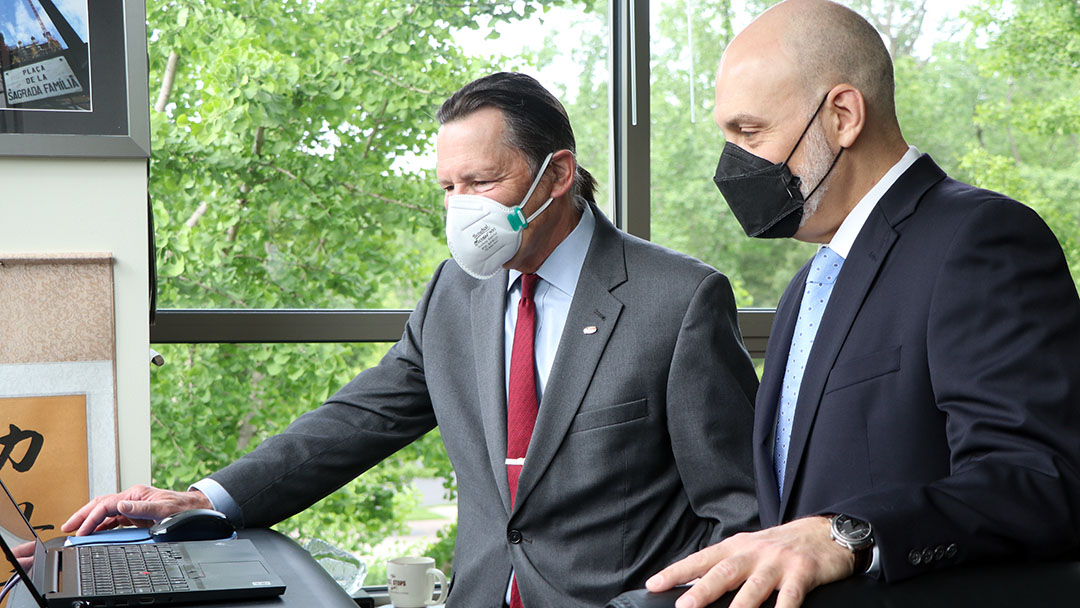 Let the negotiations begin.
UUP's Negotiations Team and UUP President Fred Kowal met virtually with state negotiators May 27 to present the union's set of proposals for a new contract with the state.
The meeting officially kicked off negotiations between the two sides over a new pact. UUP's current six-year agreement with the state expires July 1. However, most of its terms will continue until a new contract is ratified.
"We've put together what we think is a set of conceptual proposals that tries to address the primary concerns that different parts of our membership raised," said Chief Negotiator Bret Benjamin. "I hope that, when you review this document, you'll see a set of conceptuals that hits on the key priorities of our diverse membership and yet tries to narrow the focus of our initial proposals so that we can begin working on the complex process of negotiating a contract. We're eager to get down to that business."
At this initial session, UUP presented its conceptual proposals to the state. Benjamin said he expects that the state will present its conceptual proposals at the next negotiations session, which should come in June.
Leaders from both sides wished each other well and said they looked forward to starting the negotiations process.
"I know that together, we have the best interests of the state and SUNY, our membership, our students, our patients at the forefront as we go into this round of negotiations," Kowal said. "We are committed to the university we serve, but also to our members and to working productively and effectively with you at the table to get a deal that will benefit our members, our institutions, our students, the patients we serve, and this entire state."
Joe Bress, the state's lead negotiator and a SUNY alum, concurred, emphasizing that both teams recognize the value of the SUNY system to New York.
Proposals to be posted
The union's proposals will be available next week to UUP members on the password-protected Members' Only section of the UUP website. As negotiations progress additional information regarding that progress will also be posted in Members' Only. If you'd like to become a member, it's easy to do. Click HERE or go to www.uupinfo.org/join to sign up now.
The Team has also slated a series of four virtual Town Halls for union members to get details about the union's contract proposals package. The virtual town halls are set for June 8 and June 9. During the seminars, Benjamin and members of the Team will give an overview of the proposals, take questions and provide answers.
Two workshops will be held each day: at noon and 4 p.m. on June 8 and noon and 7 p.m. on June 9. Click HERE to register for the forums.
"We think all of our members should know and understand UUP's vision of bargaining for this round," said Benjamin. "We'll talk about our areas of emphasis and why we included the specific proposals in our package."
Member input counts
Benjamin emphasizes that UUP's proposals are "ambitious" in their scope and impact, but also noted that the package is more focused than past proposal packages. Key priorities include compensation, establishing a permanent telecommuting agreement, help for hospital employees and contingents, and expanding joint labor-management programs.
The Negotiations Committee approved the proposals package at an April 29 meeting with the Negotiations Team and Ad Hoc Advisory Committee. The Negotiations Committee—consisting of one representative from each chapter plus an at-large part-time professional and an at-large part-time academic—is charged by the UUP Constitution to formulate negotiations proposals for presentation to the UUP president.
Benjamin presented the proposals to Kowal and the Executive Board at a special May 18 meeting.
The package of proposals approved at the April 29 joint meeting was developed in response to member input collected over the last nine months. The Negotiations Team held nearly 60 virtual meetings with members to find out what they wanted to see in a new contract. Member response was also solicited through an online survey.
"The Team has done an amazing job," Benjamin said. "We think that we're in a good place to get to the table, have the state take these proposals seriously and move this process along."
Follow us on Social Media!