June 21, 2022
UUP members call for change at Poor People's Campaign rally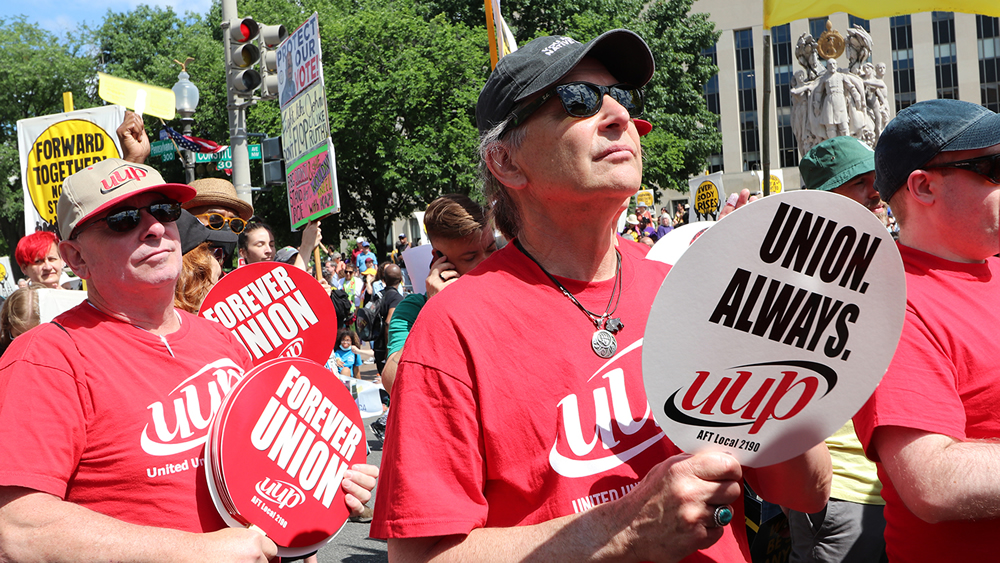 More than a half-century ago, Dr. Martin Luther King, Jr. organized the Poor People's Campaign, a multiracial initiative that demanded economic justice, human rights and other basic gains for Americans living in poverty
On June 18, thousands of activists and protesters picked up King's unfinished work, delivering a spirited, defiant message for positive change at the Poor People's and Low-Wage Workers' Assembly and Moral March on Washington and to the Polls.
More than a dozen United University Professions members spent hours driving or traveling in buses to the Washington, D.C. rally, including UUP President Fred Kowal, statewide Membership Development Officer Tom Hoey, statewide Executive Board member Darleyne Mayers and Upstate Medical University Chapter President Rich Veenstra.
"It's really important to be here," said Kowal. "This is a gathering of groups from all over the country committed to social justice. And part of that struggle is workers' rights and affordable, accessible health care, education for everyone, things we fight for every day.
"I see this event as an answer to January 6th," Kowal continued. January 6th was about fear, it was about racism, it was about anger, it was about people wanting to grab power, against democracy and what the people wanted. Here, you're seeing diversity. It doesn't matter who you are, you are welcome here. It's a gathering of love and compassion and a commitment to justice. Where else would UUP and unions be?"
Protesters waved bright yellow flags with slogans like "A New Unsettling Force" and "Forward Together, Not One Step Back," and hoisted signs with the words "Everybody Got a Right to Live" and "If It Looks and Smells Like Jim Crow, It's Jim Crow."
At the rally, led by the Rev. William Barber, co-chair of the Poor People's Campaign, speakers urged the crowd to register to vote in the midterm election later this year. Representatives from each state also spoke, sharing their stories during the nearly four-hour event, addressing health care, gun violence, housing and other issues that disproportionally affect low-income Americans.
The Poor People's Campaign also demanded what advocates refer to as a "Third Reconstruction," following the First Reconstruction after the Civil War and the Second Reconstruction of the civil rights movement. The Third Reconstruction would deal simultaneously with systemic racism, poverty, ecological devastation, health care and religious nationalism that blames the poor instead of the systems that cause poverty.
"Today we are determined to bend the moral arc right here in America," Barber said, his words amplified by a huge sound system over a large stage with the Capitol, in the distance, as a backdrop. "We are resolved not to stop until we no longer have breath to breathe or strength to give.
"We are not here to beg, but to demand what is fully ours and is every human being's right," he continued. "We've come to put a face and a voice on these numbers of poverty, to show that they are real people and real lives. They are us and we are them, and we cannot be silent anymore."
You can read Barber's full speech HERE.
Read more about the Poor People's Campaign HERE.
Follow us on Social Media!