June 22, 2022
Unionists gather thousands strong at Labor Notes conference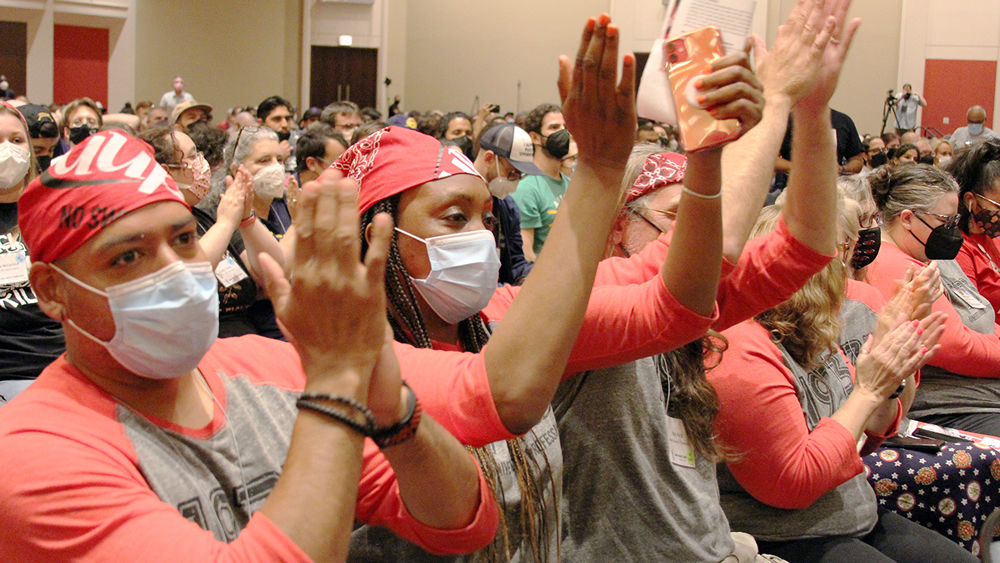 This should strike fear in the hearts of corporate union-busters: Based on the energy, enthusiasm and standing-room-only workshops at the annual Labor Notes conference in Chicago, June 17-June 19, unionism is alive and well in this country.
Three UUP statewide officers led the UUP delegation: Vice President for Professionals Carolyn Kube, Vice President for Academics Alissa Karl, and Secretary-Treasurer Jeri O'Bryan-Losee
Members from around the state joined them, and several in the delegation proudly noted that UUP appears to be one of the very few higher education unions that has a "wall-to-wall" bargaining unit. That means that UUP represents not just full-time faculty, but academic and professional contingents, and professionals in a wide range of jobs throughout SUNY, including health care, internet technology, residential life and building services.
"I think that's something we have to offer higher education labor, to present the full perspective of higher education labor, and we've been doing this for 50 years," Karl said.
A great year to gather
Labor Notes, a labor-reporting news outlet and publishing company—it calls itself "The Global Local"—hosted more than 4,000 attendees who represented hundreds of unions and more than a few groups of workers who are organizing with the intention of forming a union.
Labor Notes held virtual events through the first two years of the coronavirus pandemic, and it returned to an in-person conference that coincided with some of the most noteworthy successful organizing efforts in decades, including at Starbucks, Amazon and Google.
And the plenary session offered something for everyone at a conference where just about every imaginable union representation was present: carpenters and steelworkers, nurses and graduate students, railroad workers and postal workers. Speakers included Michelle Eisen of Starbucks Workers United; Chris Smalls, president of the Amazon Labor Union; Stacy Davis Gates, president elect of the Chicago Teachers Union; and Sean O'Brien, president of the Teamsters.
Watch the forthcoming Summer issue of The Voice for more in-depth coverage of this tremendous gathering of labor.
Follow us on Social Media!