June 30, 2022
At SOUL Committee forum, support for vulnerable students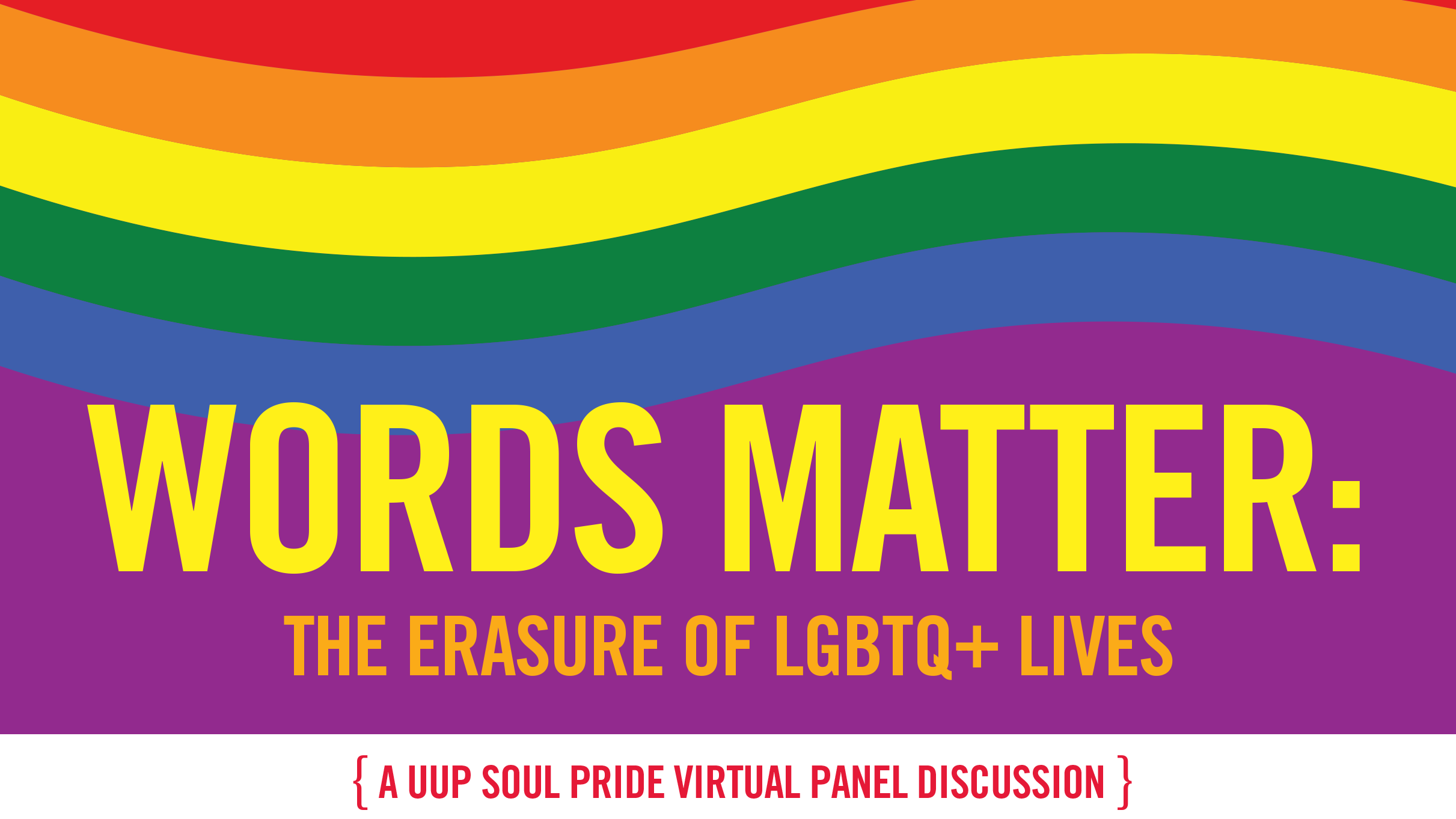 With a growing number of states either banning discussion and education about gender- and sexual-identity issues in public schools, or considering such a move, children and young adults dealing with these issues can feel isolated and even desperate.
But that doesn't mean they have to feel alone.
Dozens of caring and compassionate UUP members and experts on helping such students made that clear in a well-attended forum sponsored by UUP's statewide SOUL (Sexual Orientation United for Liberty) Committee June 30. Held as a virtual event on the last day of a national month-long observation of Pride Month, the forum was titled, "Words Matter: The Erasure of LGBTQ+ Lives."
Legislation dubbed "Don't Say Gay" –which prohibits or restricts what educators can discuss about gender and sexual identity with younger K-12 students—is either already law or is under consideration in 14 states. Coupled with recent U.S. Supreme Court decisions that have loosened concealed-carry gun laws and overturned the right to legal abortion, such laws demand a response, UUP President Fred Kowal said as he opened the hour-long discussion.
"We are summoned to teach inclusion in our classrooms, our offices and our communities," Kowal said. "As workers, as union members, we live by this principal: A harm to one is a harm to all."
Kelly Keck, president of the UUP Delhi Chapter, a statewide UUP Executive Board member and chair of the SOUL Committee, concurred.
"Basically, we're seeing a comprehensive attack on our rights, and that requires a comprehensive response," he said.
Expanded rights a threat to conservatives
Panelists devoted their discussion to demonstrating that while written and spoken words can hurt LGBTQ+ children and youth, the right words can help, and can even help save lives.
Panelists included Jess Blake, an Educational Opportunity Program counselor at SUNY Delhi and co-chair of the SUNY Delhi Faculty & Staff of Color Association; Mattie Cerio, a social worker at Upstate Medical University; Luca Jurich, LGBTQ patient services coordinator at Upstate; Sean Massey, associate professor of Women, Gender and Sexuality Studies at Binghamton University; and London Wright, a staff therapist and outreach coordinator at LeMoyne College in Syracuse.
Blake noted that as children become more comfortable exploring gender and sexual identity at young ages, "I think this is scaring a lot of politicians. These state policies will, if we allow them to expand, become federal issues."
Massey said that "the threats we're facing today are not new; in fact, they are kind of familiar." UUP members and unions in general can take action, he said, by asking who the decision-makers are in potentially harmful legislation and figuring out who has the power to keep such bills from becoming law.
Individual UUP chapters can pass resolutions encouraging the UUP Executive Board to press New York state and SUNY to consider how limiting travel to states that support restrictive laws can have an economic effect. And UUP can contact labor partners to see if they will join in issuing shared statements of condemnation of such laws.
UUP leaders will be attending the AFT conference in Boston July 14-17, and Kowal said the topic of how many rights are being toppled by states and the Supreme Court is sure to be discussed. Kowal pledged to update members on those discussions.
Watch the UUPConnect newsletter and UUP's membership magazines, The Voice and The Echo, for updates and more information.
Follow us on Social Media!