September 12, 2022
UUP marches proudly in NYC Labor Day parade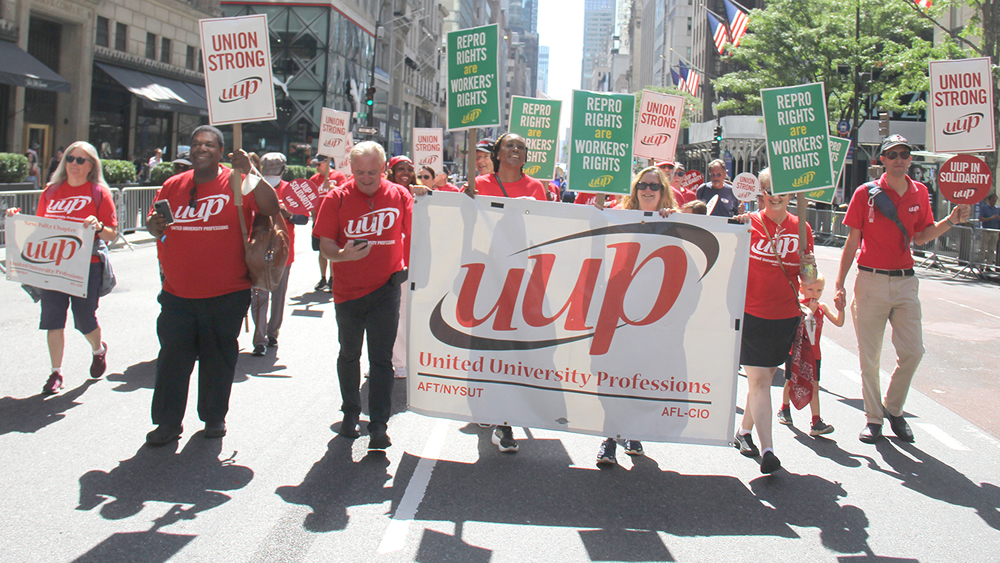 UUP once again took part in the annual New York City Labor Day parade, but for different reasons than in years past.
Sure, UUP members were there to march up Manhattan's grand Fifth Avenue on a sunny Saturday to celebrate workers and unions. New York City traditionally holds its Labor Day march the Saturday after Labor Day; it was held Sept. 10 this year.
But for many of the more than 50 UUP members who traveled from across the state to march, participating in the parade this year held greater significance. It was an opportunity to publicly show—in America's largest, most influential city, no less—that unions are stronger than ever.
It was also important to march in the parade because it was the first in-person Labor Day parade since the start of the pandemic. Labor Day parades in New York City were cancelled in 2020 and 2021 due to COVID.
"It's all about solidarity," said UUP President Fred Kowal, who stood with statewide VP for Professionals Carolyn Kube near the intersection of Fifth Avenue and 47th Street, the union's step-off point. "In the face of what's happening in this country, with the attacks on democracy on the attacks of all the rights that generations have fought for, that's what's at stake. So more than at any time in the labor movement's history, we've got to show strength and solidarity. That's why we're here."
"Because this is the first parade since the pandemic, that was a main reason for us to be here today," said statewide Secretary Treasurer Jeri O'Bryan-Losee. "We're here to remember what labor is and how important labor is, not only to this city, but to New York state."
Joining Kowal, O'Bryan-Losee and Kube were UUP's other statewide officers, VP for Academics Alissa Karl and Membership Development Officer Tom Hoey.
Executive Board member Patrick Romain was also there, as was Stony Brook Chapter President Andrew Solar-Greco, Stony Brook HSC Chapter President Bruce Kube, Old Westbury Chapter President Martha Livingston, Downstate Chapter President Redetha Abrahams-Nichols, and New Paltz Chapter President Beth Wilson.
Before the march, Senate Majority Leader Chuck Schumer came around to shake hands with Kowal and get his photo taken with UUP members. State Sen. Robert Jackson also stopped by to talk with members and pose for photos.
Dozens of unions and locals, from the United Federation of Teachers and the Association of Flight Attendants to the Teamsters and the Soft Drink and Brewery Workers, marched in the parade.
The parade, which started at 44th Street and ended at 64th Street, was organized by the New York City Central Labor Council, with more than 300 local unions representing 1.3 million workers in private and public sectors. The theme of the parade was "Workers Leading, Workers Rising."
You can view photos of UUP members marching in the New York City parade HERE.
UUP members also took part in Labor Day events on Sept. 5. You can view photos from those parades and picnics HERE.
Follow us on Social Media!