October 21, 2022
UUP holds mental health roundtable at Buff State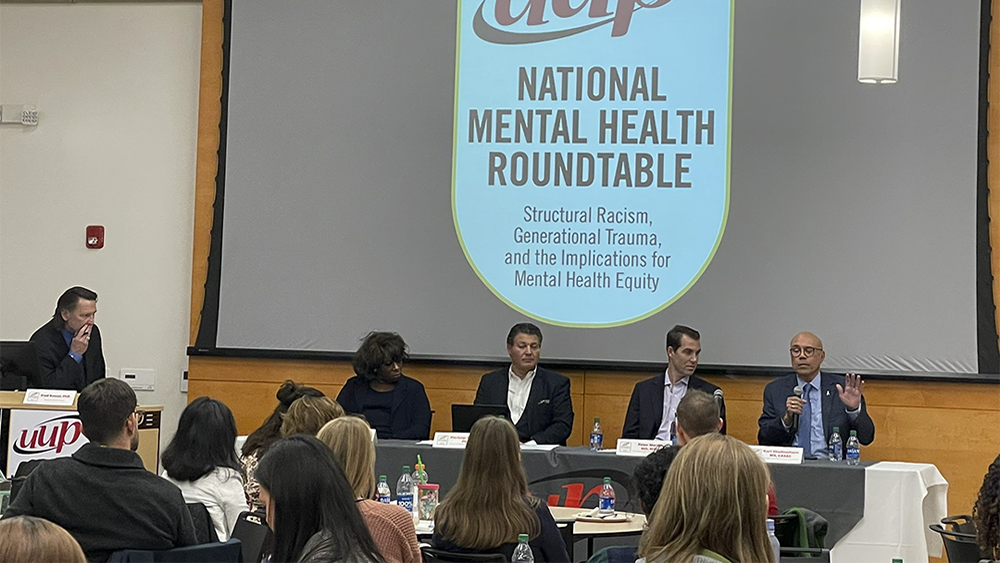 In Buffalo, mental health counselors have heard children describe being afraid to leave their homes since a May 14 gun massacre in a grocery store by a white supremacist killed 10 people, whom the teenaged gunman targeted only because they were Black.
Nationally, professional licensing laws have made it very difficult for mental health counselors who have emigrated from other countries to obtain their license to practice in the United States, even though the U.S. desperately needs mental health counselors who speak languages in addition to English, and who understand the cultures and issues of immigrant and refugee residents in the U.S.
But mental health counselors in Buffalo who are paired with specially trained police officers in a new crisis-response program have handled more than 1,000 calls for a person in distress, with all those calls being resolved "without incident," according to Buffalo Mayor Byron Brown.
These are just a few of the examples cited by a panel of experts convened by UUP in Buffalo Oct. 19 to talk about the devastating effect of structural racism on the mental health of people of color and underrepresented communities. The narrative these experts laid out is a story of one step forward, two steps backward, as they described the long path this country still faces to fully address the insidious effects of the racism which is built into everyday life in the United States.
In addition to Brown, who made introductory remarks, the guest speakers at the forum included Norma Day-Vines, an associate dean for diversity and faculty development at Johns Hopkins University's school of education; Pierluigi Mancini, president of the Multicultural Development Institute, near Atlanta, Georgia; Karl Shallowhorn, a board member of the Mental Health Association in New York State; and psychiatrist Peter Martin, a member of UUP's Buffalo HSC Chapter.
Generational trauma from racism
UUP President Fred Kowal, who moderated the panel, reiterated the union's longstanding commitment to social justice and said that the union knew its response to the Buffalo massacre would never be just a "one-off."
UUP has sought to address racism in a number of ways, most notably through forums that address topics such as the history of racism in the labor movement; through its legislative agendas, with efforts to promote equity and opportunities for all members and students in SUNY, including those from underserved communities; and through its focus on topics such as the high rate of maternal-infant mortality among Black New Yorkers.
"Communities that experience trauma are left to carry the weight of the original trauma as well as the effects of generational trauma," said Kowal, speaking from the campus of Buffalo State College. "Our union stands for social justice. What we need is for SUNY to be on the cutting edge of providing resources.":
Opportunities, education can reduce racism
Among the recommendations of the panelists:
The mental health profession in the United States needs to be more diverse; Shallowhorn said that nationally, the percentage of social workers of color is in the single digits. A concerted effort needs to be made to encourage young people from underrepresented communities to enter the mental health professions.
Legislatures need to recognize that addressing racism must start early. Since 2018, New York K-12 schools have been required to provide education in mental health as part of their health education curriculum.
Government agencies, public institutions and universities should develop a strategic plan to identify and address systemic racism in their organizations.
Watch the UUP website, the UUP newsletters Connect and UUPdate, and the UUP membership magazines, The Voice and The Echo, for more work by UUP on its effort to address racism.
You can view the roundtable discussion HERE.

Follow us on Social Media!