October 26, 2022
UUP chapters celebrate Campus Equity Week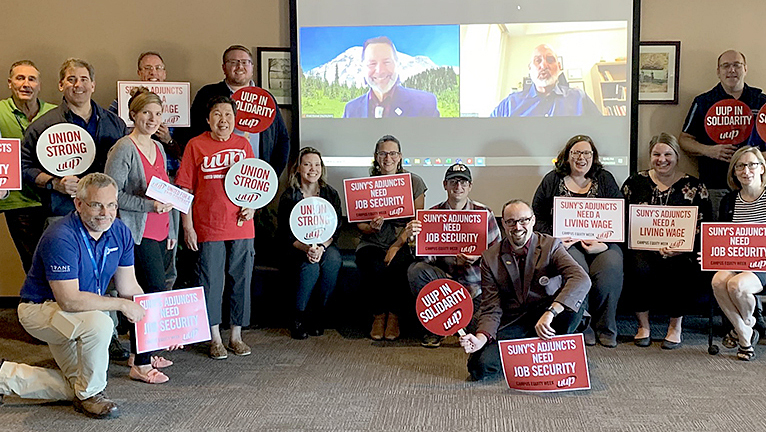 UUP's contingent faculty bring the world into their classrooms.
They are authors, actors, artists, entrepreneurs, health care professionals and business leaders who often blend practical experience in their fields with academic instruction.
And they play a vital role in what SUNY offers its students.
Campus Equity Week, an annual observation of the value of contingent faculty, strives to send that message to the SUNY community, with a focus on the often-under-appreciated value of contingents.
This year, Campus Equity Week—which is also a national observation—unfolds from Oct. 24 – Oct. 28, with UUP chapters sponsoring events at more than a dozen campuses statewide. Those chapters include Brockport, Fredonia, and New Paltz.
Activities include the distribution of literature about adjunct issues at tables set up at strategic spots on campuses, with members ready to answer questions; UUP membership drives; social gatherings; open houses at UUP chapters, with a chance for contingents and other interested faculty to meet chapter leaders; and forums on topics such as organizing and workload creep.
Contingents seek gains through negotiations
UUP President Fred Kowal joined members of the Geneseo Chapter at a CEW celebration via Zoom Oct. 24. The day's events included a benefits workshop.
You can view photos of the Geneseo event and other UUP CEW events on UUP's Flickr page HERE.
"UUP has made terrific gains for our contingent members," Kowal said after he welcomed Geneseo members and pledged continued UUP support for contingent issues. "That's only been possible because UUP members know they are one cohesive unit, and that contingents share many of the same concerns of tenure-track faculty. All of us want to do our best work possible for our students, for our campuses. Campus Equity Week is an excellent reminder of that mission, but this is a year-round effort."
Contingents around the country suffered the greatest faculty cutbacks during the coronavirus pandemic because many are employees at will, who can be "non-renewed" with little advance notice that their services are no longer needed. UUP was advancing contingent issues long before the pandemic, and it was one of the first higher education unions in the country to achieve health care for contingents.
The immediate past contract with the state brought additional gains, with minimum per-course payments for contingents. In the current round of negotiations with the state, UUP is expected to press for greater job security for contingents, who have long sought a systemwide path to long-term employment, rather than the semester-by-semester renewals many of them have now.
Watch the forthcoming issue of UUP's membership magazine, The Voice, for more information about Campus Equity Week.
Follow us on Social Media!