December 8, 2022
UUP: State needs to fully fund cash-strapped SUNY campuses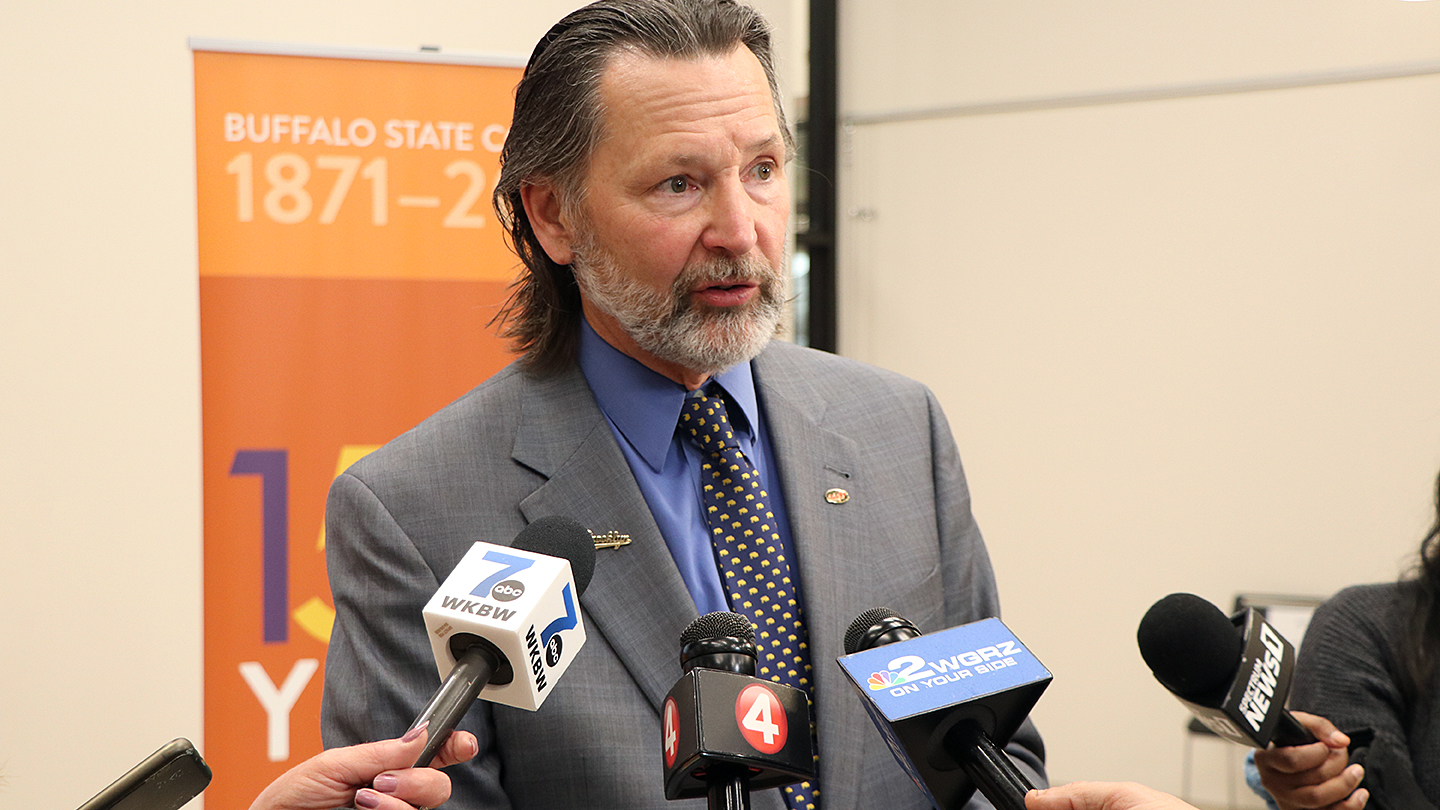 SUNY Buffalo State College is facing a projected deficit of $16 million in the current fiscal year. SUNY Fredonia's projected deficit stands at $16.8 million.
UUP President Fred Kowal spotlighted those budget shortfalls and the dire need for more state funding for those and other cash-strapped SUNY campuses at a Dec. 6 press conference at Buffalo State.
Joining Kowal at the late-morning event were Buffalo Mayor Byron Brown, State Sen. Tim Kennedy, Assemblymember Monica Wallace—who is a UUP member—and Assemblymember Jon Rivera. More than 50 UUP members were also at the press conference.
"The future of SUNY and the affordable education it delivers to students is in jeopardy," said Kowal. "Today, we are urging lawmakers to take the initiative to alleviate the financial burden that continues to loom over the very students who benefit from this institution. SUNY campuses are under massive financial pressure, and this is not an issue we can resolve on our own. State officials must take action to deliver funding that will safeguard access to high-quality higher education in New York."
To have a strong State University of New York, we need to fully fund SUNY," Brown, a Buffalo State alumnus, said. "SUNY, and funding SUNY, is economic development. "I can't think about a Buffalo, a Fredonia, a Western New York without a strong SUNY system."
The Buffalo event was the latest in a series of press conferences slated by UUP to point out projected million-dollar deficits at 19 SUNY campuses—most of them upstate—and the absolute need for more state funding to address the budget shortfalls. The deficits stem from years of underfunding by the state, declining enrollment and increased costs for everything from energy to food. .
In the fall, UUP held press conferences in Albany, Buffalo, New Paltz, Plattsburgh, Rochester and Syracuse.
"New York state should lead the way by funding affordable public higher education," said Wallace, who earned her undergraduate degree at Binghamton University and her law school degree at the University at Buffalo. "And that means funding every SUNY school, not just a handful of flagships.
Statewide, SUNY's economic impact is about $30 billion annually. Every dollar invested in SUNY by the state yields a return of $8.17. SUNY is also one of the top 10 largest employers in every region in the state except New York City.
Buffalo State contributes approximately $680 million to the local economy, helping more than 14,000 businesses invest more than $131 million by creating or saving approximately 8,000 jobs.
SUNY Fredonia has a significant impact on the local economy; students spend nearly $50 million off-campus, and campus visitors spend an additional $4 million.
Read UUP's press release HERE.
Follow us on Social Media!