February 28, 2023
Members to lawmakers: Love SUNY by funding SUNY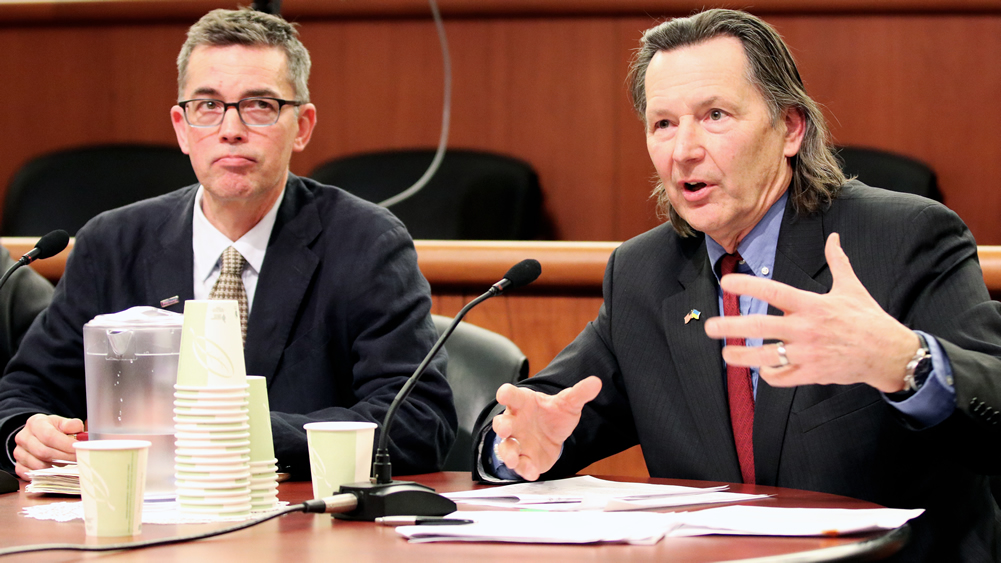 It's been more than a decade since New York properly funded the SUNY four-year campuses, so it's not surprising that SUNY enrollment has also been on a 10-year decline.
But as UUP President Fred Kowal told state lawmakers during the annual budget hearing on public higher education Feb. 27, the solution to the enrollment drop is to fully fund the SUNY system. This would make SUNY more affordable to students—especially low-income students who otherwise might miss a college education—and it would make it more appealing to all students, because they would have access to services and programs that attract and retain them.
"Funding a public university system on the private money of students is unsustainable," Kowal told the lawmakers. The state has an $8.6 billion surplus, he reminded them, "and the resources are there."
Kowal spoke to members of the Senate Finance Committee, including Chair Liz Krueger; Assembly Ways and Means Committee members, including Chair Helene Weinstein; and members of the Senate and committees on higher education, including the respective chairs, Sen. Toby Ann Stavisky and the newly appointed Assemblymember Patricia Fahy.
The hearing is held each year after the governor releases an Executive Budget proposal, and before the Senate and Assembly release their budget recommendations, known as one-house bills. Kowal was one of several higher education union leaders or higher education administrators who spoke from SUNY, the City University of New York and the SUNY community college system.
Flat funding depletes SUNY
The governor provided more support for SUNY in her Executive Budget, but it's not enough to overcome years of austerity under the Cuomo administration.
In a Feb. 14 UUP press release, Kowal called on Albany to act immediately to address structural and projected multimillion-dollar deficits at 19 SUNY campuses by allotting $160 million to create a State University Financially Distressed Campus Fund. The fund would provide direct allocations to campuses in financial jeopardy based on each campus' structural deficit.
Both UUP and SUNY have also asked the state to begin paying the debt service for the hospitals—which are the only state entities that pay their own debt service out of their operating budgets—and UUP and SUNY have also asked the state to provide $175 million in operating funds to the three hospitals. The state used to provide operating funds to the hospitals—or, as UUP correctly describes this money, "critical mission funding"—but that practice ended during the Cuomo administration.
"Once again, we need to undertake a long-term commitment to funding the SUNY hospitals," Kowal told lawmakers at the hearing.
Lawmakers' questions reflect UUP advocacy
Several lawmakers who have been strong supporters of UUP and public higher education reflected in their questions the advocacy that UUP has undertaken on the issue of funding for SUNY, as they grilled SUNY Chancellor John King Jr. about the proposed tuition increase and operating shortfalls at many campuses.
King defended the tuition increase, describing a SUNY education as an excellent bargain that costs less than many of its counterparts in public higher education. The Executive Budget proposal does not specifically address the urgent budget shortfalls at the 19 campuses, and SUNY has not publicly backed UUP's call for immediate, emergency funding to help those campuses.
SUNY enrollment has been a contentious issue. SUNY reported during the height of the coronavirus pandemic that enrollment throughout the SUNY system had declined by nearly 20% in the past decade. The decline—part of a national trend—has many causes, including a decrease in the number of college-age young adults in the population, and a drop-off of college attendance during the pandemic.
Kowal told lawmakers that fully funding SUNY will make a SUNY education more affordable and more attractive, and that the state has an untapped resource of potential college students already—but needs to help those students get into college. As many as half of Black high school graduates do not attend college, he told lawmakers; for Latino students, the number may be 30%.
"A tuition increase does discourage students from attending, and a lack of investment discourages students from attending," Kowal said.
Follow us on Social Media!