March 8, 2023
Students: EOP changed my life. Fund it!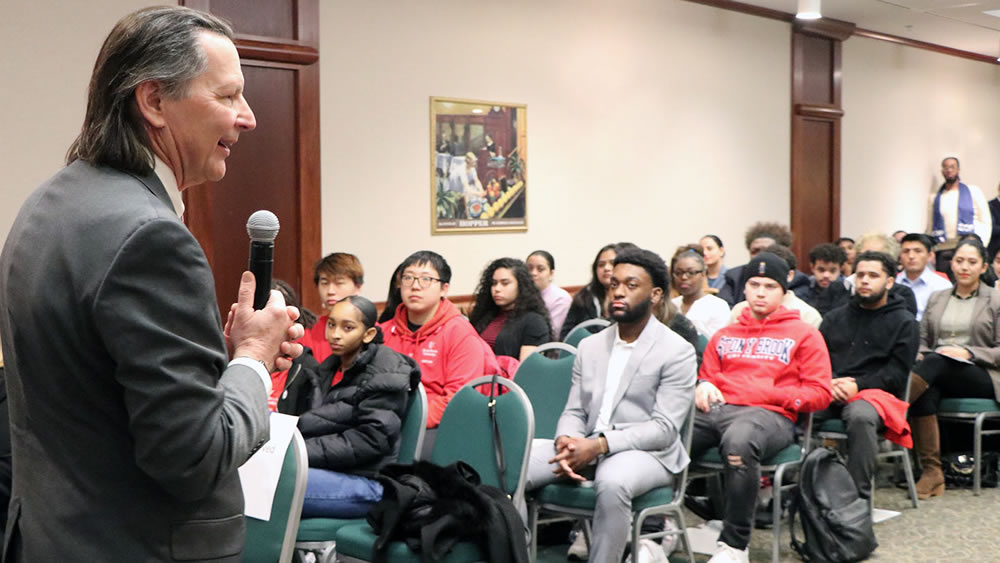 One young woman talked about how she could have just as easily been caught up in the gun violence of Rochester, before SUNY's Educational Opportunity Program (EOP) set her on a path to a medical career.
Another student was so moved by the help he received from EOP that he started a nonprofit to provide financial assistance to other students like himself.
A third student described how her peers in the EOP program at the University at Albany have been a guiding light as she navigates college and new motherhood.
So UUP is asking why, with proof of the transformative power of SUNY's opportunity programs so abundantly clear, is there an Executive Budget proposal to reduce funding for these programs? Especially as SUNY emerges from a pandemic that has left thousands of students homeless, destitute and in despair?
Funding cut cannot stand
Lawmakers, students, SUNY faculty and staff and advocates for higher education turned out in force March 8 for an impressive forum to press for additional funding to the EOP and the Educational Opportunity Centers (EOCs). The Executive Budget proposal reduces EOP funding by $1.3 million from last year's funding, and maintains flat funding for the EOCs and ATTAIN Labs.
This cannot stand, UUP President Fred Kowal told more than 200 people at the plenary session that opened a program of four panel discussions about the benefits of opportunity programs—which Kowal called "not a handout but a doorway."
"Of all the days that I am involved with, in terms of advocacy, this is hands-down my favorite day, and it's because of you, the students," Kowal told the audience. "What these programs are all about is an opportunity for everyone who has a dream to make it a reality."
Numerous lawmakers turned out for the plenary, including Assemblymember Patricia Fahy, now chair of the Assembly's higher education committee; and state Sen. Robert Jackson, an EOP alumnus and a strong advocate for public higher education.
The panel discussions focused on the EOCs, which offer career training and college preparation for students many older or returning students; the SUNY Pre-Medical Educational Opportunity Program, which helps undergraduate students prepare for careers in health care; and the general EOP program.
There was also a panel on an idea put forth by UUP in its legislative agenda, and for which the union is seeking funding in the state budget—a Mental Health Educational Opportunity Program, to encourage EOP students to enter mental health professions such as psychology and social work.
Students speak truth to power
Each panel discussion included EOP students, and they affirmed over and again the difference that EOP has made in their lives, not just because of the financial assistance they received, but because of the support systems that surrounded them in the program.
"If you people continue to fight for us, I promise you it will be worth it, because it is worth it for people like me," said Kadaouye "K.D." Soumare of the University at Albany, who, as an EOP Student Ambassador, also mentors other students and helps inform lawmakers and others about EOP.
Leslie Campo Catalan, a student in the Pre-Medical EOP who is already doing undergraduate cancer research at Stony Brook HSC, said her EOP advisors made her realize that she could exceed her original goals.
"They really help you visualize your future, instead of thinking, 'I'm stuck here,'" she told the audience.
UUP will continue advocating for an increase in SUNY opportunity program funding. Watch for updates on this effort on the UUP website; in the UUP membership magazines, The Voice and The Echo, or in the UUP newsletters, Connect and UUPdate.
Follow us on Social Media!