March 9, 2023
Higher ed unions, students rally against underfunding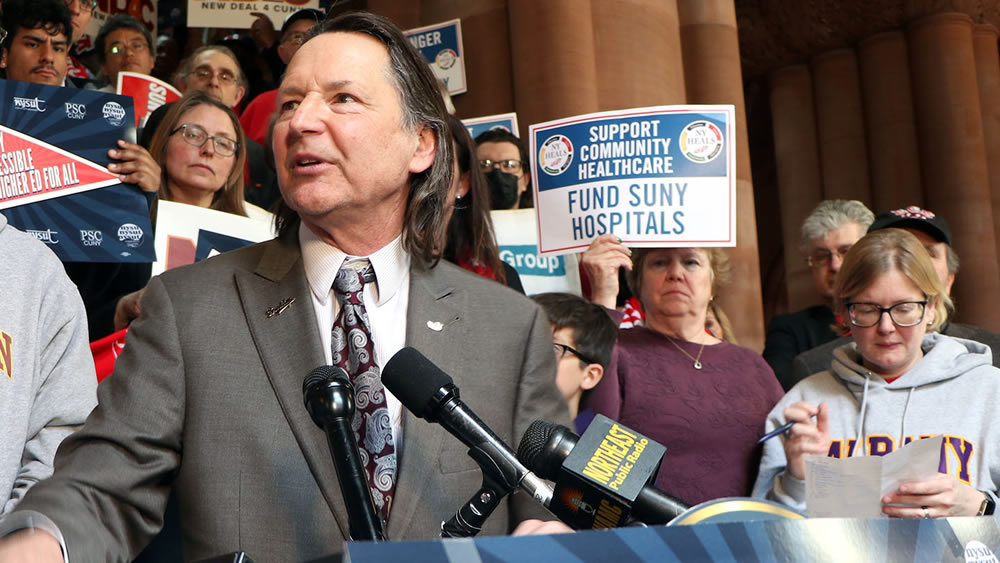 Hundreds of public higher education unionists and SUNY and CUNY students filled the Capitol's Million Dollar Staircase March 9 for a rally that demanded better funding for public higher education—and without the tuition increases.
The rally was part of NYSUT's annual Committee of 100 advocacy day, when education unionists meet with lawmakers in advance of the release of the one-house budget bills.
The one-house bills are the state Senate and Assembly's responses to the governor's Executive Budget proposal, and NYSUT, UUP and the Professional Staff Congress/CUNY see this as a time to press for the restoration of cuts and better all-around funding for the state's public colleges and universities.
"The proposed 2023-2024 Executive Budget provides some funding for SUNY, but what's budgeted falls far short of the investment desperately needed by our campuses and our three public teaching hospitals," said UUP President Fred Kowal, who, along with NYSUT President Andy Pallotta and PSC President James Davis, spoke at the rally. "Nineteen campuses are facing multimillion-dollar structural or projected deficits, caused in large part by more than a decade of budget cuts and austerity. And there is no mission funding for our hospitals.
"SUNY desperately needs this aid to stabilize our campuses and our hospitals," Kowal said. "We urge the governor and legislative leaders to make this year the year to truly invest in SUNY."
High need, high visibility
Shouts, cheers, jeers and chants echoed off the stone walls surrounding the famed forum for public protests, in a gathering filled with red T-shirts for the two unions' color, banners and signs.
"Hey, hey, ho ho, tuition hikes have got to go," the students, faculty and staff chanted as a warm-up act as they filled progressively higher levels of the stairwell. The crowd got larger and the noise level got louder.
Although UUP, the PSC and NYSUT engage in quieter, small-group negotiations with lawmakers, high-visibility public events like the rally are time-honored attention-getters that lawmakers look to as an indication of how important an issue is to constituents.
More than a dozen lawmakers lined up to speak at the rally, including Sen. Toby Ann Stavisky, Senate Higher Education Committee chair; Sen. Shelly Mayer, Senate Education Committee chair; Sen. John Liu, chair of the New York City Education Committee; and Assemblymember Jessica Gonzalez-Rojas.
UUP members also took part in the rally, including UUP statewide officers Jeri O'Bryan-Losee, Carolyn Kube and Alissa Karl; statewide Executive Board members Rich Veenstra and Kelly Keck; Charlie McAteer, chair of the Retired Membership Governing Board Committee; and Stony Brook Chapter President Andrew Solar-Greco.
It was also the second such event for UUP in the span of 24 hours. UUP took a different approach this year to its annual advocacy day for SUNY's opportunity programs, including the Educational Opportunity Program and the Educational Opportunity Centers. Both programs serve high-need, low-income students who show strong potential for college and careers.
In this year's approach to opportunity program advocacy, UUP offered four panel discussions that featured current and former EOP or EOC participants, along with the faculty and staff who work with these promising students. The event drew not only several hundred students, faculty and staff, but also numerous lawmakers—and again seized a chance to remind those lawmakers that UUP is counting on them to back the opportunity programs and restore Gov. Kathy Hochul's recommended cuts.
Follow us on Social Media!