August 25, 2023
UUP hits $10 million in loan forgiveness!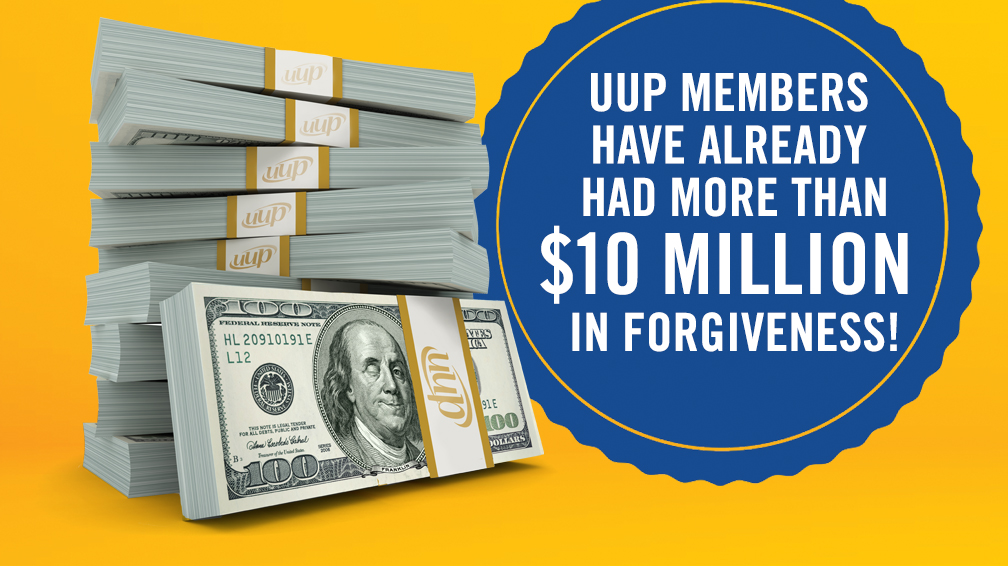 UUP's Public Service Loan Forgiveness student debt clinics debuted in 2019 with a straightforward goal: helping members reduce or eliminate student debt.
Goal achieved.
Led by statewide Secretary-Treasurer Jeri O'Bryan-Losee, the clinics have helped members eliminate more than $10 million in student debt. UUP hit the mark earlier this week when a Polytechnic Chapter member happily told O'Bryan-Losee that $320,000 of his federal student debt was forgiven.
As of Aug. 25, UUP members who have attended student debt clinics have had $10,442,925.68 in debt forgiven through PSLF.
"Having hundreds of thousands of dollars in student debt forgiven is a life-changing event," said O'Bryan-Losee. "It is so gratifying knowing that our members, who work so hard for our students and for SUNY, are following our recommendations, making their way through all the red tape and ultimately seeing their student debt wiped away."
Morrisville Chapter member Mindy Doyle had about $17,500 in federal student loans forgiven through President Biden's automatic loan forgiveness plan put in place in July. She was going to have to work full time for another four years just to pay off her loan.
"Honestly, I am in shock," she wrote in an Aug. 21 email to O'Bryan-Losee. "This is a huge cost savings but more importantly, I can choose when I want to retire. I am on Cloud 9."
Oswego Chapter member Melissa Semione just found out that her entire student loan balance—a whopping $65,922.24 — had been forgiven through PSLF.
"Thanks to your support, I'm thrilled to share that my entire student loan balance has been forgiven," Semione wrote in an Aug. 24 email to O'Bryan-Losee. "Your guidance has made a remarkable difference! Thank you once again for your unwavering commitment to helping union members, like me, achieve our goals."
So, if you're tired of paying off federal student loan and think you may qualify for loan forgiveness, it's worth your while to check out a UUP student debt clinic. The 90-minute clinics are virtual, via Zoom.
Also, you must be a member to attend the clinic. If you aren't a UUP member, click HERE to sign up and become one.
Clinics scheduled for September and October are listed below. Click HERE to register for one or more of the clinics.
Wednesday, Sept. 13 and Oct. 25: 11:30 a.m. to 1 p.m.
Wednesday, Sept. 27 and Oct. 11: 5 to 6:30 p.m.
For more information, contact O'Bryan-Losee at jobryan@uupmail.org.
Follow us on Social Media!