September 11, 2023
UUP shows solidarity at NYC Labor Day Parade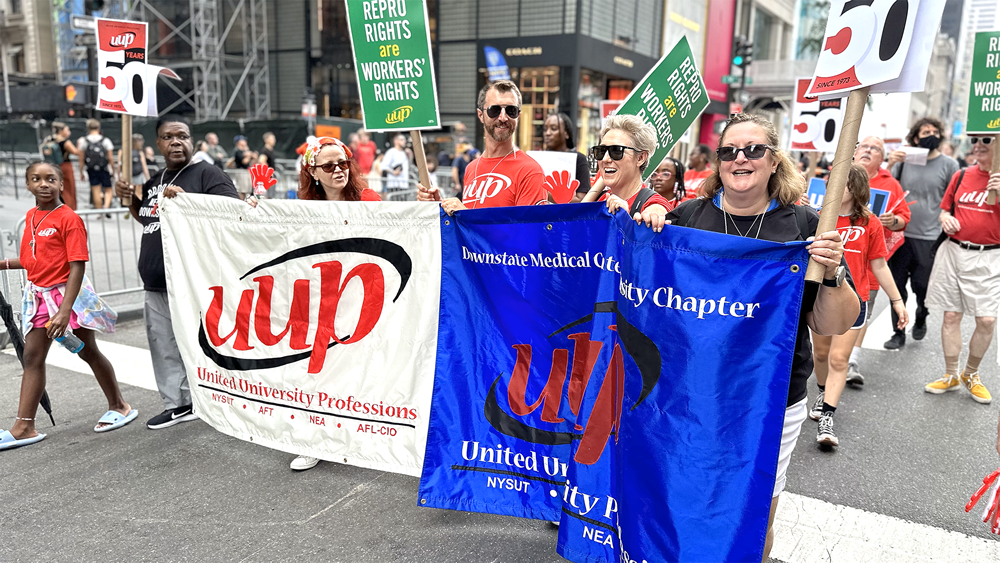 By Vincent Gasparini, special to UUP
UUP took to the streets of New York City Sept. 9, to participate in the annual New York City Labor Day Parade, marching as part of a large contingent of fellow educational unions including NYSUT, the United Federation of Teachers and the Professional Staff Congress/CUNY.
The parade, organized by the New York City Central Labor Council, stepped off at 10 a.m. from 44th Street and Fifth Avenue. Tens of thousands of union members marched through Midtown Manhattan with cheering onlookers—many of them wearing their own union garb—lining the fences along the sidewalks.
As they made their way up Fifth Avenue, UUP President Fred Kowal made sure to remind everyone that they are loud and proud, with chants of "Who are we?" coming from his megaphone, followed by a response of "UUP!" from the members who attended from across the state.
"I think what it shows is real enthusiasm for labor and for unions," Kowal said. "And now the real trick is to convert that into energy that will lead to organizing and more active participation in unions."
Support for labor from leaders, spectators
Senate Majority Leader Chuck Schumer (D-NY), surrounded by a throng of union members as he made his way down East 45th Street, stopped to greet the UUP contingent as members waited to step off, in a show of support for the parade and for labor unions across the country.
"It's a great parade," Schumer said enthusiastically. "New York is a labor town. We love labor."
Both young and old attended the parade, where people were dancing in the street to energetic beats coming from floats along the parade route. Bagpipes and marching bands could be heard from blocks away. A cavalcade of biker members from two locals of the International Brotherhood of Electrical Workers, wearing leather vests emblazoned with their union logos, revved their engines as they turned into the parade at the halfway mark to the 64th Street finish line.
"Today's spirit shows why it's important for us to be labor strong," Assemblymember Latrice Walker (D-Brooklyn) said as she stopped by to greet UUP members waiting to begin marching. "We are a union town, and we know just how important it is that our workers keep our city and our state moving and running."
UUP's statewide officers were front and center as the contingent marched up Fifth Avenue: Vice President for Professionals Carolyn Kube, Vice President for Academics Alissa Karl, Secretary-Treasurer Jeri O'Bryan-Losee and Membership Development Officer Patrick Romain.
"It's so exciting to be here with so many historic and big unions and emerging unions," Karl said. "The energy and the spirit of what's going on here, it really just shows the positivity of the labor movement right now."
Honoring what labor is all about
Waiting at the end of the parade at 64th Street and Fifth Avenue was New York Attorney General Letitia James, who passionately expressed her appreciation for labor unions.
"It's really all about all of the benefits that we enjoy," James said. "The reason why we've got sick leave, the reason why we've got minimum wage and so many other benefits and retirement benefits as well is because of [unions] and that's why we need to salute them and march down Fifth Avenue with our backs straight and our heads up high."
The excitement at this year's parade made all in attendance certain of one thing: Union support is strong, and it is only getting stronger. The fight for workers' rights is always an important one, and UUP is intent on making sure all are represented.
Follow us on Social Media!