October 4, 2023
Kowal pledges UUP's support to protect jobs at SUNY Potsdam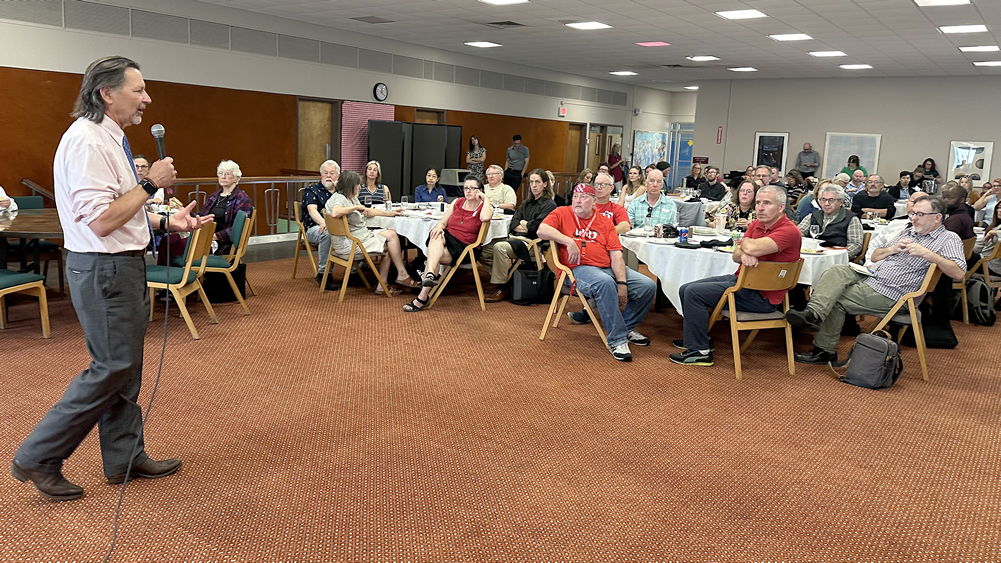 Potsdam Chapter members, some of whom may lose their jobs in a restructuring plan to lower a $9 million deficit at SUNY Potsdam, won't be alone in their fight to save jobs and programs.
UUP President Fred Kowal traveled nearly four hours to SUNY Potsdam Oct. 2 to tell them so.
"I want you to understand that this union, the largest higher education union in the country, is united with you," Kowal said to more than 70 members at a membership meeting in Thatcher Hall. "This is not going to be a crisis that you will have to deal with on your own. That is simply not going to happen.
"We're going to need all of you in this fight, but you're not going to walk alone," Kowal continued. "This is the union's issue and the union's fight."
Potsdam Chapter President Kevin Smith urged members—many of whom showed quiet concern during the lunchtime meeting—to be ready to mobilize to oppose the restructuring plan. That plan would cut 14 degree programs—along with related faculty and staff—and close as many as four buildings.
Potsdam is the "template" SUNY will use to shrink the system by ordering massive cuts at cash-strapped campuses—which will lower enrollments and ultimately lead to campus closures statewide, Kowal said.
"This is Ground Zero," said Smith. "This is where the fight is going to be."
"You are not alone," said Statewide Vice President for Professionals Carolyn Kube, who addressed Potsdam Chapter members at the meeting via Zoom. "Take that fear and turn it into anger. We're going to beat this."
SUNY Potsdam President Suzanne Smith announced the restructuring plan Sept. 19. Twelve bachelor's degree programs and two master's programs are on the chopping block, including Art History, Arts Management, Biochemistry, Chemistry, Dance, French, Music Performance, Philosophy, Physics, Public Health, Spanish and Theatre.
In August, administrators said four other programs—College Teaching, Computer Science Education, Geographic Information Science, and Speech Communications—would also be terminated. More than six percent of Potsdam's total enrollment will be impacted by the cuts.
UUP immediately questioned the restructuring plan, calling it a "manufactured crisis." The cuts could—and should—have easily been averted if the SUNY Board of Trustees distributed $163 million in new SUNY funding in the state's 2023-2024 budget to campuses most in need. Instead, the Trustees sent just over half of the funds to financially troubled campuses.
UUP advocated strongly for the $163 million, which the union said was necessary to close multimillion-dollar deficits at 19 campuses. Massive Great Recession-era cuts to SUNY and more than a decade of SUNY austerity budgets under the Cuomo administration are mainly to blame for the deficits.
"The reality is that (SUNY) could find $9 million in the cushions of their couches," Kowal said. "The decision made by the Board of Trustees was destructive and I believe intentional to create vulnerability with SUNY's financially troubled campuses."
Kowal told Potsdam Chapter members that UUP is working with the AFT, NYSUT, PEF and regional labor federations to pressure elected state officials to tell SUNY to back off its restructuring plan at Potsdam.
To that end, UUP is urging members to send an e-letter to Senate Majority Leader Andrea Stewart-Cousins, Assembly Speaker Carl Heastie and the chairs of the Senate and Assembly higher education committees telling them to push the Trustees to reallocate the $163 million in state aid to close budget shortfalls at Potsdam and other cash-strapped campuses.
Click HERE to send a letter now.
"If there is a need to plan a way forward, you do it strategically, you don't do it quickly and carelessly," Kowal said. "We must grow our way out of this situation, not cut our way out of it."
Follow us on Social Media!