October 17, 2023
Advocacy for SUNY gets noticed, lawmakers tell UUP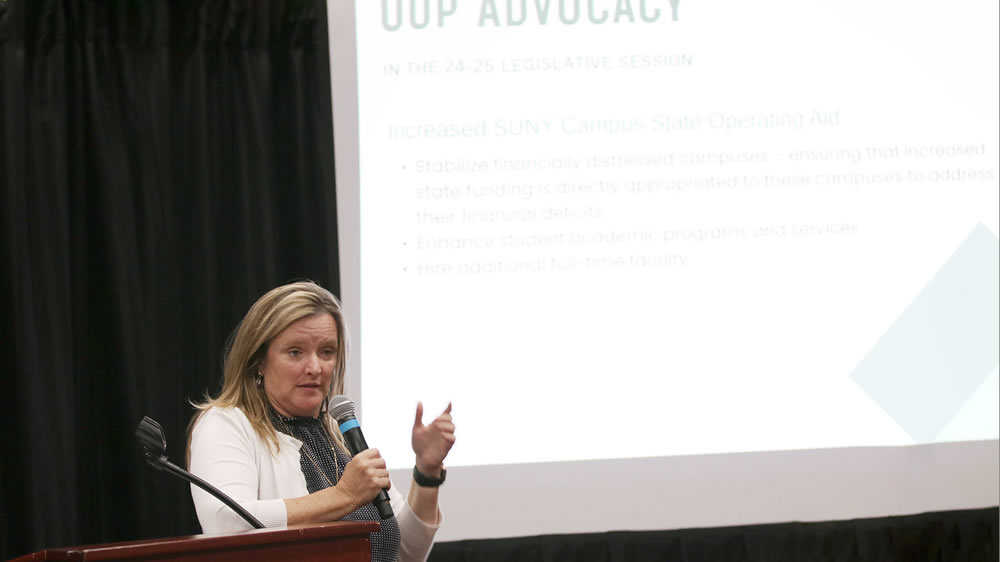 By Julia Ross-McGuire, special to UUP
New York state Assembly members Harry Bronson and Sarah Clark have two very good reasons to help UUP be a more effective advocate for state funding to SUNY: They're both SUNY graduates and they both love SUNY.
"I'm SUNY all the way," said Bronson. "I wouldn't be standing here today if it weren't for SUNY."
Bronson and Clark spent an hour Oct. 13 at the UUP Fall 2023 Delegate Assembly in Rochester telling UUP members how to translate their own passion for SUNY into effective advocacy for better state funding to the state university.
Titled Talking the Talk, Walking the Walk: Engaging in New York State's Legislature and Political Process, the workshop discussed politics in an increasingly online world, advocacy at the individual level and as a union, and the importance of voting.
"It's what you guys do every day that becomes the meaningful legislation," said Bronson speaking about his appreciation for UUP.
Bronson discussed how government relies on knowledgeable union representatives who can share their experience to help make policy decisions, and that UUP representatives should see themselves as change agents. Clark went on to discuss social media's new role in politics as a platform for advocacy, adding that while social media is "really good at communicating, it's not really good at connecting."
Clark and Bronson also discussed the spread of misinformation.
"If you're going to be a change agent you need to be informed but you have to have the right information and challenge what comes to you, and then participate, turn that into action," Bronson said.
It's important, also, to be informed about the effect your vote can have, the lawmakers said.
"The most important part of democracy is participating as a citizen," Bronson said. "State and local elections are important and have a more direct impact on your life."
Members speak to funding cuts
Bronson asked members to share issues their campuses face. Several UUP members and chapter leaders who attended the forum came from some of the 19 campuses identified a year ago by UUP as facing severe deficits in their operating budgets. The final enacted state budget in the spring included $163 million to help those campuses—money for which UUP strongly advocated—but the SUNY central administration distributed only half of those funds to the distressed campuses and used the balance for other purposes.
The result? Many campuses still face critical shortfalls, including SUNY Potsdam, where UUP President Fred Kowal has labeled the plan to cut as many as 14 academic programs a "manufactured crisis" that could have been averted if SUNY had used all of the $163 million as intended.
Pamela Malone, Empire State College chapter president, said that "adding insult to injury is so many of the distressed campuses are often the only economic engine in smaller communities."
Kelly Keck, Delhi Chapter president, echoed Malone's concerns by speaking to Delhi's need for technical equipment.
"We can't grow ourselves out of this, we need a lot of infrastructure associated with that growth, that costs a lot of money," Keck said.
Bronson reflected on his previous experience with the slash-and-burn method of funding cuts to SUNY used by the Cuomo administration.
"We can't do that as we're seeing decades of underfunding, and so we can't go down that path again," Bronson said. "We have to hold strong and secure funding and hopefully deal with the distribution of that funding as well."
Follow us on Social Media!