November 1, 2023
UUP forum deals with mental health challenges in higher ed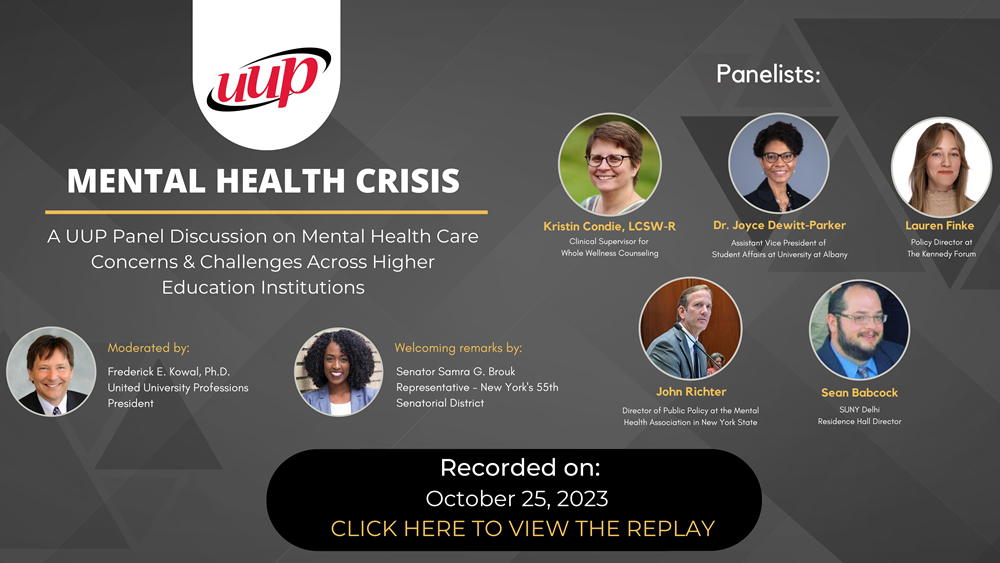 By Julia Ross-McGuire, special to UUP
The reasons people don't seek help for mental health problems are many and the solutions are complex, but UUP is committed to leading important discussions on this issue, especially when it comes to mental health challenges at colleges and universities.
UUP President Fred Kowal led a panel of experts who set out some of the challenges in UUP's third virtual forum on mental health concerns Oct. 25.
You can view the forum on UUP's YouTube page. Click HERE to view Part 1 of the discussion; click HERE to view Part 2.
"We are going to continue this pattern of hosting mental health forums every October and May," Kowal said. "These are vitally important issues for all the members of our higher ed communities and indeed for our society at large."
Panelists included: Kristin Condie, an adjunct professor at Binghamton University and a clinical supervisor for Whole Wellness Counseling in Binghamton; Sean Babcock, Delhi Chapter vice president for professionals and a residence hall director at SUNY Delhi; and Joyce Dewitt-Parker, Assistant Vice President of Student Affairs at the University at Albany.
Also on the panel: Lauren Finke, a policy director with the Kennedy Forum, a national public policy group that advocates for improved treatment and funding of mental health issues and was founded by former U.S. Rep. Patrick J. Kennedy; and John Richter, director of public policy at the Mental Health Association in New York State Inc.
Among the topics of discussion: the stigma around dealing with mental health issues; access to resources and the shortage of mental health providers.
State Sen. Samra Brouk opened the session by greeting panelists and more than 200 participants who registered to view the session.
Getting a sensitive topic in the open
"One of the major things that became so apparent to me when I first ran for office in 2020 was that no matter who I was talking to in my district, you could be urban, suburban, rural, doesn't matter, your race doesn't matter, doesn't matter what you did for a living, mental health kept coming up," Brouk said.
Condie spoke to the importance of training professors on how to respond to student requests for help surrounding mental health.
"We're training kids to [ask for help] and young adults to do this but then sometimes it's falling on deaf ears," Condie said.
Conversations can be easier if faculty and staff are able to speak about their own experiences with mental health, Babcock said.
"I think whenever people can talk about what it is they're going through it makes it easier for our peers…and also for our students to open up and seek out what resources might exist for them," he said.
UUP's plan, commitment
UUP has made mental health issues for students and faculty in higher education, as well as for underserved communities in New York state, a priority. The concern was heightened by the gun massacre in Buffalo in May 2022, when a shooter targeted patrons in a grocery store in a largely Black neighborhood in Buffalo and killed 10 people. In response, UUP organized a forum on delivering mental health care in underserved populations and followed up with a second forum in May addressing mental health needs in higher education.
In November, Kowal testified before lawmakers about UUP's plan to help improve mental health services at SUNY and in the state. Under that plan, UUP is asking New York to help SUNY in the following ways:
Hire 50 more mental health counselors for the SUNY system;
Improve support and services for students with disabilities; and
Create a Mental Health Educational Opportunity Program to provide special support for underrepresented students pursuing careers in mental health fields.
"We have two crises: One is a growing shortage of all fields of health care," Kowal said. "But what oftentimes is not accentuated is the shortage of mental health care professionals."
Experts offer ideas
Dewitt-Parker expressed the importance of mental health literacy, "starting in K through 12 making sure that people understand what this is [psychology], it is a career field, and this is a part of the health care system."
Finke echoed Dewitt-Parker in describing the workforce shortage in the field of mental health. "We have so many open seats and people who don't know how to get to them," she said.
Richter offered a solution to this problem: Creating a pipeline program to engage more psychology and sociology undergraduate students to enter a career in mental health.
All agreed that it's important for people to feel comfortable talking about mental health challenges.
"We should check in with each other, just let people know that you're there for them," Dewitt-Parker said.
Follow us on Social Media!