November 2, 2023
UUP sends Fredonia members support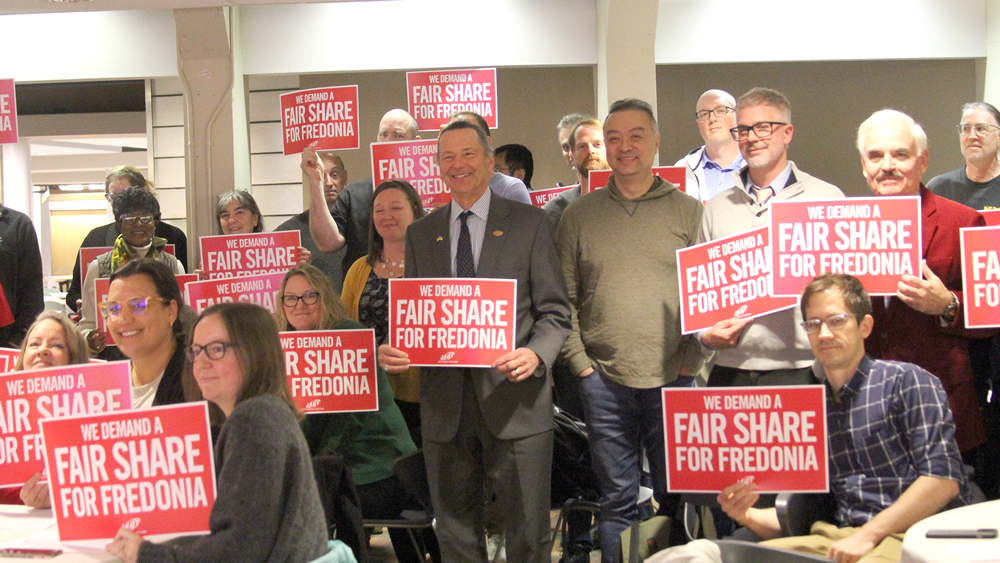 UUP President Fred Kowal stood before a room packed with UUP Fredonia Chapter members at the campus Oct. 30 and issued a call to action.
We have a really good budget this year," Kowal said, as members listened attentively and nodded their agreement with his words. "We can turn the tide … this is what this union is made for."
Kowal was joined on the visit to Fredonia by statewide Vice President for Academics Alissa Karl. The two visited Fredonia in a show of support for one of the 19 SUNY campuses facing a severe budget deficit.
The "tide" that Kowal referred to is a concern that SUNY will try to replicate at other campuses the program deactivations announced in September at SUNY Potsdam. UUP is closely monitoring the situation at all 19 financially distressed campuses, all of which face multimillion-dollar deficits.
UUP has been especially vigilant since learning that the SUNY Board of Trustees distributed less than half of the $163 million in funds in the current state budget to those campuses for which that money was intended. The balance of that $163 million went for other uses in SUNY.
"We're a lot tougher than the SUNY administration," said Karl.
Fredonia Chapter President Christopher Taverna welcomed Kowal and Karl and their message of unity for the distressed campuses, telling members that "We have to stay strong together as we do this."
Sending a message to avert a threat
The Fredonia administration has not announced any program deactivations. The visit by statewide officers was a show of support and a message to campus and SUNY central administration that UUP stands ready to defend all campuses against such actions.
The SUNY Potsdam administration has announced program deactivations there, and UUP plans a rally at that campus Nov. 9 to protest that plan.
"We have no idea how hard that hit [at Potsdam] will be," Kowal told Fredonia members. The announced deactivations fly in the face of reality, he noted, because Potsdam enrollment is up by 3% this year, and that increase could continue if the SUNY trustees and the SUNY central administration committed to sustaining a strong budget for the campus.
"Alissa and I are here to say to you, 'We're with you; we're ready for this fight,'" Kowal told the members.
Watch the UUP website and chapter websites, as well as the UUP Connect newsletter, for announcements of further actions in support of financially distressed campuses.
Follow us on Social Media!