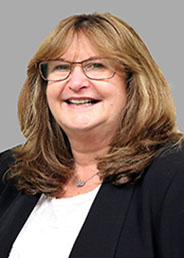 With a long and distinguished record of service for UUP, Carolyn Kube was elected as statewide Vice President for Professionals in 2021.
Kube has been active in UUP for more than 20 years, serving as a department representative and representing the Stony Brook HSC Chapter as an elected statewide delegate. She was elected as chapter Part-Time Concerns Officer and Vice President of Professionals before becoming Stony Brook HSC Chapter president, serving nearly three terms.
She was elected to the statewide Executive Board in 2011 and remained a board member until 2021, when she became statewide Vice President for Professionals. Kube co-chaired two UUP statewide committees, the Outreach committee and the Contingent Employment committee; the latter led the drive for changes to UUP's constitution that enhanced the representation of contingent faculty and staff within UUP.
As a three-time member of UUP's Negotiations Team, Kube has played a key role in helping to negotiate new contracts between the state of New York and UUP. She also worked as a NYSUT PAC coordinator.
Kube is a graduate of the University of Buffalo, where she earned a bachelor's degree in medical technology. She went on to work as a medical technologist at Stony Brook University Hospital for 32 years. In 2017, she earned her master's degree in Human Resources Management with a concentration in labor relations and organizational change at Stony Brook University.
She lives on Long Island with her husband, Bruce, and two daughters.