Fighting Racial Injustice
As educators, health care professionals, and unionists, we cannot be silent to the continued injustices against people of color in our country. We must condemn racist violence like that which led to the death of George Floyd. We mourn for his family, for the pain of their loss and the way he was stolen from them.
We stand with our students, patients and members affected by these injustices and with peaceful protesters across the country demanding justice and demanding change. It is long past the time when racist institutions are reformed to reflect the ideals of a society that claims to believe in equality and justice for all.
UUP has a long history of commitment to social justice, and we stand steadfast by that commitment today. UUP President Fred Kowal released a statement on the death of George Floyd that can be found here .
UUP issued a press release that applauds the state Legislature for its actions on police reform bills and calls on New York state and SUNY to be the engine of transformation during a time when our state and nation are facing multifaceted crises. Read that release here. UUP's national affiliate, the American Federation of Teachers (AFT), passed a resolution on confronting racism and in support of black lives. Read that resolution here .
UUP encourages all our members to be part of the solution as we move forward together. There are many ways to stand in solidarity, but we've compiled a list of upcoming events and solidarity actions here:
Upcoming Events:
• July 4, 2020- 2 PM Black Lives Matter Pride Protest in Gateway Park, Schenectady. Join All Of Us for a BLM Pride Protest on Saturday, July 4th at 2pm in Schenectady at Gateway Park (across from SCCC). On June 28th 1969, a series of violent acts amongst POC, police, and gay activists broke out outside of the Stonewall Inn, which was a known gay bar in NYC. The events became known as the Stonewall Riots. In honor of those who fought that day and the ones that we have lost then and now, the All Of Us community is hosting a protest. Please join us in unity and solidarity to remember those that have fallen and to continue to fight for those of us here today. This event was postponed from June 27 to July 4. Learn more here .
Note: Masks should always be worn when in public and social distancing should be practiced when possible. Members should consider their own health and only attend if they are comfortable doing so.
Solidarity Actions
• Add your name to the "Open Letter to Our Nations' Lawmakers on Systemic Racism" from The Poor People's Campaign here .
• Encourage active discussion of issues of race on your campus. In union meetings, classes, and other events, provide time to discuss racial injustices on your campus and work together for collective change. Make sure students, faculty and staff of color are leading these discussions.
• Stand with students. Our students are committed to social justice, and we should be joining and supporting them in peaceful protests. Reach out to student groups on campus, especially those which are led by students of color, and ask how UUP can help.
• Phone Banking and Text Storming with the Poor People's Campaign. Sign up for a 30 minute training and learn more here .
• Sign the Minneapolis Federation of Teachers' online petition demanding justice here .
• Sign the Color of Change petition to end violent policing against black people here .
• Consider making monetary donations to:
The NAACP Legal Defense Fund , which supports racial justice through advocacy, litigation, and education.
The Poor People's Campaign , which supports people coming together to confront the interlocking evils of systemic racism, poverty, ecological devastation, militarism and the war economy, and the distorted moral narrative of religious nationalism.
• Visit the Education Minnesota webpage, which includes actions to take, anti-racism resources and other organizations to consider donating to.
• As we continuously educate ourselves, consider reading "How to Make this Moment the Turning Point for Real Change" by President Barack Obama here and visit the resource page on obama.org here .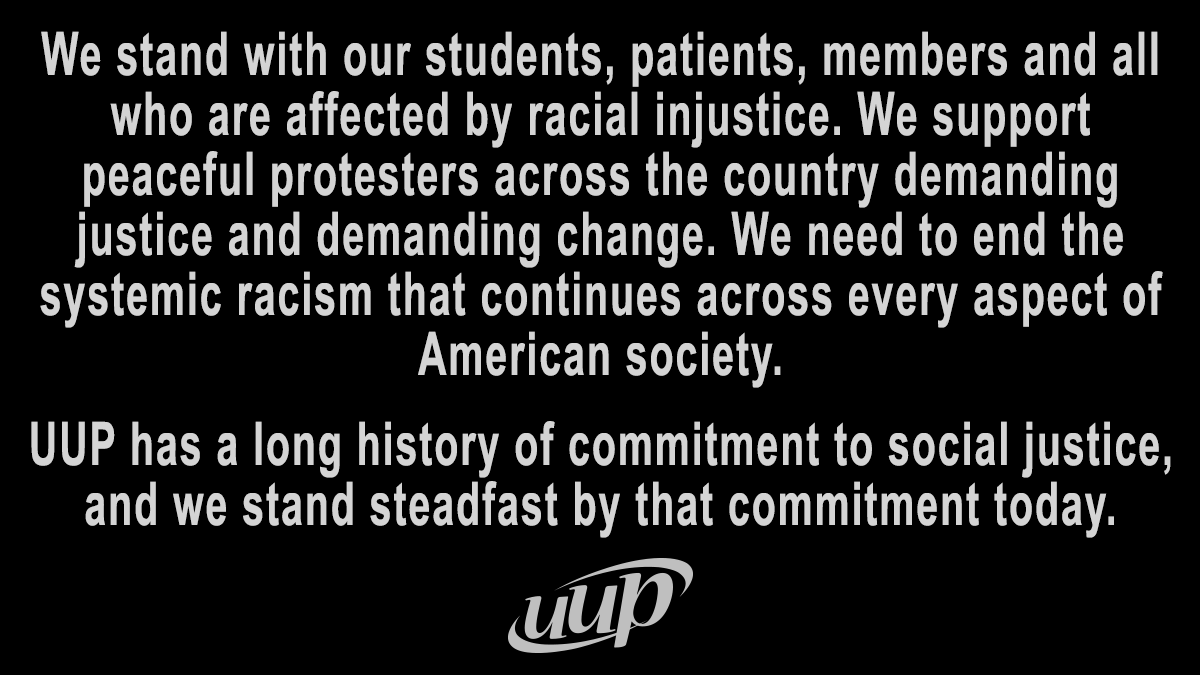 Keep us updated on any actions on your campus and in your community that we can help amplify and suggestions for additional organizations members should consider supporting by emailing Amy Sheldon at asheldon@uupmail.org. This is a collective problem that requires a collective solution.