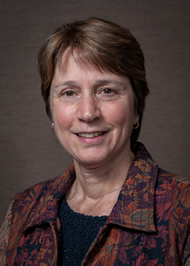 Jamie Dangler of Cortland, NY, an associate professor of sociology at SUNY Cortland, began serving as the statewide Vice President for Academics of United University Professions in June 2012.
Dangler has served UUP in a variety of leadership roles for almost 20 years, including as president of UUP's Cortland chapter—an office she held from 2009-12. She has also been an elected member of the statewide Executive Board since 2008.
She heads UUP's Task Force on Teacher Education and serves as the officer liaison for UUP's Technology Issues Committee and Appendix A-48 Advisory Committee on Librarian Issues.
Dangler was the chief negotiator for UUP's 2011-2016 contract with New York State and served on the Negotiations Team during bargaining talks that produced the 2007-2011 contract. She also served as UUP's chief negotiator during its contract negotiations with the union's CWA staff in 2009.
Dangler's state-level UUP service began with her effort to augment family leave options for members. She started the Family Leave Committee in 2001 and chaired it from its inception to 2010. She continues to represent the union on the state's multi-union Labor/Management Work-Life Services Advisory Board.
In 2009, Dangler co-authored an extensive research report for UUP on gender and salary inequity. She also compiled the Family Leave/Work Life Services Guide for UUP Members.
At the Cortland chapter, Dangler served as vice president for academics, membership development officer, and chair of the Joint Labor-Management Health & Safety Committee.
Dangler began her career as a part-time faculty member at SUNY Cortland in 1985. She became an assistant professor at Cortland in 1991 and earned her promotion to associate professor in 1996.
She is the author of Hidden in the Home: The Role of Waged Homework in the Modern World-Economy (SUNY Press, 1994). She has also written numerous articles and book chapters.
In 2007, the League of Women Voters in Cortland County honored Dangler with its Alice A. Walker Award for her volunteer work in the community.
Dangler is a 1980 SUNY Cortland graduate. She earned her master's and doctoral degrees in sociology from Binghamton University.