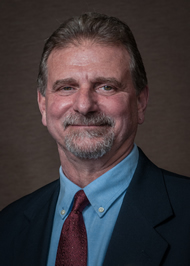 Thomas Tucker, scene shop supervisor at The Center for the Arts at the University at Buffalo was elected as statewide Vice President for Professionals in May 2017.
He won a special election to fill the unexpired term of former VPP Philippe Abraham.
Tucker is a UUP Negotiations Team member, co-chair of the Outreach Committee, and former statewide VOTE/COPE coordinator. He is also a member of NYSUT's Board of Directors and NYSUT's Members Benefit Trust Board of Trustees, NYSUT PAC, and Buffalo Central Labor Council vice president.
In 2012, he was honored as NYSUT's Regional Outstanding Leader Award for Western New York.
Tucker joined United University Professions in 1994 and became a UUP statewide delegate. He has served as Buffalo Center Chapter president, vice president for professionals, and as grievance officer.
Tucker became involved with organized labor during college, when he joined the International Alliance of Theatrical Stage Employees Local 10 as a stagehand. He has served as vice president of IASTE, and as a Buffalo CLC trustee.