April 16, 2020
Helping front-line providers—one hotel room at a time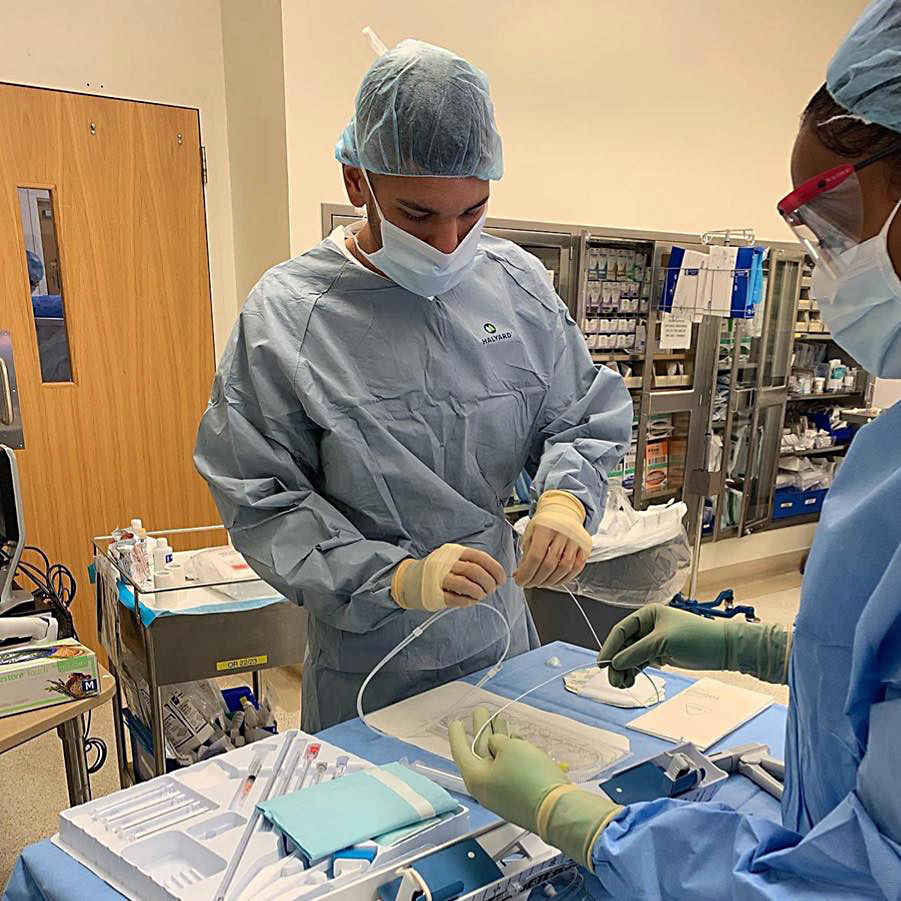 For surgical technologist Nicholas Rico, being able to stay in a hotel room provided by UUP means he'll sleep well at night.
Rico, a Stony Brook HSC Chapter member who works at Stony Brook University Hospital, is staying at the Hilton Garden Inn in Stony Brook this week after hearing about a UUP initiative to provide rooms to front-line providers dealing with COVID-19 patients.
This way, he can keep a safe distance from his family, alleviating the all-too-real possibility of exposing them to the coronavirus.
"I am in need of a room in order to isolate myself from my healthy family," Rico said in an April 12 email to UUP Director of Meetings and Travel Mary Bergquist. "Thank you for your assistance. This means a lot to me."
UUP began providing housing in early April to members caring for COVID-19 patients at SUNY academic medical centers in Brooklyn, Stony Brook and Syracuse, as well as Buffalo-area medical professionals who are members. The union is covering the full cost for rooms, including tax, for up to seven nights.
"Our members at SUNY's hospitals are working 12-hour days and they're putting their lives on the line as they tend to those infected with the virus," said UUP President Fred Kowal. "Providing these heroes with clean, comfortable rooms close to the hospitals they work in is the least we can do. We're proud and happy to offer this support."
Kevin Niles, chief physician assistant in Stony Brook University Medical Center's department of cardiothoracic surgery, was designated a front-line provider April 12, which means he'll be working long shifts with COVID-19 patients.
"I have four children at home and my wife is a schoolteacher at home," Niles wrote in an April 10 email to Bergquist. "My commute is about 45 minutes and the shifts are very long. Could I please get a hotel reservation, so I don't risk bringing (the virus) home to my family?"
So far, more than a dozen Stony Brook HSC Chapter members have requested and received rooms; UUP has also secured a block of rooms at the Crowne Plaza Syracuse—just minutes from Upstate Medical University—for Upstate Chapter members.
"These are people working 12-hour shifts who don't want to go home and inadvertently transfer the virus to their families," said Stony Brook HSC Chapter President Carolyn Kube. "That's their main concern."
That was a concern for Cecil Philip, a doctor at Stony Brook Medicine and a Stony Brook HSC Chapter member who requested and got a seven-day hotel stay.
"I appreciate you and UUP's help to all the physicians on the front line," he said. "This really puts my mind to ease."
In Brooklyn, Downstate Chapter President Rowena Blackman-Stroud worked with administrators to open dorm rooms for front-line providers at SUNY Downstate. In March, the governor designated SUNY Downstate as a COVID-19-only hospital.
Upstate Medical University Chapter President Rich Veenstra said members have emailed him to thank him and UUP for the union's offer and support.
"A lot of our members are concerned with coming into contact with COVID-positive persons and bringing the virus home to their families," said Veenstra. "Sometimes, it's a family member or a spouse with some underlying condition, or they're caring for their parents, and they don't want to expose them."
Vishal Tolia, a Stony Brook HSC Chapter member and a pulmonary/ICU physician at Stony Brook University Hospital, summed up his gratitude for UUP's help in keeping him safe and making it easier for him to tend to patients with COVID-19 in one short sentence.
"I appreciate UUP's help to all the physicians on the front line," he said.
Follow us on Social Media!