May 5, 2020
UUP delivers medical gowns, gloves to SUNY Downstate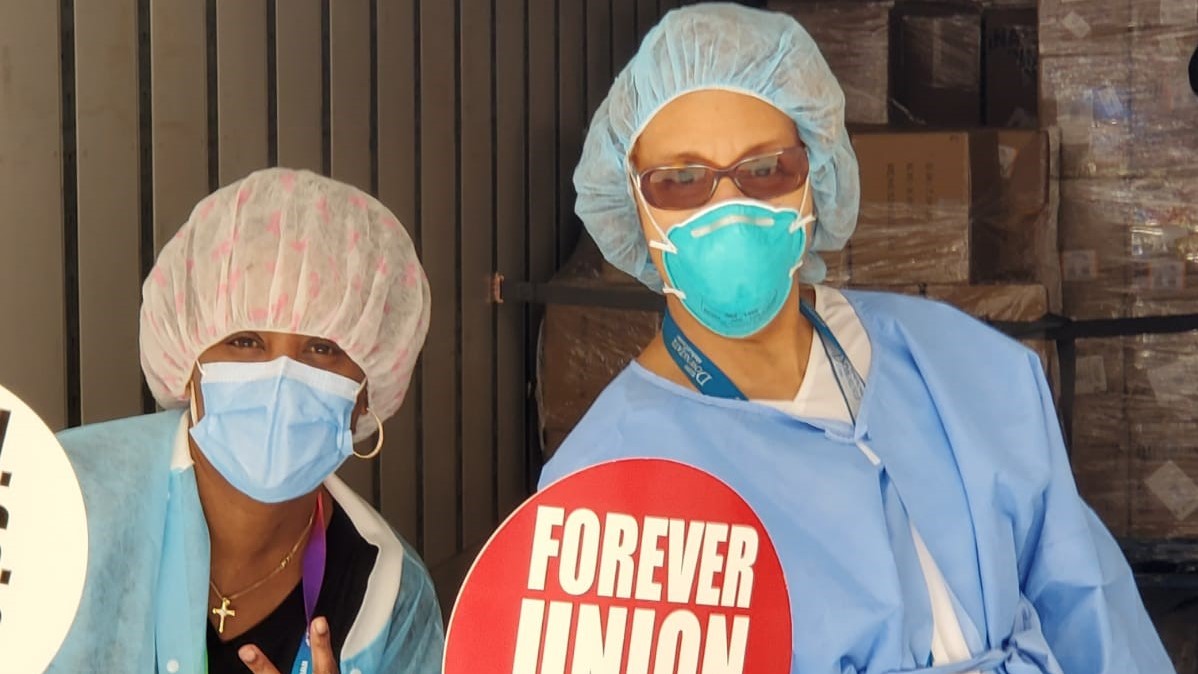 The number of coronavirus deaths has started to drop in New York City, but there remains an urgent need for personal protective equipment for medical workers in hospitals there.
To help meet that need, UUP purchased and delivered 25,000 medical isolation gowns and 5,000 pairs of disposable medical gloves to its members working on the front lines at SUNY's Downstate Health Sciences University. The gowns and gloves—both a basic part of a medical worker's protective garb to protect against infectious liquid and solid material—were delivered to Downstate's University Hospital May 5.
Above, Downstate Chapter members Redetha Abrahams-Nichols, left, and Natalie Baker, pose in the tractor trailer that delivered the gowns.
An all-out effort
Gov. Andrew Cuomo designated University Hospital as a COVID-19-only treatment hospital in late March, and the hospital has been inundated with COVID patients. Nearly 250 of those patients have died.
"Gov. Cuomo has made a tremendous effort to get desperately needed supplies and equipment to front-line workers during this emergency," UUP President Fred Kowal said. "But this is a time when everyone needs to do as much as they can, and this is why UUP is purchasing and donating personal protective equipment to our members at SUNY's three public teaching hospitals and academic medical centers in Brooklyn, Buffalo, Stony Brook and Syracuse. These members have put themselves at great risk to care for critically ill patients. This donation will help keep them safe as they care for COVID patients."
UUP doing its part
UUP bought 100,000 isolation gowns in April; the remainder are headed to SUNY state-run hospitals in Stony Brook and Syracuse, and to UUP front-line workers in Buffalo.
The May 5 delivery at Downstate is the latest in a series of supply donations UUP has made for its members at the health sciences centers.
On May 4, UUP sent 4,000 N95 respirator masks to SUNY Downstate and Stony Brook University Hospital; the hospitals received 2,000 masks each. The union has also paid for hotel rooms for essential employees at the hospitals, and dozens of UUP members have made and donated face masks and shields to hospitals in their communities.
Follow us on Social Media!