December 1, 2020
Hoey reelected, delegates elect new EB members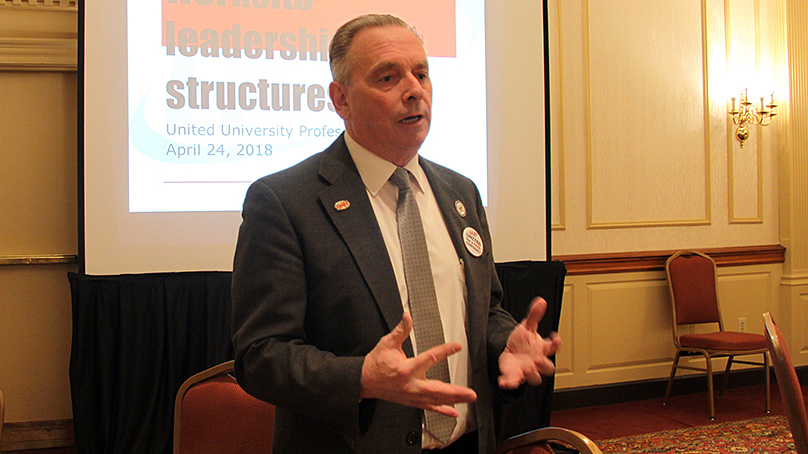 Delegates reelected statewide Membership Development Officer Tom Hoey to a second three-year term in a mail ballot election that ended Nov. 25.
Three new members of the statewide Executive Board were also elected: Buffalo HSC Chapter President Phil Glick; Brockport Chapter President Alissa Karl; and Downstate Chapter Vice President for Academics Samuel Marquez. They were elected to terms ending in 2023.
Click HERE to see the election results.
Delegates authorized the election at a special virtual delegate assembly in September. The election was originally set to take place in person at the 2020 Spring Delegate Assembly; the DA was postponed due to the coronavirus pandemic.
Ballots were mailed to delegates Oct. 28 and had to be returned to UUP by Nov. 25. The ballots were counted Nov. 30 and Dec. 1.
Hoey wins
Hoey turned back a challenge from New Paltz Chapter President and former statewide Executive Board member Beth E. Wilson to win reelection. He became statewide MDO after winning a special 2016 election for the post and was elected to a full term as MDO in 2017.
Five Executive Board members were reelected to three-year terms. They are:
Pamela Malone, Empire State College Chapter president
Rebecca Bryan, Cortland Chapter MDO
Patrick Romain, Albany Chapter assistant VPP
Richard Veenstra, Upstate Medical University Chapter president
Darleyne Mayers, Farmingdale Chapter delegate
UUP President Fred Kowal and statewide Secretary-Treasurer Jeri O'Bryan-Losee, who ran unopposed, were reelected at the Executive Board meeting Oct. 23.
Follow us on Social Media!