January 6, 2021
Use SUNY students, staff, campuses to speed up vaccinations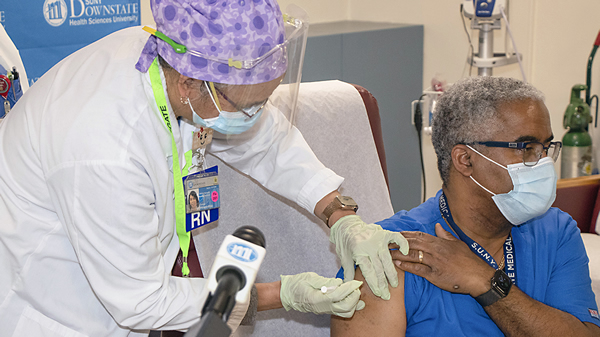 United University Professions President Fred Kowal is certain that SUNY students, faculty, staff and facilities can play a major role in helping to vaccinate millions of New Yorkers to protect them from COVID-19.
Kowal, in a Jan. 5 UUP press release, said that SUNY medical students and medical residents could form volunteer SUNY "Vaccination Brigades" that would be deployed at campuses across the state. SUNY students studying to become pharmacists, ophthalmologists, emergency medical technicians, nurses, veterinarians and other medical professionals would also be encouraged to volunteer for the brigades.
The student brigades would be part of the teams that would deliver vaccinations at SUNY's 64 campuses. Kowal said SUNY facilities—gymnasiums, lecture halls, athletic fields, and parking lots—could easily be used as staging areas to vaccinate thousands of people each day.
"SUNY can be a major player in ramping up vaccinations across the state," said Kowal, who leads America's largest higher education union. "We've got thousands of medical and pre-med students who can help with vaccinations, and thousands of non-medical students who could assist with support."
"The situation is changing rapidly and the numbers of those with COVID-19 are rising across the state," he continued. "Experts are calling for aggressive action and we couldn't agree more."
Dr. Peter Hotez, a vaccine expert at Houston's Baylor College of Medicine, recently told Politico.com that the only way to make President-elect Joe Biden's pledge to deliver 100 million vaccination doses in his first 100 days in office is to start vaccinating as many people as possible—in tents in outdoor sports stadiums or places with ample parking.
In a Jan. 3 op-ed in The Washington Post, Dr. Ashish Jha, dean of Brown University's School of Public Health, calls for the delay of the second dose of the COVID-19 vaccine in favor of vaccinating as many people as possible to save lives.
Jha said he expects the more contagious strain of coronavirus, first detected in the U.K. and now in the U.S., will become the dominant strain of the virus in this country over the next few months.
Gov. Andrew Cuomo said Jan. 5 that the state has plans to use public college and university campuses to set up drive-through COVID-19 inoculation sites. They will be set up similar to COVID testing sites already operating at some campuses.
"We need to get as many vaccinations into as many arms as possible as quickly as possible," Kowal said. "The pandemic is raging and the more contagious variant of coronavirus is in New York. We need to take immediate action. From infrastructure to people power, SUNY has many elements already in place to rapidly assemble and deploy vaccination brigades to inoculate as many people as possible."
SUNY has about 8,500 students in medical schools and medical programs at SUNY's academic medical centers and SUNY's College of Optometry. This total does not include students in SUNY veterinary, dentistry and nursing programs.
Volunteer opportunities would also be available for thousands of non-medical students to help with the massive undertaking of distributing and tracking the vaccine doses. Students in SUNY's emergency medicine programs—training to become paramedics and EMTs—could be asked to transport people to and from vaccination sites.
Setting up vaccination clinics at rural campuses such as Potsdam, Canton, Alfred and Cortland could be instrumental in getting the vaccine to people in outlying areas. SUNY's university centers in Albany, Binghamton and Stony Brook; and downtown and metro-area campuses—in places like Syracuse, Plattsburgh, and Farmingdale—are situated near underserved and underrepresented communities and could serve as vaccination centers for those populations.
"This is a Herculean task and SUNY students, faculty, staff and facilities can and should be utilized to accomplish it," he said.
Kowal suggested that students who volunteer for the SUNY vaccination brigades should receive recognition for their efforts—which could range from course credit to reducing or even eliminating tuition costs for a semester or a year.
"These students will be going to war and they should be rewarded for it," said Kowal. "Getting these vaccinations into the arms of New Yorkers is literally a matter of life and death. And much like returning GIs benefited from Franklin Delano Roosevelt's groundbreaking GI Bill, these students should have their educations paid for by the state's residents as we will all be safer because of their efforts."
Kowal said that UUP looks forward to working with the governor's office and SUNY Chancellor Jim Malatras to advance the vaccination brigades initiative.
Follow us on Social Media!