March 11, 2021
An Opportunity Day built on hope, for a change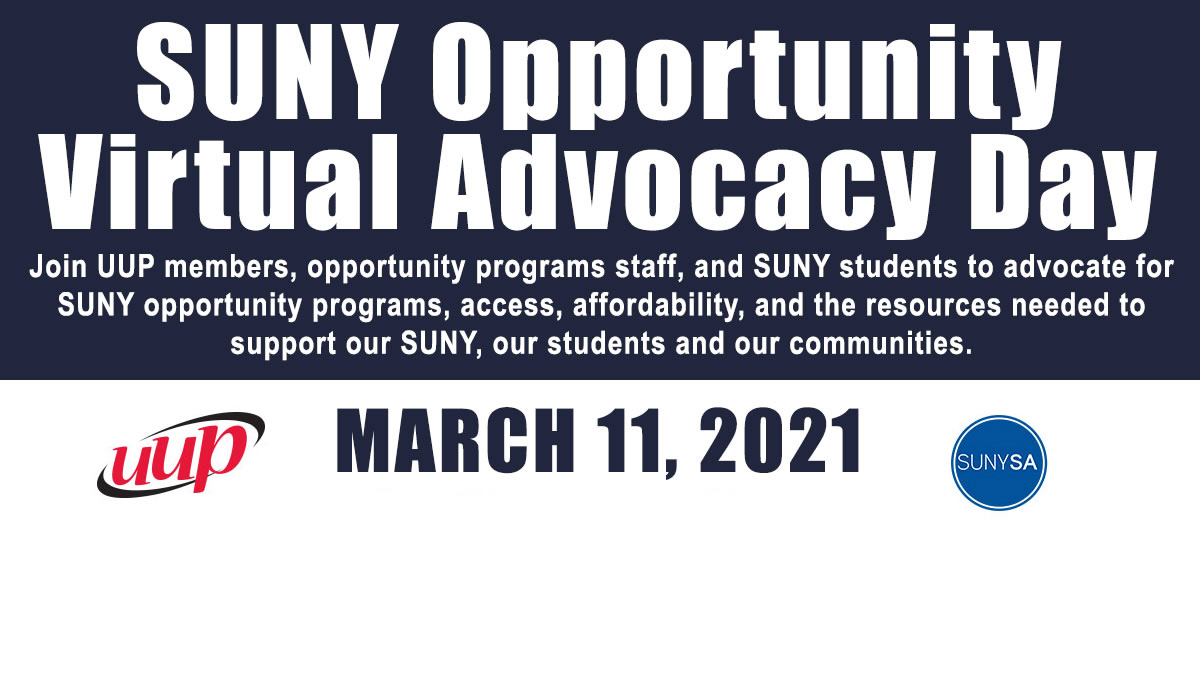 There was something different about UUP's annual day of advocating for SUNY access and opportunity this year: The March 11 event had a real feeling of hope for the first time in years.
Hope was palpable for so many reasons, as more than 200 members, students and advocates for public higher education gathered for the virtual UUP Opportunity Advocacy Day. The event featured words of inspiration from supporters, and meetings with lawmakers, members and students.
"The time is now to make our state more just and fair by making opportunity available to all," UUP President Fred Kowal said in his opening remarks at the plenary that kicked off the day. "The only way we're going to make real change is through committed individuals who want to work for that change."
Signs of hope include the fact that for a change, the Executive Budget did not eliminate funding for the Educational Opportunity Program. That means that UUP members do not have to spend precious time advocating for the restoration of a program that the Legislature would never allow to be de-funded in the final budget. Instead, they are asking for expanded funding.
At last: Federal relief on the way
Also, President Biden signed his $1.9 trillion COVID relief bill into law March 11, and that bill contains nearly $40 billion in emergency funding for higher education, of which an estimated $1.6 billion will go to New York. And lawmakers have openly expressed their resolve this year that public higher education needs help to recover from the beating it has taken during the pandemic, beyond the one-time federal bailout.
Speakers included NYSUT President Andy Pallotta; SUNY Chancellor Jim Malatras; state Sen. Robert Jackson, a Manhattan Democrat, and state Assemblymember Patricia Fahy, an Albany Democrat. Both are members of their respective higher education committees.
SUNY student speakers included Student Assembly President Bradley Hershenson, and three EOP students: Stony Brook University student Erica Ayisi-Boahene and Binghamton University students Crystal Boateng Botweh and Anta Tall. All three recounted how much help they have received, especially in a year when the pandemic has upended schooling and family life. Botweh told the audience that her brother died of COVID-19.
Both lawmakers who spoke offered firsthand recollections of what public education has meant to them.
"What's most important is for all of us to come together and say, 'Enough is enough,'" said Jackson, an EOP alumnus and one of four members of his family to have graduated from SUNY. "We need to fund not only opportunity programs but all education."
Fahy, a proud product of public higher education in Illinois and also a first-generation high school and college graduate, said that "These are challenging times, but we have to keep moving forward and keep planning. I think, and we hope, better days are ahead."
SUNY, UUP working in tandem
Kowal introduced Malatras with obvious delight at the fact that for the first time in years, SUNY administration has joined UUP to advocate for more funding for SUNY. Kowal and Malatras have enjoyed a cooperative relationship in the six months since Malatras started as chancellor. That's led to two renewals of UUP's telecommuting agreement with the state; the weekly systemwide coronavirus testing of all students, faculty and staff on SUNY campuses; and, just this week, the announcement that all on-campus SUNY employees are now eligible for the coronavirus vaccine.
"When I first became chancellor, I put a stake in the ground and said, 'We're going to fight for EOP and EOC,'" Malatras said, referencing not only EOP but the Educational Opportunity Centers at SUNY, which provide college preparation, college classes and job training to non-traditional students who are often adults returning to or preparing to start college.
Malatras noted that 74 percent of SUNY EOP students graduate, compared to 68 percent of other SUNY students. But the program can only take 3,000 students out of 12,000 applicants systemwide, and Malatras echoed UUP's call for expanding funding so that all eligible students can be admitted to EOP.
"We want to increase the funding for EOP, not just stabilize it," Malatras said.
Expand EOP idea to medical school
Malatras also credited UUP with an idea that SUNY is strongly supporting: a variation of EOP that would help qualified, low-income medical students. SUNY has budgeted $5 million for a pilot program for 100 students in the Medical Education Opportunity Program. That idea, along with other UUP proposals, can be found in the union's statewide legislative agenda, NY Heals: https://uupinfo.org/legislation/agenda.php
Jamie Dangler, UUP statewide vice president for academics, also referenced the MEOP idea during a meeting with Brooklyn Democratic Assemblymember Emily Gallagher's office.
"We have tremendous shortages in nursing, respiratory therapists, nursing," she said.
In addition to Dangler, dozens of UUP members—including chapter and statewide leaders—spent the day in meetings with lawmakers or their staff. Although it was the first time that UUP had scheduled the Opportunity Advocacy Day as a virtual event, members and students made impassioned presentations that lost none of their poignancy, despite being delivered in digital format.
"I really love everything EOP stands for," said Joshua Sheridan, a UAlbany EOP writing instructor. "I think something that doesn't get highlighted enough is how incredible EOP students are. They take an opportunity and really run with it. I've seen how hard my students work, and it's one of the most impressive things I've ever seen."
Follow us on Social Media!